WHERE: Okayama, Japan
WHEN: 15 February 2020
The Hadaka Matsuri Festival, which literally means Naked Man's Festival, is an extraordinary and incredible event that takes place, throughout the year, throughout Japan. It falls in all respects among the most curious and unusual festivals that take place on our planet. Kanoa, obviously, could not fail to highlight the most famous and known festival of the Rising Sun, that is what takes place in the Temple Saidaji in the city of Okayama, Known as the Saidai-ji Eyo Hadaka Matsuri.
At the event, more than 9.000 men take part wearing minimal clothes: usually only the traditional Japanese thong (fundoshi); in some cases, it is not uncommon to find individuals completely naked !!
The event stems from a tradition of more than 500 years ago, according to which the man who had captured the sacred amulet from one of the temple buildings would have earned a lucky year. At the end of a real random selection, the shin-otoko, ie the Naked Man (or the Spirit Man), completely stripped, has the role of absorbing all the misfortune of the few who can touch it!
In this festival, in which over three hundred thousand spectators take part (!!!), you will witness an authentic race that will bring each contender to challenge pains, abrasions, bruises to be the chosen one. You will see the contenders trying to grab a branch that hangs from the ceiling to catch the typical ones Mochi (traditional sweets).
Do not expect a simple walk: it is no coincidence that the participants retire in isolation for even weeks, just to prepare spiritually for the competition!
PRACTICAL INFO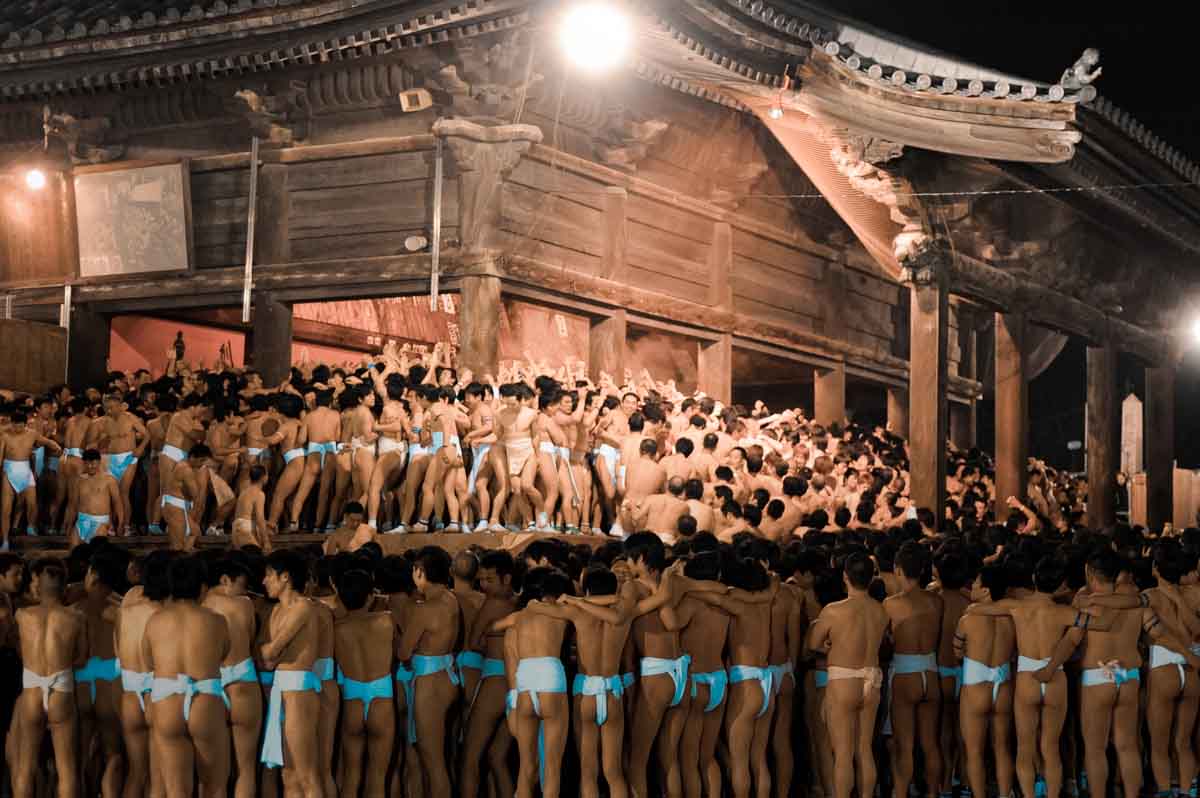 Photo, 2010 Mstyslav Chernov
Anyone who wants to, can consider taking part in the Hadaka Matsuri Festival in person. In this case, we must observe some basic rules:
Despite the name, it is forbidden to participate completely naked
Pay close attention to the crowd and, above all, to the stairs of the temple: the fatalities are around the corner. Always avoid the edge of the stairs and keep your hands up.
Do not spend too much time in the water, due to extremely low temperatures. Hypothermia is threatened
It is mandatory to provide your blood group and contact information. These must be written on a piece of paper, put in your thong!
GETTING TO HADAKA MATSURI FESTIVAL
The Temple of Saidaiji located in the city of Okayama, can be reached after a walk of about 10 minutes from Saidaiji train station. From Tokyo it is possible to arrive by bus in just under two hours or alternatively with the high-speed railway line (shinkansen) from the capital.