Here, below, the essential information for traveling with Air Italy.
LUGGAGE
HAND LUGGAGE
Each person can carry a hand luggage of maximum size of 55x40x20 cm, including handles and wheels, and a weight of 8kg. For scheduled flights to / from Brazil, the maximum weight allowed is 10kg
In addition to hand baggage, each traveler can carry in the hold, a single personal accessory, among the following:
1 women's purse or document bag.
1 baby carrier.
1 laptop case, camera or any other electronic device.
The accessory can not exceed the dimensions of 40x30x15cm, and must be able to be inserted under the front seat.
The airport staff will put a red label on the accessory once accepted on board.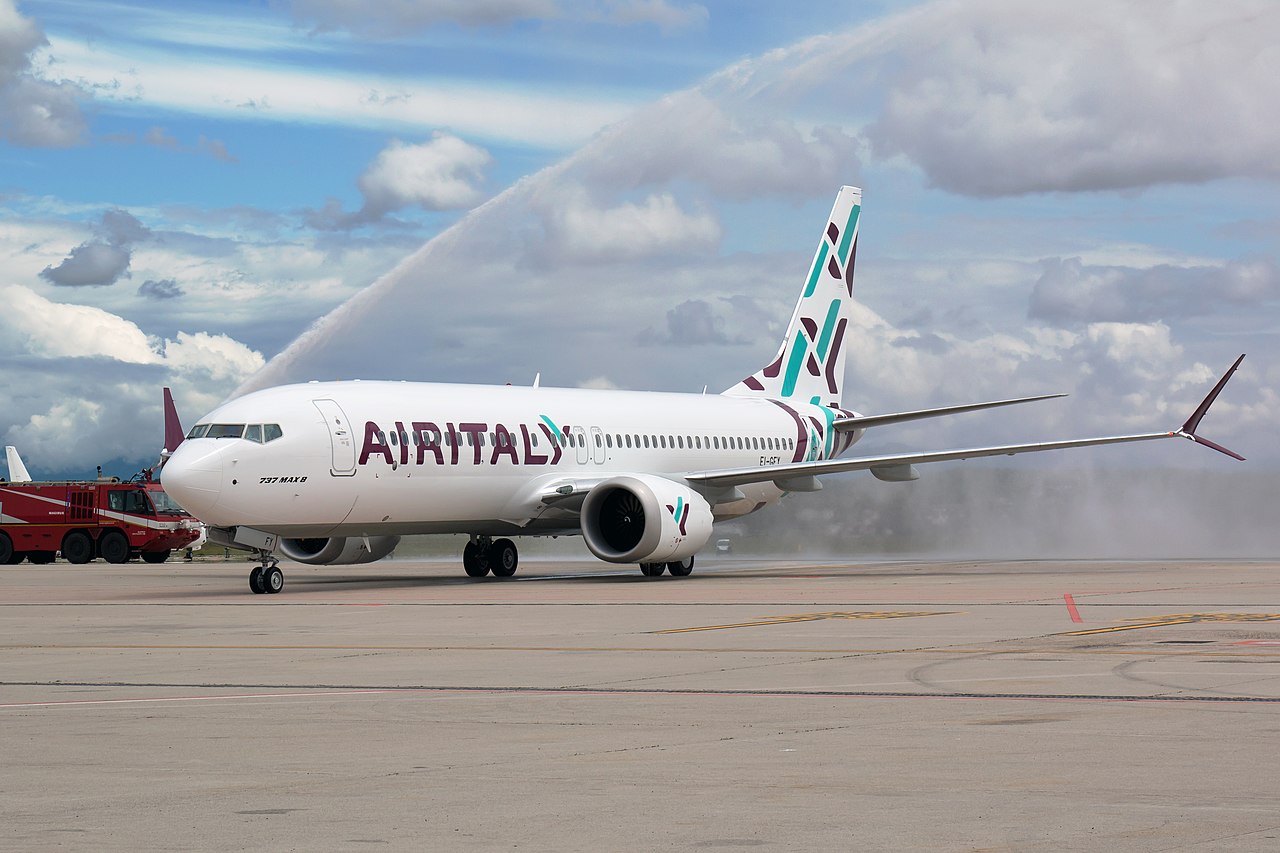 Photo ©, Simone Previdi
FLY WITH AIR ITALY – HOLD BAGGAGE
Depending on the flight and the fare purchased, one or more bags of standard weight and dimensions can be carried in the hold.
The maximum dimensions of a STANDARD hold baggage must not exceed the total 158cm (height + width + depth) including pockets, wheels and handles. The maximum weight allowed is 23kg, unless otherwise indicated. In the event that the baggage should have a higher weight, a surcharge will be paid for each kg in excess. Luggage weighing over 32kg WILL NOT BE ACCEPTED.
Generally, all domestic and international flights, except for tickets purchased with the ECONOMY LIGHT fare (the cheapest), include at least one hold baggage in the ticket price.
With ECONOMY LIGHT tickets, you can carry one hold baggage within 23kg, for 25,00€ each way.
ECONOMY CLASSIC tickets include a free 23kg hold baggage.
Tickets FLY PASS Light and Classic, include free transport of one hold baggage up to 32kg.
A free Infant Baggage of maximum 10kg is allowed
ACCESSORIES AND EQUIPMENT
Air Italy allows you to carry in luggage a baggage and special equipment. Prices vary depending on the flight purchased. It is advisable to buy in advance, on the official website or through the call center: you can take advantage of the discounted fare compared to the airport. In this case, in fact, you will pay a surcharge of 10€ for baggage.
You can transport the following special equipment:
Bicycle.
Body surf.
Golf equipment, Diving Fencing & Skiing (water and snow).
Snowboard.
Fishing rods with reels.
Surf Board & Kite Surf (up to 160 cm).
The price per way is 30,00€ on domestic flights; 50,00€ on international flights; 60,00€ on intercontinental flights. Purchases are not refundable, but if you change your flight, you can use the amount already paid by contacting the sales channel used at the time of purchase.
FLY WITH AIR ITALY – ANIMALS ON BOARD
Those who decide to fly with Air Italy, with their faithful animal, can sleep peacefully. You can bring with you a dog, cat, bird, rabbit, guinea pig, hamster or ferret. IMPORTANT: before leaving, be sure of any restrictions on the country of destination for transporting the animal. For travel in the European Community, for example, dogs and cats must be in possession of a passport issued by a veterinarian reporting the vaccinations and the state of health of the animal; in addition, they must be equipped with an electronic identification or tattoo system.
If you want, you can transport your pet in a booth in a carriage with a total weight of maximum 10kg and whose dimensions do not exceed 48x33x29 cm. The carrier must be well ventilated, waterproof, resistant, rigid or semi-rigid and must allow the animal to be in a comfortable position.
Animals and carriers, whose dimensions or weight, exceed those previously indicated, must be transported in the hold. In this case, the cage must be rigid and made up only from glass fibers or hard plastic. If equipped with wheels, these must be locked.
To fly with Air Italy with animal in tow, YOU NEED TO BUY a special ticket for your travel companion. The price varies depending on the flight and the type. For animals in CABINA, the price, each way, is 40,00€ on domestic flights; 50,0 € on international flights; 70,00€ on intercontinental flights. For animals IN STIVA, 60,00€ on domestic flights; 90,00€ on international flights; 110,00€ on intercontinental flights.
Prices are valid for online purchases or through a call center. By purchasing the coupons at the airport, you must add additional 10,00€ to the total.
LAG
Before accessing the security checks, we recommend storing the Liquids, Aerosols, Gel (LAG) in containers with a capacity not exceeding 100 ml or equivalent. These containers must be placed in a transparent and resealable plastic bag, with a capacity not exceeding one liter.
The bag must be completely closed and the dimensions must not exceed 20 × 20 cm.
ONLINE CHECK-IN
The online check-in procedure for traveling with Air Italy is quite simple and intuitive. It can be performed directly from your smartphone or tablet, using the Mobile Check-in service with the issue of the Mobile Boarding Card. Alternatively, you can connect to the official website.
The web check-in can be sliced ​​by choosing the "Economy Standard" PAYMENT place, starting from 7 days up to 30 hours before departure. WITHIN 30 HOURS from the start, you can choose, instead, your seat for FREE.
Search hotels and more...