Here is the essential information to know if you decide to fly with Vueling.
HAND LUGGAGE
Maximum dimensions: 55 cm x 40 cm x 20 cm, including handles and wheels. The maximum weight allowed is 10 Kg. In case of Excellence rate, the maximum weight is 14kg.
Hand baggage must be stored in the parcel shelf.
In addition, you can also bring a bag, or a smaller case, with a maximum size of 35x20x20 cm and a bag with any purchases made at the airport. Both must be able to enter the space under the armchair, in front of their seats.
Should the baggage exceed the maximum permitted dimensions of 55x50x20 cm (including handles and wheels), it can not be carried into the cab. Therefore, it will be boarded in the hold, with related costs.
HOLD BAGGAGE
Travelers can purchase up to a maximum of three hold baggage.
The baggage must have a maximum permissible weight of 23 kg. The price varies depending on the route: we start from 13,00€. Paying at the airport, the price increases considerably: well 35,00€ each way!
If you exceed the limit of 23kg, you will need to pay a surcharge of 12,00€ per bag per way. Luggage must not exceed 32kg, otherwise they will not be boarded!
SPECIAL BAGGAGE TO FLY WITH VUELING
Not everything can be carried in a common suitcase. In this case, during the booking phase to fly with Vueling, you can add your special baggage. Here's what you can bring:
Ski equipment (A pair of skis, poles and boots).
Snowboarding equipment (snowboards and a pair of boots).
Golf Equipment (A pair of shoes and golf clubs).
Bicycle (Folded and stored in the box or case, with the handlebar fixed on one side, the pedals disassembled and the wheels deflated).
Surfboard (It must be properly protected inside the case).
Windsurfing equipment (board, boom, sailing dinghy, mast and sail).
Kitesurfing equipment (board and kite).
Sports weapon (You need to go to the police station to check the license).
Musical instruments (Any instrument placed inside your own case .You can also take it on board, buying an extra seat).
Please note that only one package is allowed for each registered special baggage. The maximum height allowed is 270cm, for a maximum weight of 50kg.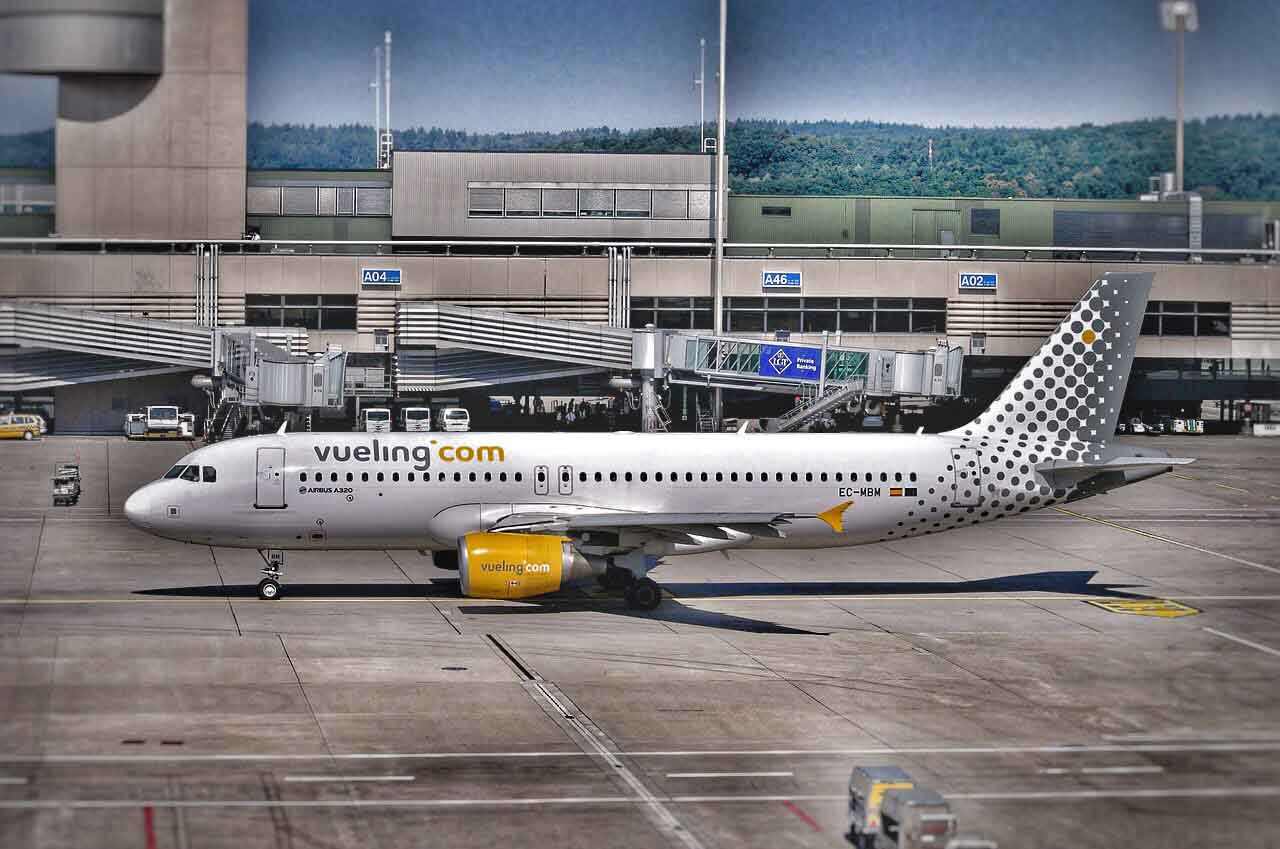 FLY WITH VUELING: ANIMALS ON BOARD
Traveling with Vueling also means taking care of your animal friends. The airline, in fact, allows the transport of pets, on board the plane, between their legs or under their own chair. The animal must be placed in an approved non-rigid carrier (max 45x39x21 cm and 8 kg including the animal).
Are allowed the following animals:
dogs
Cats
birds (excluding birds of prey)
Fishes
Turtles
Instead, rodents, rabbits, skunks, poultry, birds of prey and reptiles are not allowed.
Keep in mind that on each flight can travel at most 2 animals. Once this limit is exceeded, the system will not allow you to make a reservation. On domestic flights, you pay €25,00, while on international flights and the Canary Islands, the cost is €40,00. It will be necessary to show up at the check-in desk on the day of the flight, to request the assignment of the seat.
LAG
Before accessing the security checks, we recommend storing the Liquids, Aerosols, Gel (LAG) in containers with a capacity not exceeding 100 ml or equivalent; they must be placed in a transparent and resealable plastic bag, with a capacity not exceeding one liter, and whose contents enter comfortably and the bag is completely closed.
LAGs to be used during travel for medical purposes (accompanied by a doctor's prescription) or for a special diet (including baby food) must be placed in containers with a capacity not exceeding 100 ml or equivalent.
ONLINE CHECK-IN
The online check-in procedure, to travel with Vueling, is really easy and intuitive. You make online, on the official website, through this link. You will only need the reservation code received at the time of ticket purchase.
With the rate Optima ed Excellence, or by purchasing a seat on board, you can check in online immediately after purchase and up to 4 hours before your flight departs (except if you fly from Cardiff, Lyon, Prague or London Heathrow, which allow you to check -in online up to 24 hours before departure).
With the normal ticket BASIC Free online check-in from 7 days to 4 hours before flight departure (except if you fly from Cardiff, Lyon, Prague or London Heathrow, allowing you to check in online up to 24 hours before departure ). At the time of purchase the seat will be assigned. In this case, we recommend taking a look to this link for some really useful tips.
If you are traveling with only hand baggage, arrive at the airport and proceed directly to the airport security checks and departures with your printed tickets. In case you are traveling with hold baggage, you will need to show up at the baggage desks.
Search hotels and more...