Los Angeles is said to have some of the most beautiful beaches in the world. This statement is anything but acceptable.
Ocean temperatures are not exactly the best for swimming, even in the height of summer. The colors and shades of the sea are not those of the Greek, Spanish or Italian islands. And, you will hardly find yourself contemplating alone (or with a few individuals) the scenic and natural beauty of a small cove. Yet, considering the overall offer of Los Angeles beaches, one cannot certainly remain indifferent.
It will be for the incredibly lively and sparkling atmosphere. It will be for the entertainment proposal, which can even include a funfair with an adjoining Ferris wheel.
But, above all, it will be for that frantic desire to stroll along those beaches that are well present in our collective imagination thanks to series like "Baywatch". Or to witness the places where surfing was born in California up close.
In addition to beautiful Malibu, which we talked about in our post on what to see in L.A., here are some Los Angeles beaches you can't miss on your vacation. Beaches that are worth seeing even just for a "hit and run".
THE BEACHES OF LOS ANGELES
SANTA MONICA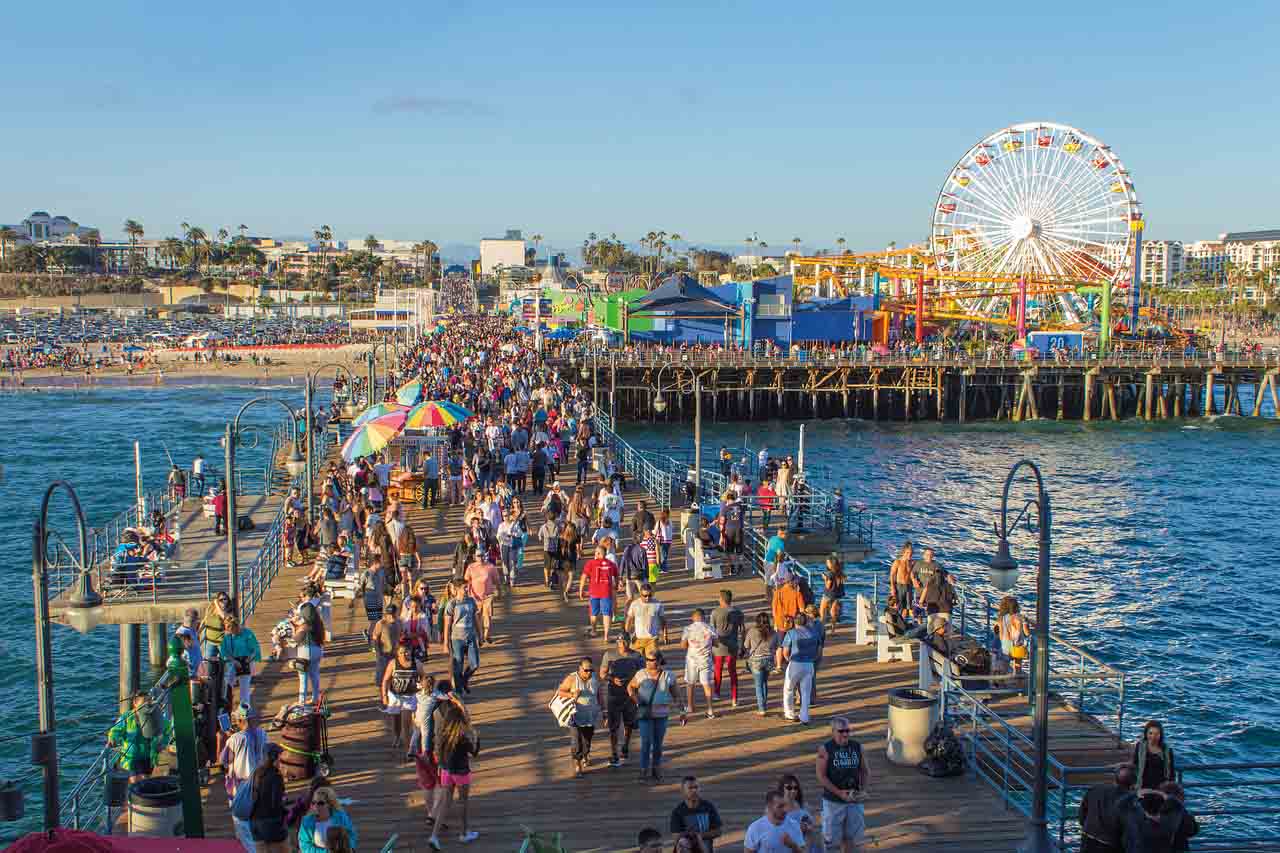 Santa Monica is a lovely coastal town of Los Angeles. Its BoardWalks full of vitality, teeming with Skaters and lovers of fitness and joggers. Attractive ladies on rollerblades, and many tourists and locals, look for entertainment in the
many rides offered by the most loved pier in America!
Santa Monica, in addition to having the famous Pier with the famous Ferris wheel, also offers a very pleasant walk. Here are concentrated many boutiques and shops of the most important brands in the world. You can relax in one of the many outdoor cafes, admiring the street performers, always very engaging.
Santa Monica is also one of the best areas to stay in, due to its location, quality of facilities, and services and amenities in the area.
WHERE TO PARK IN SANTA MONICA
The coastal area is located west of central L.A. and offers numerous stalls and areas in which to park. Among the various we point out:
At 215 Colorado Avenue, in the internal area, Parking Structure 8. This is one of the cheapest car parks because it is not located on the pier (it takes about ten minutes on foot). It costs $1.25 per hour and the first 90′ are FREE! This is also the main reason why there are often endless lines to get in and out. AVOID RUSH HOURS
At 258 Colorado Avenue, Pier dock parking is excellently located on the dock and is open 24 hours a day. It costs $3 per hour or $15 for a full day in the summer.
At 1640 Appian Way, the parking is an excellent value for money solution. It is located a few steps from the pier and costs $1 per hour. Keep in mind that it closes at sunset (around 6pm in winter and 8pm in summer). If you leave your car after closing time you will get a nice fine !!
VENICE BEACH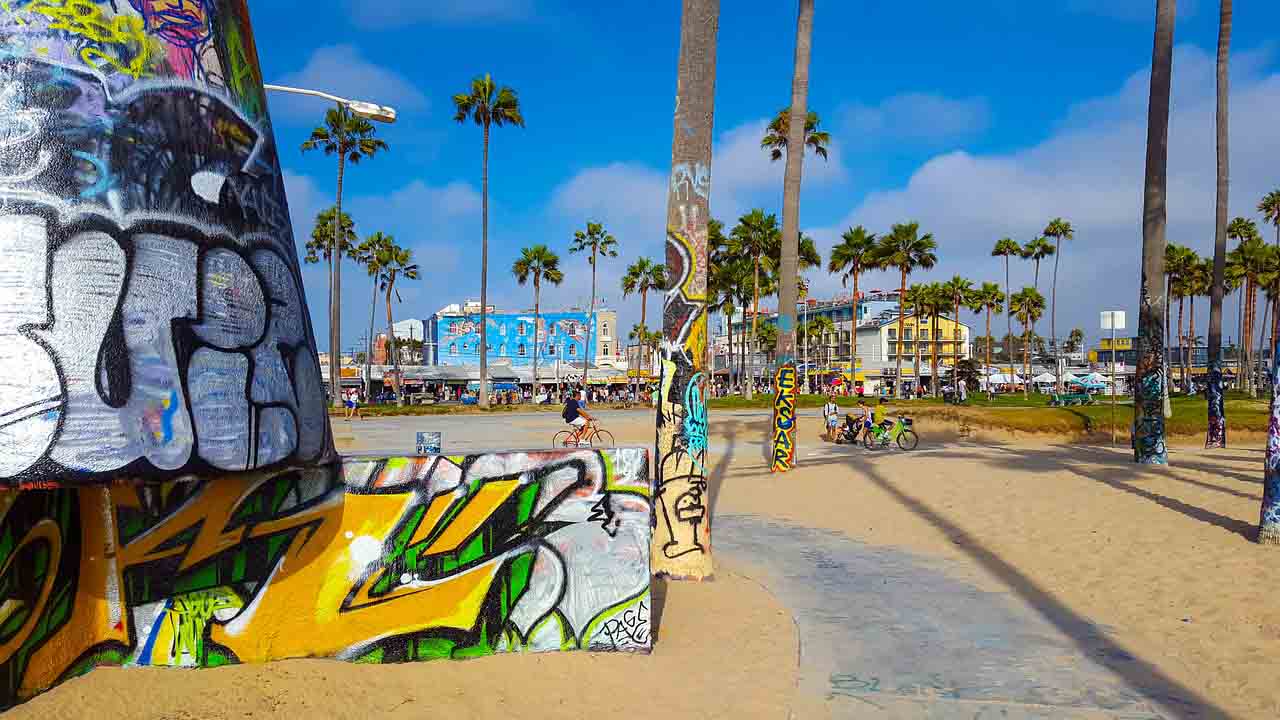 Venice is one of the most popular tourist destinations for tourists. It was founded by Abbot Kinney in 1905 on the Renaissance model of the city of Venice, thanks to the presence of the numerous Canals. Over the years, only the name of Venice remained, giving full rein to the kitsch and American eccentricity.
Bohemian-style buildings, murals, a boardwalk where you can find unique characters, nonconformists, street artists and lots of souvenirs.
One of the peculiarities is "muscle beach", with an outdoor gym and body builder on display; you will rarely see so many people doing sports by the sea.
In addition, you will also find the opportunity to taste excellent street food in the many kiosks that populate Venice. At night, however, it is not a recommended area.
WHERE TO PARK IN VENICE BEACH
Right near the Boardwalk you will find a large parking lot at a single rate of $6 for the whole day.
REDONDO BEACH
It is located south of Los Angeles, and is one of the most characteristic and quiet beaches in California. Arriving by car, you can leave your car in the large parking lot, to continue the visit comfortably on foot, and in total relaxation.
This coastal town is less chaotic and less commercial than the more famous Venice or Santa Monica, and retains a relaxed atmosphere, typical of California.
Explore the pretty marina. On either side of the boardwalk you can enjoy a meal, or drink a cocktail, in one of the many restaurants on Redondo Beach Pier.
Furthermore, in this area, fishermen with their fishing boats offer the catch of the day along the quay. You can choose fresh fish, and see it prepare before your eyes; in these parts, you cannot fail to taste the king crab soup.
Another place not to be missed, especially for families, is Seaside Lagoon. It is an artificial salt pool obtained from the sea. Adults pay $ 8 and kids up to 17 $ 6.
Search hotels and more...