From the long and renowned expanses, to the small coves. From the most lonely beaches, to those preferred by families. The Sporades island is able to satisfy the needs of all visitors. You will find beautiful and evocative places almost everywhere. From North to South. From East to West. It would be impossible to list them all.
Here, then, are some of the most interesting Skiathos beaches. Others, you can only discover them by letting yourself be guided by your instincts.
BEST SKIATHOS BEACHES
LALARIA BEACH
A must among the beaches of Skiathos. Located in the north, Lalaria Beach can only be reached by boat. Beautiful postcard place, with a white pebble beach and splendid turquoise waters that give colors of a thousand shades. The rock arch, visible from the sea, will be a sign of having finally reached its destination. A truly enchanting beach, and one of the most visited and known on the island, and, for this reason, quite touristy. In the key months, it is a real bustle of boats. We recommend arriving early in the morning to fully enjoy its beauty. In June and late September, Lalaria Beach is truly wonderful. In any case, a holiday in Skiathos is impossible without having passed through Lalaria.
From the port of Skiathos, excursions to Lalaria Beach depart daily. There are several companies that carry out different tours. You can choose the tour of Lalaria Beach only, or the one that includes the tour of several beaches. We recommend the first tour: you will be able to spend more hours on the beach. Prices generally range from €12 to €15 per person.
Particularly exposed to winds, sometimes it cannot be visited due to adverse weather conditions.
To the south-east of the island, stands Tsougkria, also known as Tsoungria or Tsougra
It is a splendid islet, completely uninhabited since 2011. Except for the summer months, during the year Tsougkria is animated by the presence only of goats! A wild, uncontaminated place, with really beautiful and suggestive beaches and coves. From here, more info.
MEGALI AMMOS
It can be considered, in all respects, the beach of Skiathos Town, because, not far from the center of the capital. The beach, in fact, can be reached in a short time, with a walk from the city. It is the favorite destination for young people and those who stay in the city. The beach is long, with light sand. Crystal clear water. It is, of course, equipped.
XANEMOS
A few kilometers away, north of Skiathos Town, is a splendid beach that is located right next to the airport. Do not be scared, therefore, if while you are intent on sunbathing or swimming, a plane passes just above you!
Keep in mind that it is particularly exposed to winds. The beach is mixed with sand and gravel; the sea, crystalline, is blue and often quite rough. You will find umbrellas and sunbeds, quite distant from each other, maintaining a sort of tranquility and intimacy, a prerogative of the place. It is easily accessible by your own vehicle and has a parking space.
KOUKOUNARIES BEACH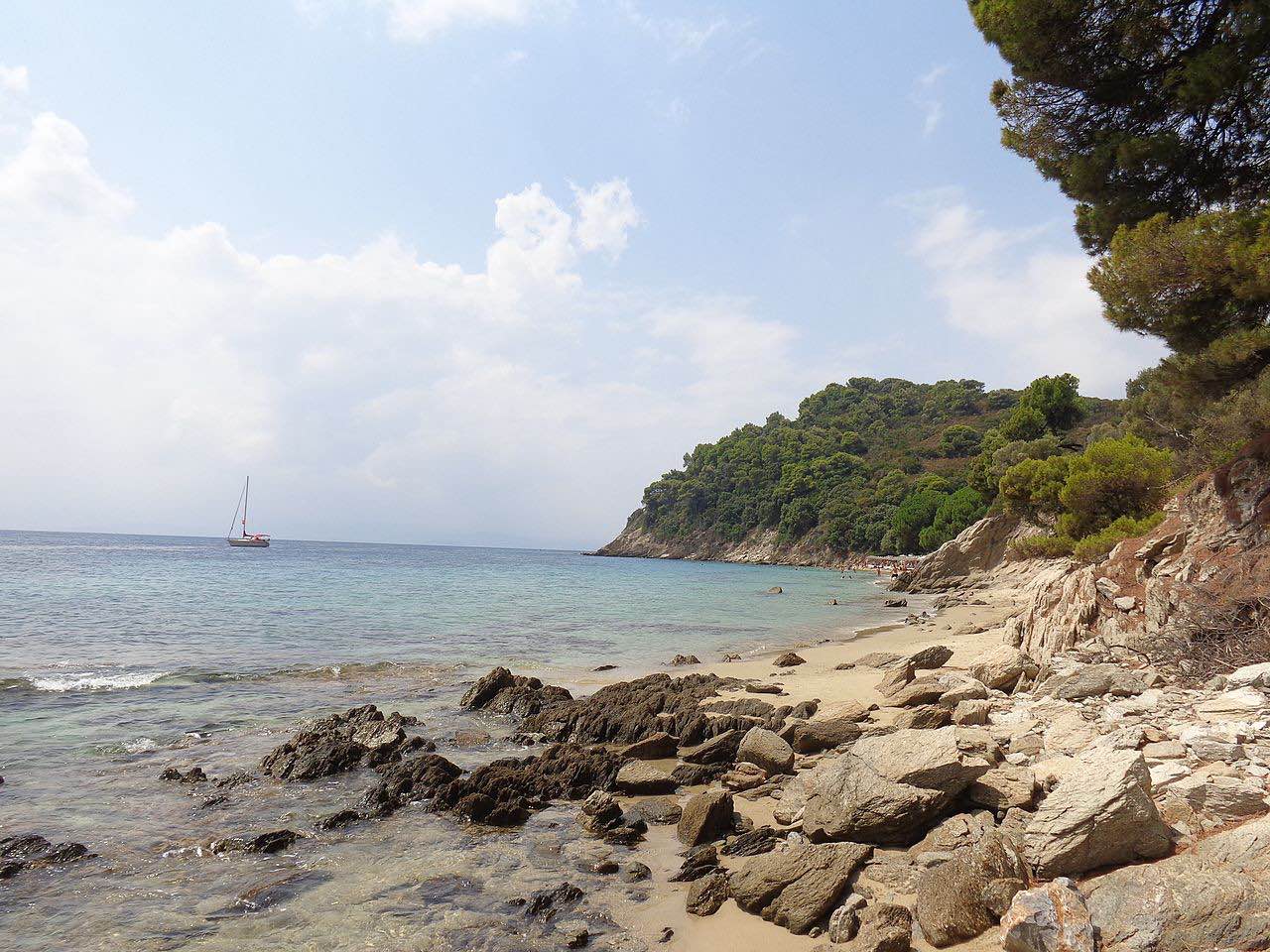 Photo ©, Shi Annan
Located in the south of the island, it is one of the largest and most famous Skiathos beaches. A long stretch of fine golden sand, and an emerald green sea, surrounded by a fantastic expanse of pine trees. One of the most touristic and crowded Skiathos beaches, especially in August. In recent years, the number of beaches, establishments, restaurants and taverns has grown which, a little, have affected its beauty and authenticity. It remains, however, one of the destinations not to be missed during the holidays in Skiathos.
It is also one of the beaches accessible by the bus that leaves from Skiathos Town.
TROULOS BEACH
About 4km east of Koukonaries, this quiet beach holds some pleasant surprises. Less chaotic and crowded than the other Skiathos beaches, and, therefore, ideal for escaping from the chaos of August. The name is due to the small islets, located in front, is called Troulonissia. It is a white sand beach with clear waters in a small cove, ideal for families. You will find umbrellas and sunbeds at fairly cheap prices and a part of the free beach.
It can be easily reached by car, or, alternatively, by bus from Skiathos Town, along a small stretch of road on foot.
AGIA ELENI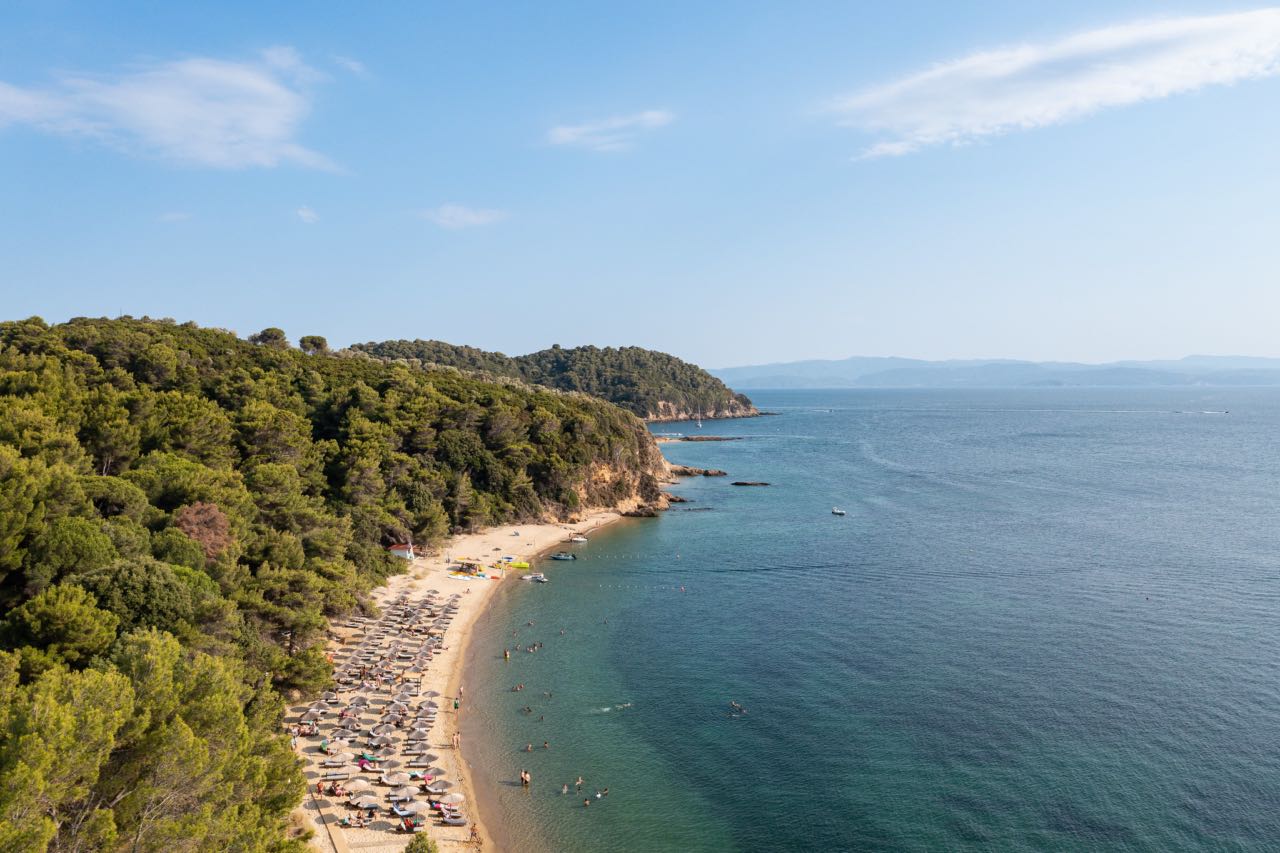 Photo ©, Dronepicr
Your Skiathos holiday by the sea cannot be separated from Agia Eleni. It is a long and spacious stretch of golden sand, surrounded by lush vegetation. The water is blue and crystalline. We recommend spending a whole afternoon in Agia Eleni, waiting for sunset. Charm, suggestion and romance….
Equipped beach, it can be reached along a stretch of dirt road from Koukonaries. The destination is well indicated during the journey.
KOLIOS
In our opinion, the best beach in Skiathos for families. If you have children, we are sure you will spend a lot of time at Kolios Beach. Surrounded by thick vegetation and well sheltered, the golden sand beach has truly crystal clear waters and a shallow seabed, ideal for the little ones. It is well sheltered and, above all, it is easily accessible. Less famous than the others, it is rather quiet.
Not far away, you will even find a market. The beach is located in the south of the island, not far from Troulos Beach.
A short distance away, you will find another interesting cove: Kanapitsa. It is worth going to this beautiful beach, shaped like a half moon with golden sand. Quite quiet, like Kolios, it is very popular with families during Skiathos holidays.
BANANA AND LITTLE BANANA
Not far from Koukonaries, Banana Beach is a rather famous beach, so named for its particular shape, similar to a banana. It is considered the beach of fun, due to the presence of numerous bars, taverns and clubs, with music and sound ready to accompany you. The sand is golden and the sea is crystal clear. It is also the favorite area for lovers of water sports.
Banana Beach can be reached from Koukonaries via a dirt road to the south. Before reaching your destination, you will find a fork. One leads to the aforementioned beach, while the second leads to Little Banana. The latter is smaller and quieter than the previous one, but perhaps more beautiful. Beautiful sea and doarata sand, it has been elected as a naturist site and, therefore, you will find many tourists intent on bathing and sunbathing, completely naked. If you have a very jealous partner, it is better to avoid it so as not to ruin your holidays !!!
Search hotels and more...