From the receptive point of view, Skiathos has little or nothing to envy to the more noble Greek islands. It is no coincidence, in fact, that a growing number of tourists have decided to spend their holidays in the beautiful island of Sporades.
Hotels, apartments, studios: the choice to sleep in Skiathos is quite wide and varied. In this section, we will try to give you some advice and some tips in order to find the structure that best suits your tastes and … your pockets.
THE MOST POPULAR AREA TO SLEEP IN SKIATHOS
Skiathos Town it is the solution that satisfies everyone. Almost. By choosing this area, you will be practically in the middle of it all. Here, in fact, the greatest number of nightclubs and trends are concentrated; from here, buses leave for the beaches of the South or the most interesting places. And, again, from the port of the city, you will be spoiled for choice between taxi boats and boats to visit the creeks and the surrounding islets, accessible only by sea.
In Skiathos Town you can choose between apartments, guest houses, hotels, studios, hostels… Fresh Room Studios offers rooms and studios at very affordable prices. The top choice for those who want to save money without giving up a minimum of quality. It is located in the center, a short distance from the port.
Not far from the port and the splendid Megali Ammos beach, Skiathos House It offers traditionally furnished accommodation with a private balcony overlooking the picturesque town or the garden. Wi-Fi is available throughout the property.
Really beautiful and central, Pension Margarita, with really affordable prices. Centrally located in Skiathos, it offers air-conditioned rooms with free Wi-Fi and a balcony. The rooftop terrace with a view of the Aegean Sea is great for breakfast. Excellent value for money.
For the complete list of available facilities, you can take a look here.
Photo ©, TomasEE
THE TOP CHOICE: MEGALI AMMOS
Unlike the subtitle, there is no Top choice. At least from an objective point of view. Despite this, if we were to choose one, the solution would be Megali Ammos. It is a small village, not far from Skiathos Town, of which it can be considered the natural continuation.
Megali Ammos is known, above all, for its beautiful waters, and the various taverns and restaurants that follow each other in the area. In addition, the facilities are concentrated along the beach, or not far from it. In our opinion, a really smart choice. Being within walking distance of the center of Skiathos Town, you will enjoy all the services and amenities. In addition, the proximity of the beach is another element not to be underestimated.
Aphrodite Studios e Maria Studios are our recommended facilities, thanks to a really excellent quality / price ratio. Aphrodite Studios it stands on the beautiful beach of Megali Ammos. The bus stop is just a few steps away. Descend from the hotel, and you can dive into the marvelous crystal clear waters opposite the Studios. Taverns, bars and restaurants are within walking distance. Free Wifi and not excessive prices. What could you ask for more?
Maria Studios it is located not far from Aphrodite, always in a great position. More than an alternative.
Azalea instead, it is our recommended solution for a family vacation. It features a lush garden with a barbecue and a children's playground. It offers air-conditioned accommodation with a balcony overlooking the Aegean Sea. It also has free parking. Great prices: in September, a week in apartment for 4 people, costs 315€! For info and reservations, click on this link.
Megali Ammos is a rather popular solution. The request for rooms, especially in August, is truly incredible; reason why, our advice is to book well in advance so as not to risk finding everything sold-out. From this link, you can search all the structures in the area.
IMPACT ALTERNATIVE TO SLEEP SKIATHOS: AGIA PARASKEVI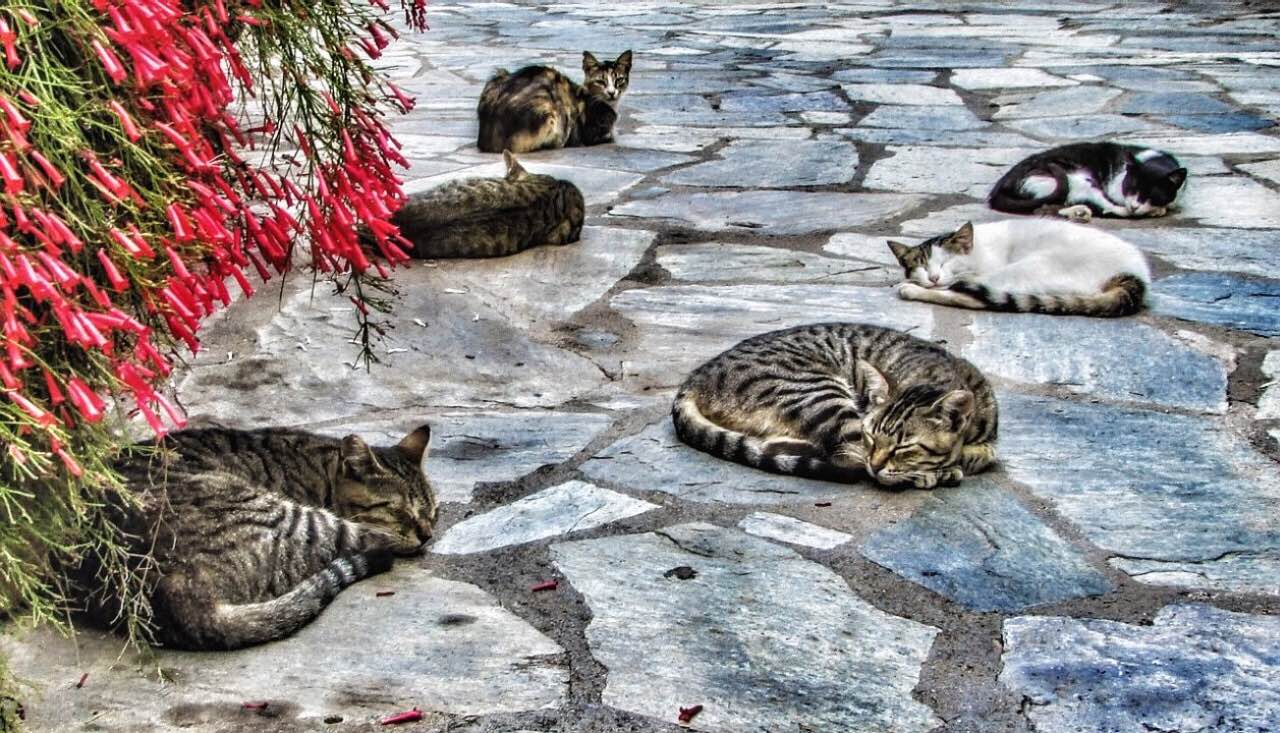 The village and the splendid beach, to the south of the capital, owe their name to the church of the same name. Agia Paraskevi it is ideal for those looking for more picturesque and typically Greek atmospheres. Less chaotic than Skiathos Town, but certainly not less fun. Here, in fact, there are plenty of places to drink and have fun and, above all, excellent taverns where you can taste the marinated delicacies.
The beach of the same name is also very beautiful. Certainly, a good solution to sleep in Skiathos.
Located on a hillside overlooking the Aegean Sea, just 300 meters from the sandy beach of Platanias, Villa Frideriki It offers self-catering apartments with a balcony overlooking Agia Paraskevi Beach or the garden. All units at the Frideriki are fully equipped and feature a kitchenette with a fridge and kitchenware, air conditioning and a private bathroom with hot water available 24 hours on 24.
Design and incredible and suggestive panoramic views await you instead at the Atrium Hotel. A 4 star facility for those looking for an impact solution. Prices decidedly higher than previous proposals where to sleep in Skiathos.
From this link, the list of facilities available at Agia Paraskevi.
FAMILY TRANQUILITY: TROULOS
Troulos
 is a small village on the beach of the same name, south-west of Skiathos Town. An ideal area especially for families. Choosing the most distant structures from the sea, in the hills, you will enjoy a truly incredible peace and tranquility; in a truly uncontaminated setting. The structures, in this case, are equipped with all the comforts to accommodate families. Do not think, however, that this is an area without interest. Not far from the busy Troulos Beach, there are numerous clubs and taverns. In addition, lovers of the adventurous spirit will have their own bread with the paths to Aselinos. In the beautiful 
Villa Ourania
,
 in August, with just over € 60 per day, you book a splendid studio apartment with kitchenette for 4 people. The property is located at 400 meters away from Troulos Beach, nestled in the lush landscape of the island; It offers self-catering accommodation with free Wi-Fi and an airport shuttle service INCLUDED in the rate. Simply furnished and air conditioned, the studios and apartments of the
Ourania
.
They feature a private balcony, a kitchen or kitchenette, a TV, and an en suite bathroom with a shower. A great choice to sleep in Skiathos.
Search hotels and more...