Sun, sea and beautiful beaches. The island is a succession of splendid coves, and inlets. Hard to describe them all. If you are looking for quiet places, far from the chaos … change your destination. Expect a swarm of people ready to invade every square foot of sand!
Here are some of the Majorcan beaches that you should not miss during your vacation.
CALA MILLOR
The Cala Millor Beach, is located about 3 kilometers from Son Servera, right on the border with the municipality of Sant Llorenc des Cardassar.
It is a beautiful beach of soft white sand awarded with the Blue Flag, with a fairly large coastline (1800 meters). The sea is very beautiful, turquoise, crystalline and transparent, with sloping and sandy bottoms, ideal for swimming and swimming.
It is the ideal beach for windsurfing or KiteSurf, because often beaten by the winds, with rough seas.
Reaching Cala Millor is easy by following the signs; from Palma city, it is about 70 km, to travel on the expressway ma-15, and then taking the direction of Carrer Estanyol. The journey is quite long, but we are sure it is worth it; once you arrive you can leave your car in the large parking lot. Cala Millor is very well equipped: you will find everything you need.
CALA MONDRAGÒ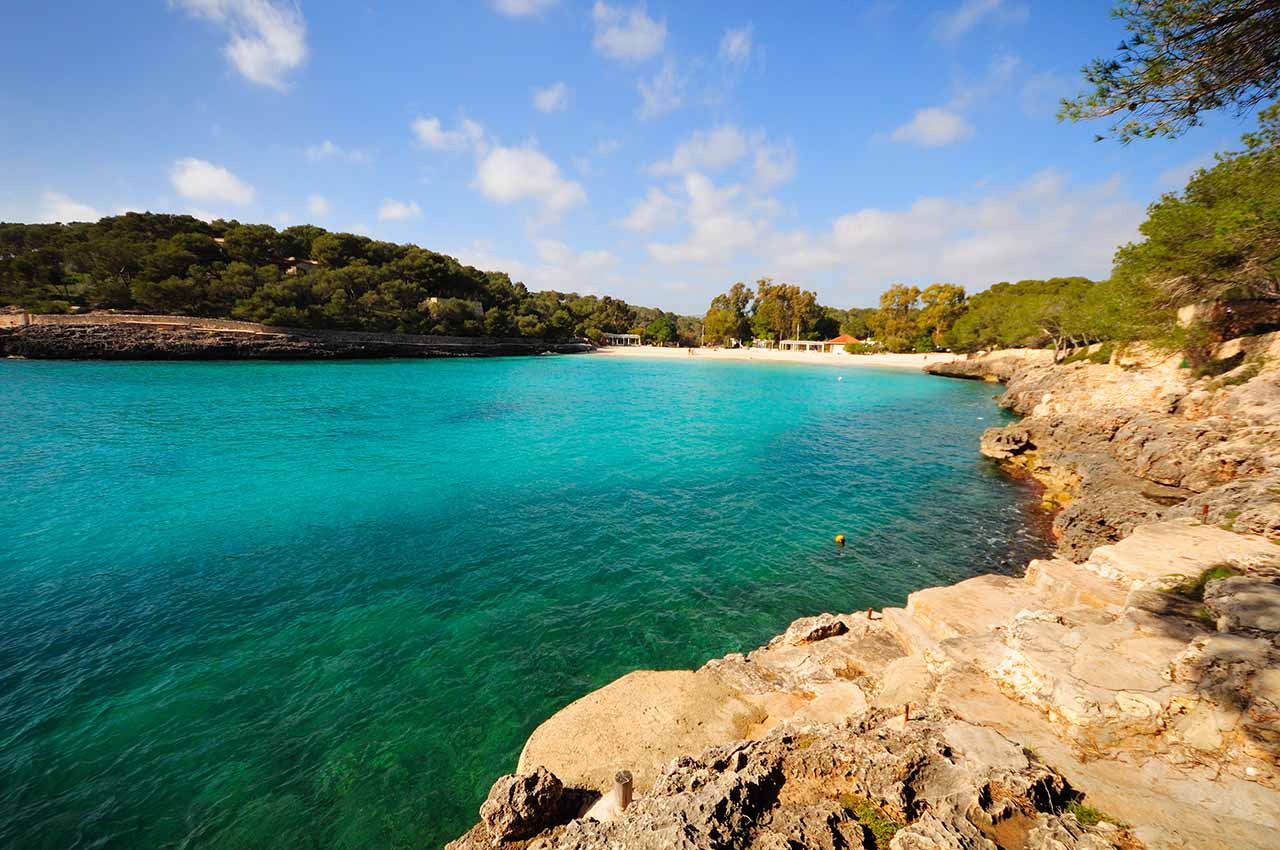 Photo ©, Random_Photos
The Cala Mondragò, also known as Cala de sa Font de n'Alis, is located about 6 kilometers from s'Alqueria Blanca, in one of the most beautiful bays of Mallorca; it is a splendid beach of soft white sand, gently sloping towards shallow turquoise waters.
For this reason, the beach is particularly appreciated by families with children.
It is, without doubt, one of the most popular beaches of Mallorca, and for this reason, crowded.
The beach is well equipped with sunbeds, umbrellas, pedal boats and numerous tourist services, which is why in the high season it is very popular; the sea is beautiful, limpid and of turquoise color.
If you take a path from the beach towards the west, you can get to Cala des Burgit; towards the east it leads instead to the beach of s'Amarador.
Reaching Cala Mondragò is simple but the journey is long: you have to travel a little less than 60km, taking the road Ma-19.
CALA SANTANYI
An authentic jewel; this is one of the most beautiful beaches of Mallorca, quite small but with an incredibly clear sea and an extremely lush vegetation close to the rocks overlooking the water.
The cove is well protected from winds and suitable for anchoring sailboats; close to the beach, there is also a small diving school. The coast is equipped with sunbeds, umbrellas and pedal boats and is always overcrowded.
To reach Cala Santanyì you will have to take the Ma-19 road; the arrival time is around 50 minutes (56km) and, given the limited size of the cove, we recommend arriving in the morning to find space.
CALA PI
The Cala Pi Beach in Majorca is located about 17 kilometers from Llucmajor and around 4 from the village of Capocorb. National Historic Artistic Monument, it is a splendid cove with light sand; the coastline does not exceed 45 meters in length, set in a picturesque inlet bordered by rocky walls more than 30 meters, very impressive indeed.
You can reach this beach following the indication for Lucmajor and then for Cala Pì; is about 45 km from the center of Palma.
Kanoa remembers that the beach is equipped with umbrellas and deck chairs but you have to arrive in time, as in high season you could find very few free places.
ES TRENC
Es Trenc is a show of colors, with very fine sand, shallow and clear water: an aut mythical paradise! Given the beauty of this part of Mallorca, Es Trenc is known as the Caribbean Maiorchini.
To reach this marvelous beach you have to use a lot, in fact it is far from Palma city 47km, to go through the Ma-19 road. Es Trenc is particularly equipped: there are sunbeds, deckchairs and umbrellas, a restaurant, bar, a very large car park; in other words, it is ideal for spending a great relaxing day in contact with nature.
CALA FORMENTOR
An absolutely incredible place, with crystal clear sea, soft, and fine white sand, in the middle of the Mediterranean scrub.
You can relax in the shade of pine trees, practice water sports, or maybe take a boat ride.
A few kilometers from here, a long and tiring path leads to the suggestive
Cap de Formentor, an absolutely unmissable place. It is a panoramic point, with the famous farò, from which you can enjoy a truly fantastic view of Menorca.
To reach Cala de Formentor, from Palma, you will have to take the Ma-13 road.
Search hotels and more...
Map of the Beaches of Mallorca