Flesland is the second most important airport for passenger traffic in Norway, located about 20 km south of beautiful Bergen.
In the last year, just under 7 million people passed through the Norwegian airport.
Inside you will find numerous shopping, duty-free areas and dining options. In addition, the WIFI line is available throughout the building. The maximum free use time is 4 hours. To use the service, you will need to select the AIRPORT line and register.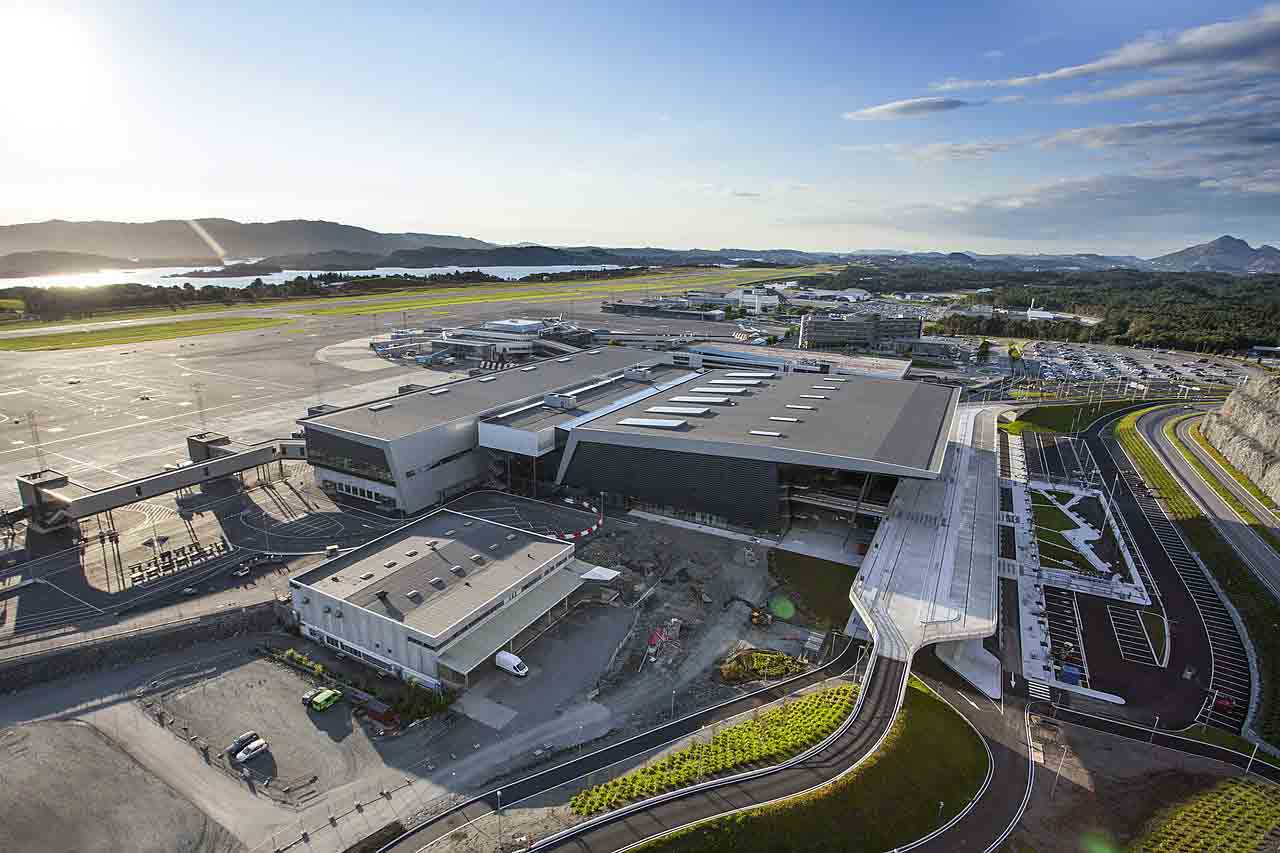 Photo ©, Varde / Avinor
Here is the list of the main direct connections* with Bergen Flesland Airport:
BULGARIA: Varna.
CROATIA: Dubrovnik, Split.
CYPRUS: Larnaca.
DENMARK: Billund, Copenhagen.
ENGLAND: London–Gatwick, London-Heathrow, Manchester, Newcastle upon Tyne.
FAROER ISLANDS: Vagar.
FINLAND: Helsinki.
FRANCE: Nice, Paris–CDG, Paris–Orly..
GERMANY: Berlin, Frankfurt, Hamburg, Munich.
GREECE: Chania, Rhodes, Santorini.
ICELAND: Reykjavik–Keflavik.
ISRAEL: Tel Aviv.
ITALY: Milan-Malpensa, Rome–Fiumicino.
LATVIA: Riga.
LITHUANIA: Kaunas, Vilnius.
NETHERLANDS: Amsterdam.
NORWAY: Ålesund, Bodø, Brønnøysund, Florø, Harstad/Narvik, Haugesund, Kristiansand, Kristiansund, Leknes, Molde, Ørsta–Volda, Oslo, Sandefjord, Sogndal, Stavanger, Svolvaer, Tromsø, Trondheim.
POLAND: Gdańsk, Katowice, Kraków, Szczecin, Warsaw–Chopin.
SCOTLAND: Aberdeen, Edinburgh, Sumburgh.
SPAIN: Alicante, Barcelona, Gran Canaria, Madrid, Málaga, Murcia, Palma de Mallorca, Tenerife–South.
SWEDEN: Gothenburg, Stockholm-Arlanda.
SWITZERLAND: Zurich.
TURKEY: Antalya.
USA: Newark.
BERGEN FLESLAND AIRPORT – CITY CONNECTIONS
Flybuss offers fast, efficient connections by Bus Express from Flesland Airport to Bergen. The journey takes 20 minutes, with about 3 departures per hour. Tickets for adults, aged 18 and up, cost 129NOK (about €13).
Children aged 6 to 17, accompanied by at least one paying adult, travel for free.
Alternatively, you can use the cheapest tram that reaches Byparken in about 45 minutes (last stop). The service is available every day, including Sundays and holidays, from Flesland airport, from 5.10 am to 11 pm, and in the opposite direction from 5.45 am to 11.30 pm.
Simply buy a ticket for 1 ZONE (A) at a cost of 39NOK per adult, and 19NOK for children aged 6 to 18.
All Bergen tickets and passes are also valid, which you can buy directly at the airport.
TAXI AND CAR
Taxis are not exactly cheap. Here, as in the rest of the country.
As soon as you leave the terminal, you will find the taxi rank. A taxi ride to Bergen city center takes approximately 20 minutes, depending on traffic conditions. The price should be around 450NOK.
If you decide to rent a car, you can leave the airport, crossing the E39 and Rv580. Travel times are the same as for taxis. At the airport you will find several rental agencies. From this link, however, you can book your car at the best price.
FLESLAND – NORWAY CONNECTIONS
With local buses you can reach the nearby Flesland, Hurtigruten. With bus 23 you reach Loddefjord, Storavatnet and Sotra.
The parking of the buses is immediately outside the Terminal.
*The list is subject to change. All links, updated, can be consulted on the official website. Before leaving, it is recommended to inquire about the provisions and rules on COVID-19 not in Norway, and on the mandatory nature of the Green Pass. Timetables and connections are subject to change.
Search hotels and more...