Over the last decade, Valencia has increasingly shown its strong tourist vocation.
Large sporting events, and artistic and cultural events of enormous value, have made the number of visitors grow exponentially. Thus, thanks to the numerous investments, today the city boasts an efficient public transport system.
A network in which, Metrovalencia, represents the real flagship. Just think of the fact that the Valencian metro is among the most accessible in all of Europe.
Bus and metro are part of the integrated charging system. Here are the practical information on how to get around Valencia.
METRO
Photo ©, Mememe6
The metro is managed by Ferrocarrils de la Generalitat Valenciana (FGV) and is part of the single system, called METROVALENCIA. The latter represents a network of 9 lines between subway, light rail and tram.
With the 6 subway lines, you can reach all the places of greatest interest, the center, the suburbs and the surrounding areas. Each line is identified by a different number and color. Here are the details of the lines and the operating hours
Yellow L1 line: Bétera – Villanueva de Castellón. From Monday to Friday, from 06:04 to 22:51. Saturday, from 06:16 to 22:53. Sundays and holidays, from 07:36 to 22:53.
Lilith L2 line: Lliria – Torrent Avinguda. From Monday to Friday, from 06:09 to 23:14. Saturday, from 06:08 to 23:22. Sundays and holidays, from 07:28 to 23:22.
Red L3 line: Rafaelbunyol – Aeroport. From Monday to Friday, from 05:27 to 23:57. Saturday, from 05:47 to 00:28. Sundays and holidays, from 07:08 to 00:02.
Green L5 Line: Marítim / Serreria – Aeroport. From Monday to Friday, from 06:21 to 22:51. Saturday, from 06:55 to 22:55. Sundays and holidays, from 07:35 to 22:35.
Orange L7 line: Marítim / Serreria – Torrent Avinguda.

L9 brown line:

Alboraya / Peris Aragó – Riba / Roja de Túria.
GETTING AROUND  VALENCIA BY TRAM
The tram network is part of the Metrovalencia system and consists of three lines, T4, T6 and T8, each distinguished by a specific color. The network covers a total of almost 22 kilometers.
Like the metro, trams are also an excellent way of getting around and around the city. And, above all, they are highly efficient and modern, completely accessible to people with reduced mobility and disabled persons.
Here is the detail of the currently active lines:
Blue T4 line: Dr. Lluch – Mas del Rosari, with branches to Ll. Llarga Terramelar and Fifa Valencia.
T6 purple line: Maritim Serreria – Tossal del Rei
Skyline T8 line: Maritim Serreria – Marina Reial Joan Carlos I
Trams run every day from Monday to Sunday, including holidays, from 06:00 around to 22:30.
GETTING AROUND VALENCIA BY BUS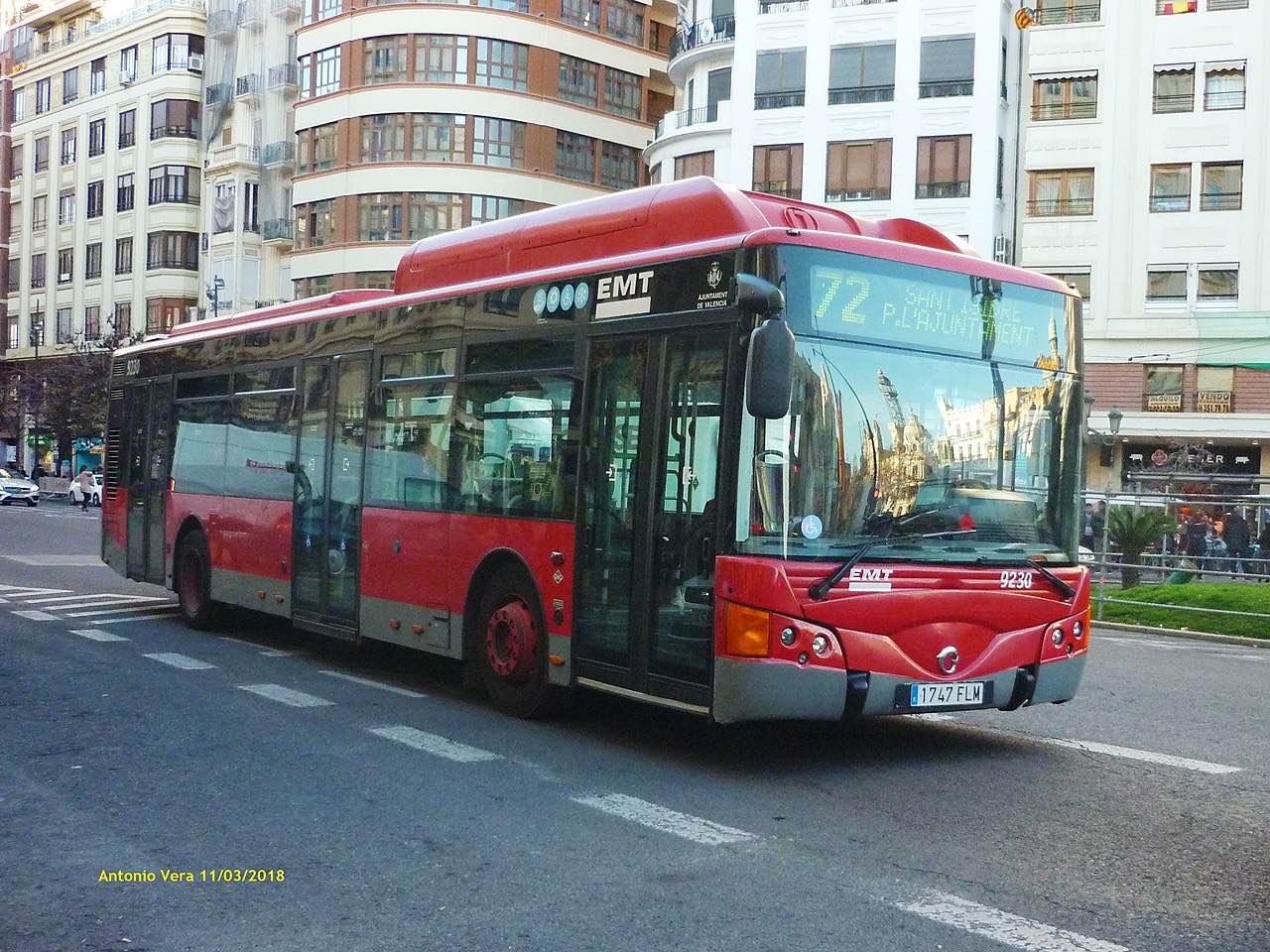 Photo ©, Antonio Vera
The Empresa Municipal de Transportes de Valencia, EMT, manages the efficient public road service, ideal for getting around the city, and in the surrounding areas. Modernity and approach will characterize the Valencian buses, many of which have a lowered structure for the disabled.
Typically, day lines are in service from 04.00 to around 22.30. The timetable, however, may vary depending on the lines. Buses are identified by a progressive number of one or more digits, depending on the line.
There are, then, some special lines, active in conjunction with particular events. This is the case of the 78 Line, which, during the period of the Fallas, performs a special service directed by Tetuan Porta de la Mar to Plaça d'Espanya.
GETTING AROUND VALENCIA BY NIGHT
Generally, many prefer to use taxis during nightlife hours. There is, however, a convenient, inexpensive, overnight road transport operated by EMT. Twelve bus lines, identified by the letter N, followed by a one- or two-digit number. They make stops at many points of interest and strategic, including the suburbs.
Buses from N1 to N10, all leave from Plaça de l'Ajuntament. The N89 and N90 buses follow the Ronda de Trànsits.
Night service is available every day, from 22.30 to 2.00. On Fridays and on the days before the service the service ends at 03.30.
Search hotels and more...