Valencia Airport is an international stopover, located in the small town of Manilas, 8 kilometers west of the center of Valencia. According to statistics reported by aena, it is the 10th busiest airport in all of Spain.
The building consists of a single Terminal. Inside, there is no shortage of services, including bars, restaurants, duty-free shops, and shops for shopping. There is also a pharmacy inside. The wifi line is available free of charge throughout the building. Just use the "free.aena.es" network through your device. You will have to register and accept the conditions to be able to browse for free.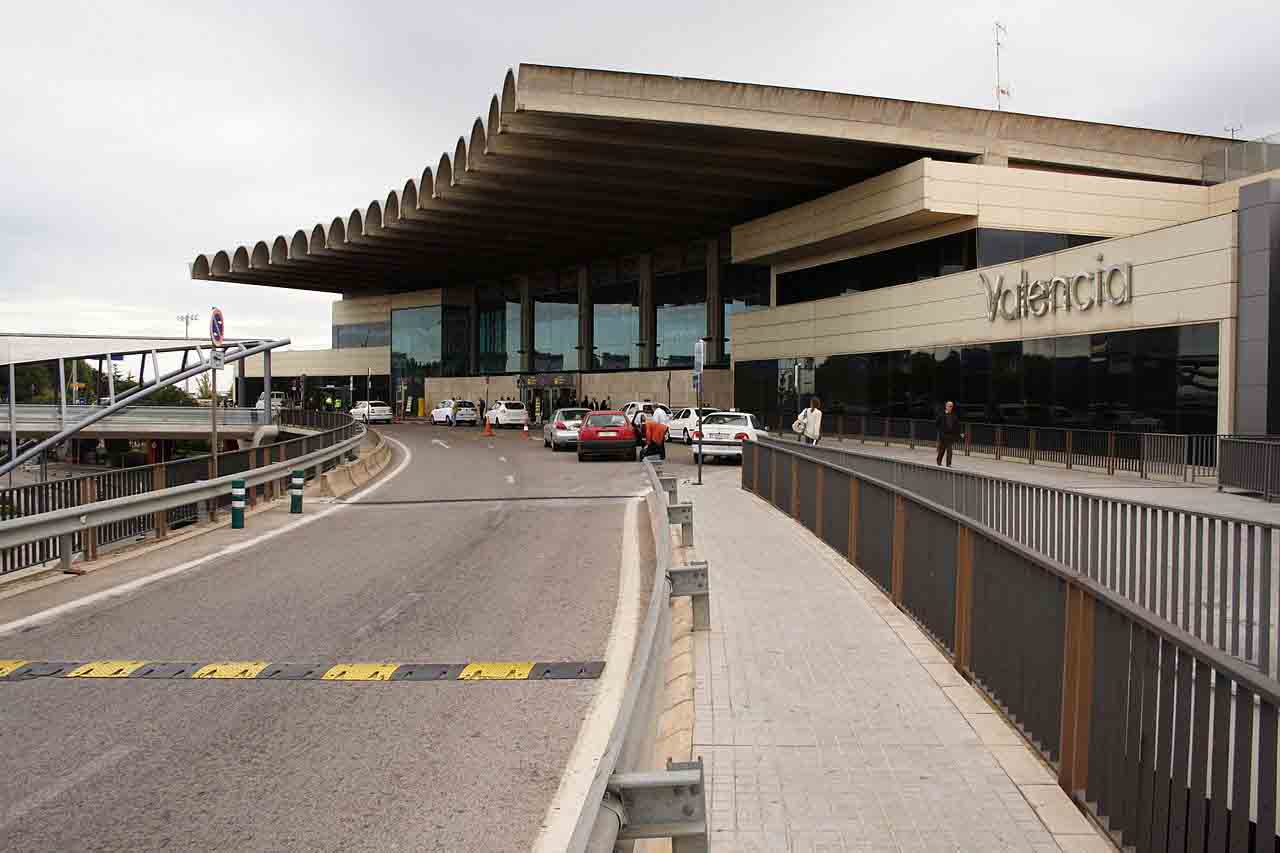 Photo ©, א (Aleph)
Here is the list of direct connections * with Valencia Airport:
ALGERIA: Algiers.
AUSTRIA: Vienna.
BELGIUM: Brussels, Charleroi.
BULGARIA: Sofia.
CZECH REP: Prague.
ENGLAND: Bristol, East Midlands, London–Gatwick, London–Heathrow, London–Stansted, Manchester.
FRANCE: Beauvais, Lyon, Marseille, Mulhouse/Basel, Nantes, Paris–CDG, Paris–Orly, Toulouse.
GERMANY: Berlin, Cologne/Bonn, Düsseldorf, Frankfurt, Hamburg, Karlsruhe/Baden-Baden, Munich, Nuremberg, Stuttgart
GREECE: Athens.
HUNGARY: Budapest.
IRELAND: Dublin.
ITALY: Bari, Bergamo, Bologna, Cagliari, Milan–Malpensa,, Naples, Palermo, Pisa, Rome–Fiumicino, Treviso, Trieste, Turin.
LATVIA: Riga.
LUXEMBOURG: Luxembourg.
MALTA: Malta.
MOROCCO: Agadir, Fez, Casablanca, Marrakech, Tangier.
NETHERLANDS: Amsterdam, Eindhoven, Rotterdam/The Hague.
NORWAY: Oslo.
POLAND: Gdańsk, Kraków, Warsaw–Modlin.
PORTUGAL: Lisbon, Porto.
ROMANIA: Bucharest, Cluj-Napoca, Timişoara.
RUSSIA: Moscow–Sheremetyevo.
SCOTLAND: Edinburgh
SPAIN: A Coruña, Asturias, Badajoz, Barcelona, Bilbao, Fuerteventura, Granada, Gran Canaria, Ibiza, Jerez de la Frontera, Lanzarote, Madrid, Málaga, Menorca, Palma de Mallorca, Santander, Santiago de Compostela, Seville, Tenerife–North, Tenerife–South, Vigo.
SWITZERLAND: Basel/Mulhouse, Geneva, Zürich.
TURKEY: Istanbul.
UKRAINE: Kyiv–Boryspil, Lviv.
VALENCIA AIRPORT CONNECTIONS
The center can be easily reached by subway or bus. The airport is also located in the immediate vicinity of the A3 motorway for Madrid, and the A7 for Barcelona.
METRO
The efficient metro connects the center and Valencia Airport every 15 minutes. Depending on your origin/destination, you can use Line 3 Rafelbunyol-Aeroport, or Line 5 Aeroport-Marítim Serrería. In our opinion, the subway is the best solution to get to the center by public transport.
Tickets can be purchased at the automatic machines and at the appropriate counters. You have to buy a ticket called BITLLET SENZILL 4 ZONES, at a cost of €3.90. It is necessary to add the cost of at least €1 for the purchase of the Móbilis plate (mandatory for traveling on vehicles). If you buy the TuiN Card, you save on the trip (costs 2.00€). All information is contained in our section dedicated to Valencia tickets.
Line 3 Metrovalencia runs every day, Monday to Friday, from 05:27 to 23:57. Saturday, from 05:47 to 00:28. Sundays and holidays, from 07:08 to 00:02.
Line 6 is active from Monday to Friday, from 06:21 to 22:51. Saturday, from 06:55 to 22:55. Sundays and holidays, from 07:35 to 22:35.
BUS
The Metrobus 150 connects, every day, the center and Valencia Airport. The bus makes intermediate stops in Mislata, Quart de Poblet and Manises, every 30 minutes. The bus runs from approximately 05:20 to 22:05. Tickets can be purchased directly on board the vehicle, at a cost of €1.50 at full rate.
*The list is subject to change. All links, updated, can be consulted on the official website. Before leaving, it is recommended to inquire about the provisions and rules on COVID-19 in Spain, and on the mandatory nature of the Green Pass. Timetables and connections are subject to change.
Search hotels and more...