Getting around San Francisco is pretty simple. The main public transport lines belong to the Muni (San Francisco Municipal Railway), which operates nearly 100 bus, trolleybus and hybrid vehicles. Added to these are the famous "cable cars" and the excellent light rail system.
The car is absolutely not recommended for getting around the city.
CABLE CAR
More than just a way to get around in San Francisco, the Cable Cars are the symbol of the city, with a history of over 150 years!
A real experience, beyond the journey.
California, Powell/Hyde, and Powell/Mason are the three lines, active every day, from Monday to Sunday, from 06.30 to about 23.30. The first is active from California and Market on Van Ness Avenue. The other two connect Powell and Market to the Fisherman's Wharf district.
A trip on these vintage trams is at least recommended, for a sort of panoramic tour of San Francisco.
LIGHT METRO
Thanks to a fleet of 151 modern and efficient vehicles, light rail is probably the best way for getting around San Francisco and its surroundings.
The system is developed along a path of over 110km that connects, in a capillary way, every corner of the city.
There are 6 regular lines and a special support line, running during peak times.
Nine underground and 24 surface stations, all accessible for disabled and wheelchair users. Along the lines, moreover, there are over 80 checkpoints.
GETTING AROUND SAN FRANCISCO BY BIKE
Getting around in San Francisco by bike requires practice and training. Sometimes you will have to deal with particularly high slopes.
Different speech, however, along the Bay area or bay, to Fisherman's Wharf, where you can take pleasant scenic walks on two wheels.
Perhaps, you could use public transport to tackle the steepest climbs, and the bike for the less tiring stretches.
On most public transports it is allowed to transport folding bikes inside the vehicle.
On the buses, up to 3 bikes can be transported to the rear. YOU WILL BE RESPONSIBLE FOR YOURSELF, ENSURE the bike to the vehicle restraint system.
TAXI
Getting around San Francisco by taxi is the most convenient and, at the same time, particularly expensive solution. Thanks to a clear and transparent tariff system, you can know in advance the price of the trip.
The cost is 3.50$ for the first call, to which we must add 0.55$ for every fifth of mile, or fraction. In practice, you pay $1.70 per kilometer: certainly not a little.
To reach San Francisco airport, you will have to pay a $4.00 surcharge.
For journeys exceeding 15 km, the fare is increased by an additional 50%.
FERRY
As strange as it may seem for a city that lives by the sea, ferries have come back into fashion only a few years ago; they sail the waters from Fisherman's Wharf and the Embarcadero Ferry Building, to Alameda, Oakland, Sausalito, Tiburon and the islands of the bay.
Alcatraz Cruises will take you to the discovery of the island of Omonima. Ferries leave from Pier 33 every half hour.
Blue and Gold fleet will take you to Oakland, Tiburon, Sausalito and Angel Island; departure from the Ferry Building, pier 39 and pier 41 at Fisherman's Wharf.
TICKETS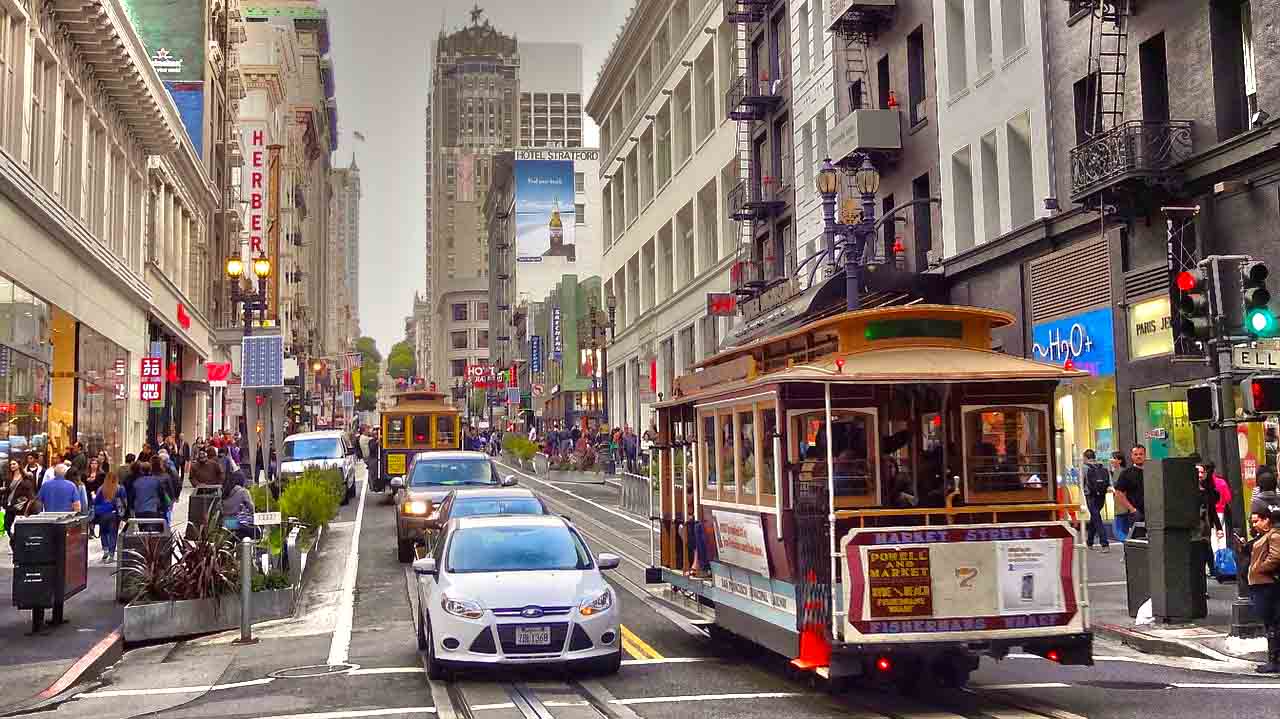 With MuniMobile and ClipperCard, you can travel on the vehicles managed by MUNÌ at the most convenient rate. The first is the official APP available on the various platforms. Once downloaded, you can buy tickets instantly, pay by credit card or Paypal.
Clipper is the rechargeable card, valid in San Francisco and throughout the Bay Area. It costs $3 and you can recharge it if necessary at the enabled machines.
Below are the main tickets for transportation
The single ticket per adult costs $2.50. Valid on all vehicles, except vintage trams and BARTs.
Day Pass. Valid on buses and light metro. It costs $5.00 per person, and expires at 11:59 pm on the validation day.
Single Cable Car Race. It always costs $7.00, even in cash. It is valid for a ride on vintage trams only.
Day Passport. Available in cuts of 1, 3 or 7 days. Allows travel on all San Francisco vehicles, including Cable Cars. It costs $12.00, $29 and $39, respectively.
CITYPASS SAN FRANCISCO
The best and cheapest way to combine transport and attractions in San Francisco is, without a doubt, CityPASS SF. It is a carnet valid for 9 days starting from the first day of use. In addition to including the entrance to the main attractions of the city, it allows unlimited access to all Muni vintage trams, buses and trams for seven consecutive days, starting from the day of first use. It costs $ 94 per adult, and $ 74 reduced.
Search hotels and more...