The climate of San Francisco can be defined as temperate. The city, located on the western part of the United States, suffers the influence of ocean currents.
Temperatures throughout the year are never too hot or too cold. If you're wondering what the best time is when to go to San Francisco, the answer is … always! In fact, temperatures are never too hot or too cold all year round.
THE SEASONS IN SAN FRANCISCO
Summer is one of the best seasons when going to San Francisco. From June to September, you will always find good weather, and around 10 hours of daylight. Rainfall is quite scarce. The maximum can reach 27 degrees. September and August are the hottest months of the year. The temperatures of the sea, in this period, are around 14 °: you will hardly be able to swim in the ocean waters.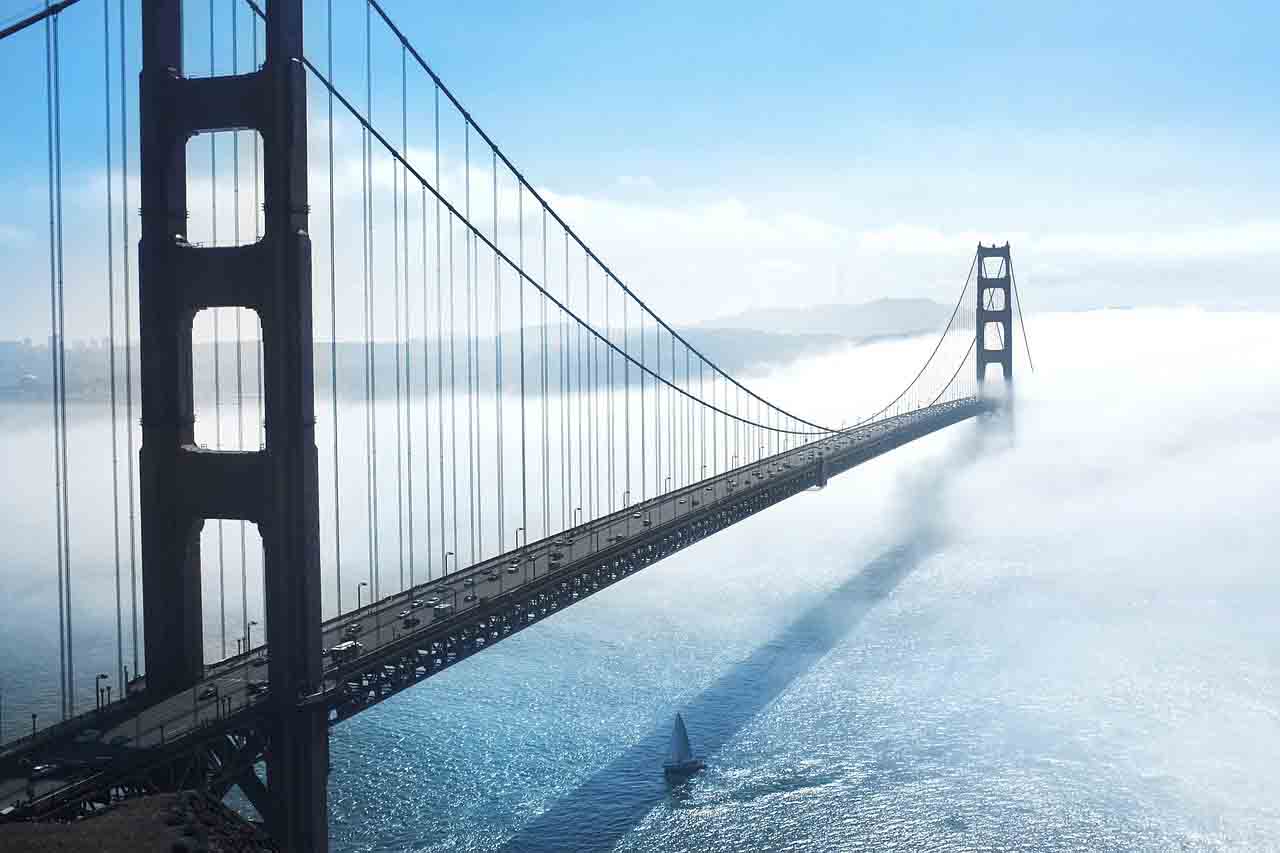 In winter, the lows are around 8 degrees and are therefore really tolerable. Precipitation, rare throughout the year, is concentrated mainly in winter.
Spring and Autumn are months with fairly pleasant temperatures, especially at the turn of the summer. In autumn, early in the morning, temperatures are quite cool and it is not uncommon to see fog banks.
WHEN TO GO TO SAN FRANCISCO
Through our κ index, we provide an assessment for every single month. This way, you can evaluate the best time to go to San Francisco.
JANUARY κκ
FEBRUARY κκκ
MARCH κκκ
APRIL κκκ
MAY κκκκ
JUNE κκκκ
JULY κκκκ
AUGUST κκκκκ
SEPTEMBER κκκκκ
OCTOBER κκκκ
NOVEMBER κκκ
DECEMBER κκ
TOP AND FLOP
September is probably the best month when to go to San Francisco. The temperatures are quite high, and you will hardly see it raining.
There is no real month to avoid. As mentioned, every month is good to visit San Francisco. In January, perhaps, you might find some good offers to leave.
WHAT TO PUT IN A SUITCASE
Ocean influences often lead to gusts of wind and sea breezes. Also in the summer.
Always remember to bring a jacket and wear it if necessary.
The ideal would be to dress in layers because, in some neighborhoods, you will find sun and warm from a T-Shirt. If you try to make a jump to the Golden Gate, instead, the wind often blows strong enough.
In the early morning, the temperatures always drop enough, due to the presence of fog.
Warm clothes, but not very hot, in winter.
Search hotels and more...