Among beaches, coves, and splendid coves, you will have a wide choice. The island has at least a hundred beaches, with an impressive density to say the least!
Given the number, it would be impossible to be able to visit them all. Below is our Top Ten of the best Milos beaches.
NORTHERN MILOS BEACHES
The beaches located in the north and north-east of the island, between Adamas and Plaka, are particularly popular. The reason is mainly due to the ease of access. They will probably not be the most beautiful beaches on the island but, we are sure, you will not miss to visit them during your vacation.
SARAKINIKO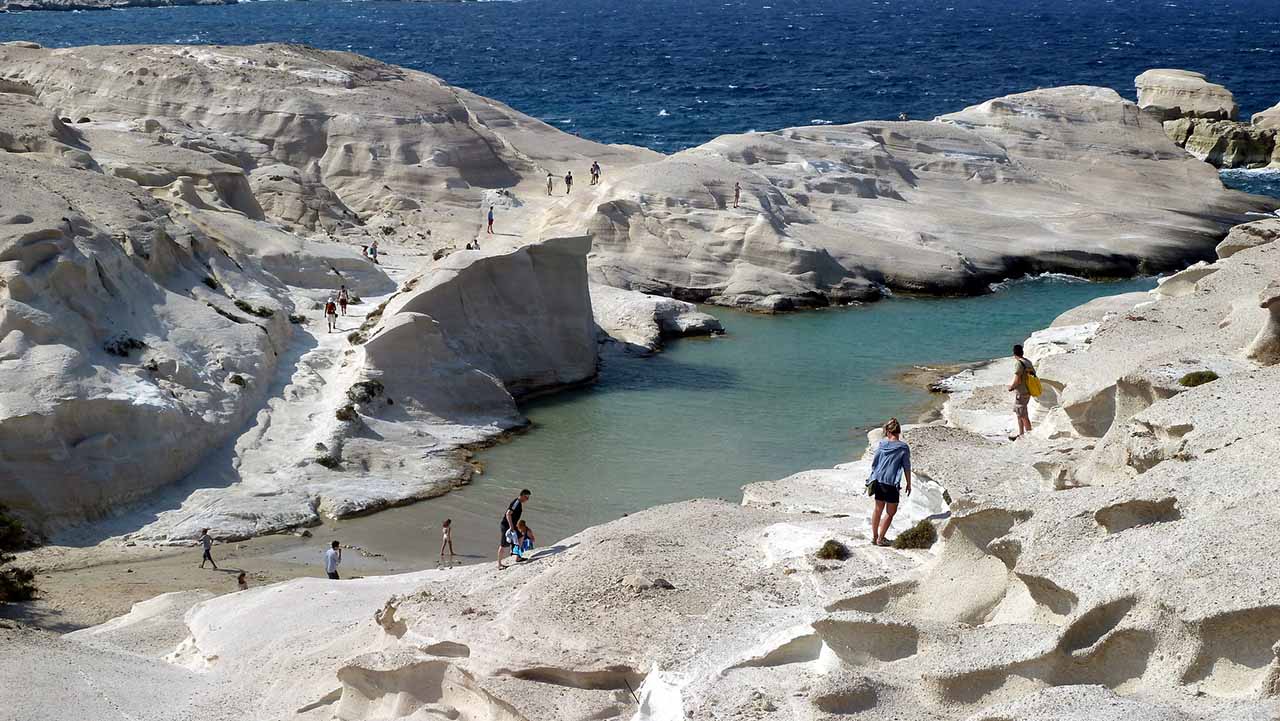 Photo ©, Kostas Limitsios
A sort of lunar landscape. This is the feeling as soon as you arrive at Sarakiniko, one of the most famous Milos beaches, an inevitable presence on pamphlets and leaflets of the island.
Fascinating beach with volcanic cliffs. You can stretch out along the rocks of any shape and height. Ideal for sunbathing, and for diving at sea.
It is located north of Amadas, perfectly accessible by car, and, therefore, particularly crowded. Not far away, parking is available. In August, it's best to get there early in the morning.
FIROPOTAMOS
A small fishing village, located a few kilometers west of Sarakiniko.
A beautiful bay, surrounded by rocks, with a sandy beach and crystal clear waters. In the background, the small village and the church of Agios Nikolas.
Firopotamos Beach is easily accessible by car and therefore very busy. Especially in high season.
PAPAKINIKOU
It is certainly not among the best Milos beaches but, probably, the most comfortable to reach.
Not far from Adamas, it is a wide sandy beach, easily accessible, with crystal clear waters. Recommended for families and children, and anyone staying in the city. Ideal, for example, during the afternoon, if you are in the area.
Perhaps, to admire a splendid sunset.
EAST
On the eastern side you will find secluded beaches and rather suggestive places. The roads to reach the beaches of Milos, in this case, are not particularly easy but, with a little forethought, they can also be crossed on quad bikes.
THIORICHIA
Among the most suggestive Milos beaches, Thiorichia is located in the place where, once upon a time, sulfur mines once stood.
Today, the site is abandoned, but there are still locals looking to the sea, in a truly surreal landscape.
The sea and the beach are not the best on the island. The spectacular setting, however, makes Thiorichia, one of Milos' must-see beaches.
Furthermore, the place is not particularly crowded.
Pay attention, in the last stretch of dirt road, before arriving.
KASTANAS
Crystal clear sea with a thousand shades. Pebble and pebble beach. Kastanas, on the eastern side, is a splendid cove, quite secluded and not very crowded. One of the few beaches of Milos, frequented by nudists. Although it is not a fixed rule.
MILOS BEACHES IN THE SOUTH
TSIGKRADO
Photo ©, Kostas Limitsios
Small and charming cove, south of Adamas, reachable after a long stretch of dirt road. The last descent on foot, between steep stairs between the rocky wall, makes it unsuitable for children and not too sporty people.
Small sandy cove, in a wonderful natural setting, with really beautiful waters and seabeds to explore.
Services are lacking and the beach is not equipped. We recommend getting there with a backpack, comfortable shoes, water and food.
Tsikgrado is a small corner of paradise and, without a doubt, one of the most fascinating beaches of Milos.
FYRIPLAKA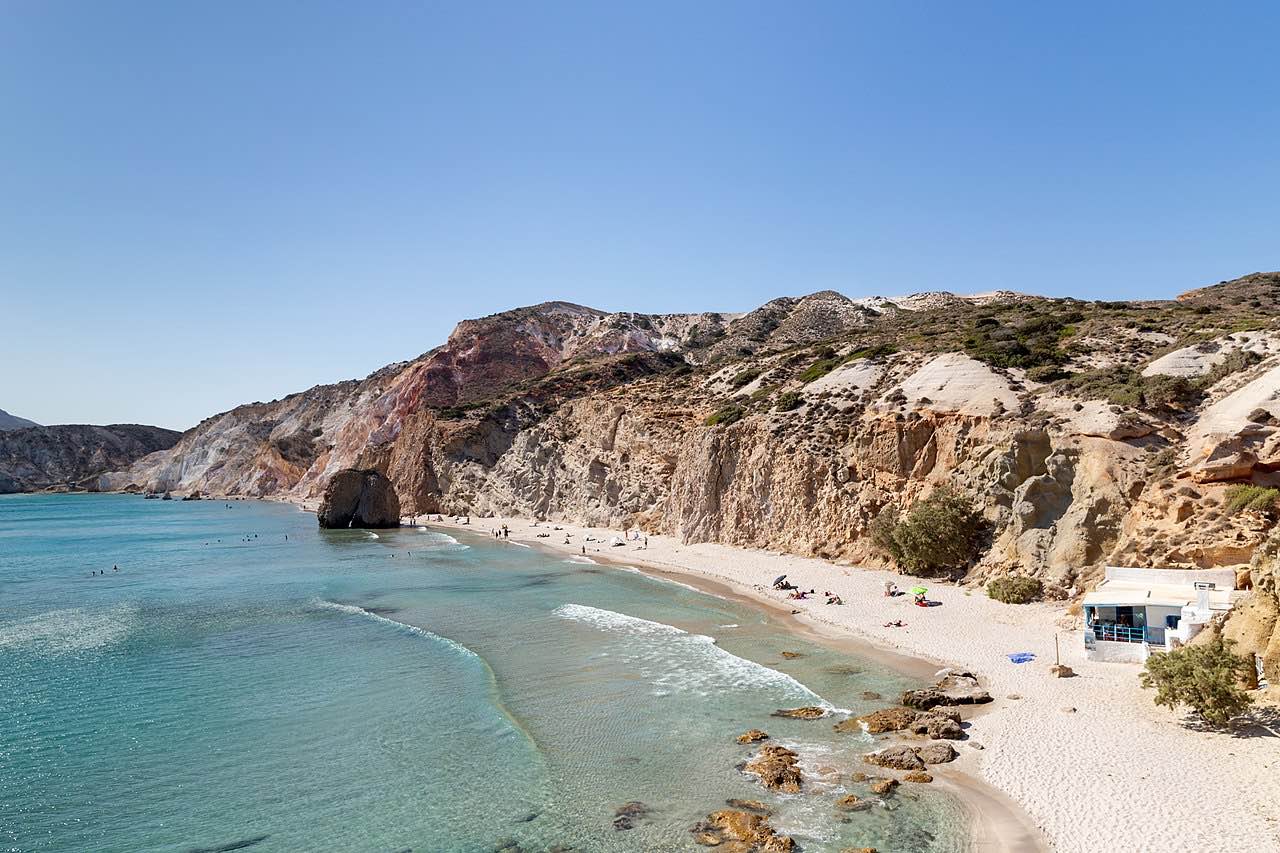 Photo ©, dronepicr
Not far from Tsikgrado, this beautiful sandy beach, wider than the previous one, offers a spectacular sea of ​​a thousand shades.
Well equipped, you will find sun beds, umbrellas and a small bar. Relaxing environment, with background music. You also find a stretch of free beach.
Fyriplaka is, without doubt, one of the top places, among the beaches of Milos; we are sure you will love this place at first sight.
The seabed slopes gently, making it particularly suitable for children and families.
The road to reach Fyriplaka is quite convenient. The last stretch, on dirt, is not at all complicated. Not far away, you will find a parking area. Keep in mind that, in high season, parking after 09:00 is almost always full.
WEST
On the western side there are concentrated beaches, and inlets, which are wilder and quieter. It is almost mandatory to travel in off-road vehicles, or with large displacement quads. The most fearless could move, at their own risk, by scooter or car.
In general, the beaches are little, or not at all, equipped. Don't forget to bring water and food with you, and avoid driving after dark.
TRIADES BEACH
On the western side, stands this beautiful beach, quiet and quite isolated.
Reaching it is not particularly easy, due to the dirt road. Preferable to get there in 4 × 4, remembering to bring everything you need, water and food.
The name, Triades, recalls the series of three beaches that make up the place. All really beautiful, and connected to each other.
Beautiful sea and lots of peace and relaxation, even in August. Among the most beautiful Milos beaches.
KLEFTIKO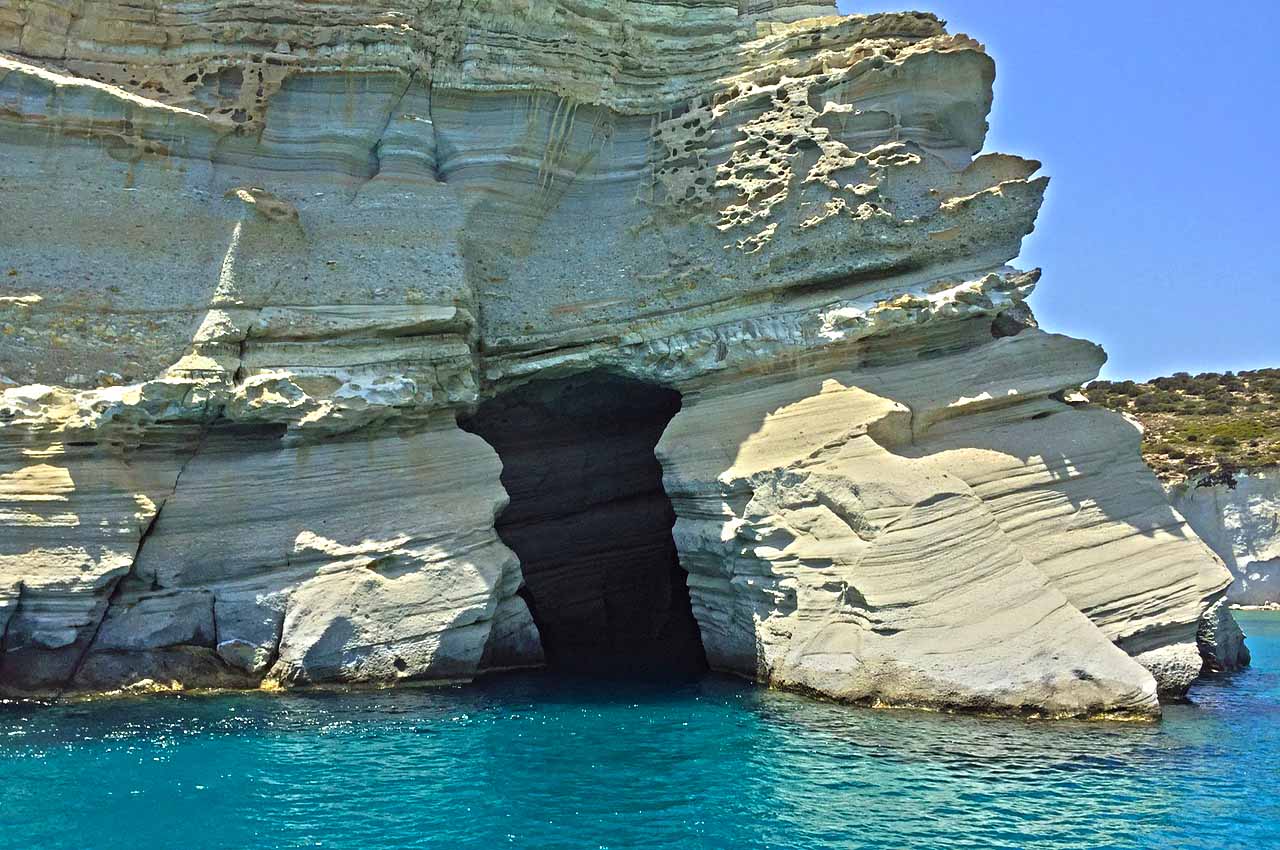 Kleftiko Caves is located south-west of the capital. Magnificent natural scenery, with fantastic white rocks, natural arches, caves, a small beach, and crystal clear turquoise sea.
Time has perfectly sculpted every corner, making this place truly evocative.
Among the best beaches of Milos. Absolutely not to be missed.
Access is by boat, or, alternatively, by quad or off-road, via a dirt road. Leave the car, you have to take a path, not sheltered from the sun. Bring a hat and possibly sneakers
In high season, after the 11:00, there is an incredible coming and going of boats and boats.
AMMOUDARAKI BEACH
Not easy to reach, it is a beautiful cove with sand, and lots of natural shade. One of the best beaches in Milos for children, thanks to the gently sloping seabed.
Before arriving, a small bifurcation leads to a discreet, small bay, nicknamed Silent Beach.
BOATS TOUR
Out of list from our Top Ten of the best Milos beaches, we recommend the beautiful Sikia, and Kalogries, reachable by boat.
To those who have the way, and desire, we recommend dedicating a day to a tour of the island by boat. You will be able to discover incredible corners of Paradise, like Paralia Sikia. Impressive scenery, through a small cave, which will lead you to admire incredible depths. Not to be missed.
Like Kalogries Beach, a true piece of paradise. Two small beaches, really beautiful, with sand alternating with pebbles, and spectacular sea, with emerald green tones. Among the most beautiful Milos beaches.
Search hotels and more...