Charm, culture and lots of nightlife. Welcome to Madrid!
Madrid is a unique and inimitable city. A city to live. A unique place in the world, capable of wisely mixing its history with the present. The city of museums, with the so-called "Golden Triangle of art"; some wonderful monuments; spectacular squares; amazing public gardens; ancient alleys.
A city with an unparalleled nightlife and nightlife. A leading gastronomic offer. But also a city that is profoundly avant-garde, efficient and in step with the times.
In other words, a truly wonderful city that will enchant you. So, don't wait and plan your vacation in this wonderful city.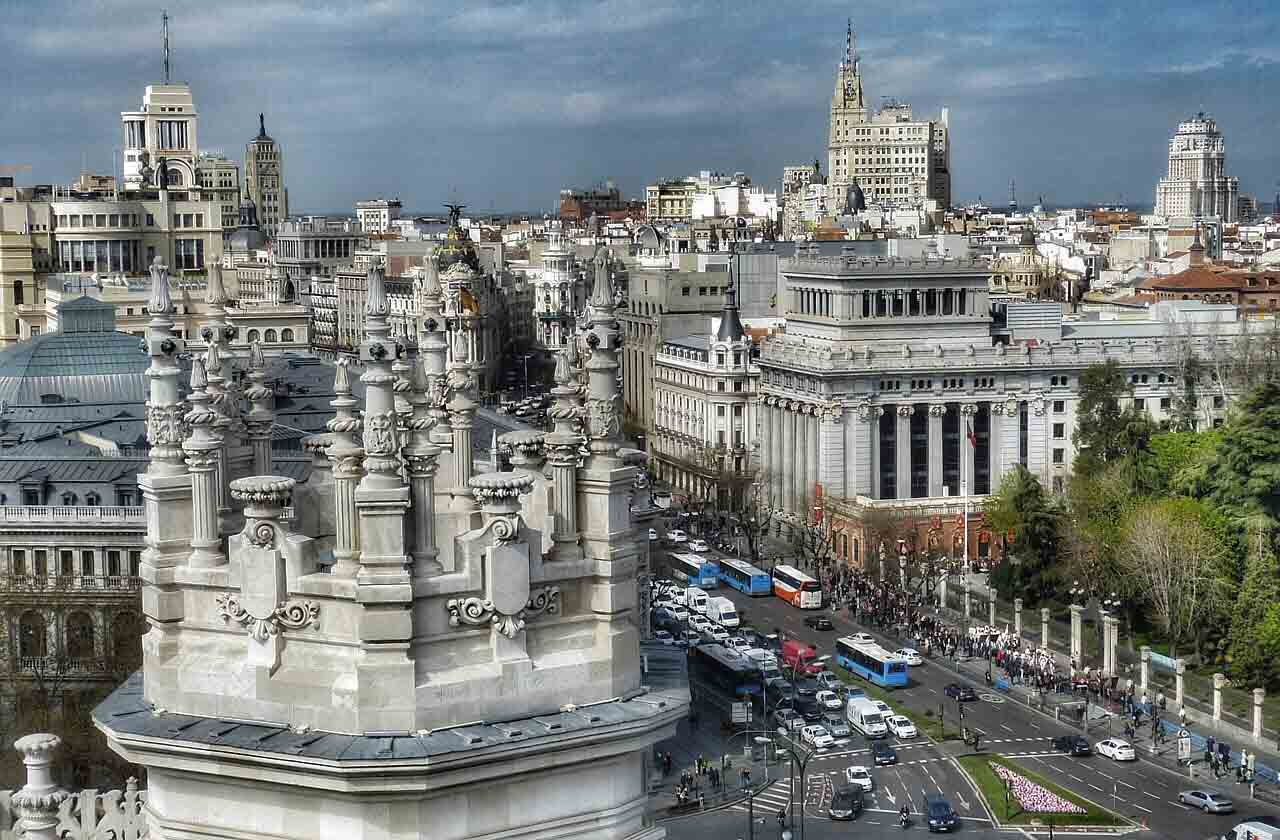 HOW TO GET TO MADRID
AIRPLANE
Adolfo Suárez Barajas Airport, inaugurated in 1931, is managed by AENA (Aeropuertos Españoles y Navegación Aérea). It is located just 12 km from the city center and is the main airport in Spain. In addition, the largest number of flights to Latin America depart from here. Barajas is the largest airport in the world by terminal area, with one million square meters! It is well connected with all of Spain and Europe.
From Barajas International Airport, you can easily reach the center by public transport. Metro line 8 allows you to reach the center at a cost of €4.5.
To visit Madrid, forget the car, bulky and above all too polluting (unless it is a hybrid or electric). Public transport remains the best solution from an environmental and sustainability point of view.
TRAIN
Puerta de Atocha is the main train station in the city. It houses the long-distance trains and the high-speed line. Of this, the most important are those connecting with Barcelona and Seville.
Atocha and Chamartin are the two main railway stations, from which, every day, direct trains leave for the main Iberian and European destinations. They are perfectly interconnected with the Madrid public transport system.
From nearby Segovia and Toledo, by train, it takes about 30 minutes, with prices starting from €11.10 per person. From Barcelona, ​​on average, it takes about 3 hours to travel. Tickets cost around €65.
CAR
The Spanish capital is almost perfectly located between Barcelona and the Portuguese Lisbon. The distance is approximately 600 kilometers from both. From Paris, on the other hand, you have to travel about 1300 kilometers, of which, over 800 kilometers on French territory, passing through Bordeaux. The latter is just under 700 km from Madrid. Leave at the Biriatou border and enter Irún / Behobia.
From Milan, in Italy, to reach the Spanish capital you have to travel over 1500 kilometers, crossing the whole of the South of France. Austria, Germany and the rest of Europe really have considerable distances.
Spain boasts an extremely efficient motorway network. Beware of speed limits: the police are not lenient.
Search hotels and more...