Manchester Airport is one of the most important international airports in the United Kingdom, located about 14 km south-west of the city.
Equipped with 3 terminals, two runways, and a train station, it is the third busiest airport in the country. Amsterdam, Dublin and Dubai are the main direct connections with Manchester Airport.
Inside, numerous services are available, shopping areas, refreshment points, duty-free. The wifi line is available for free throughout the building.
The controls are incredibly accurate and, often, the rows are endless.
Not far from the terminals, along the Wilmslow Road, there is the Track Visitor Park. An opportunity, for adults and children, to have a front row seat for take-off and landing of the aircraft; or, to admire the BA Concorde G-BOAC. More info from this link.
Below is the list of the main companies and direct connections * with Manchester Airport.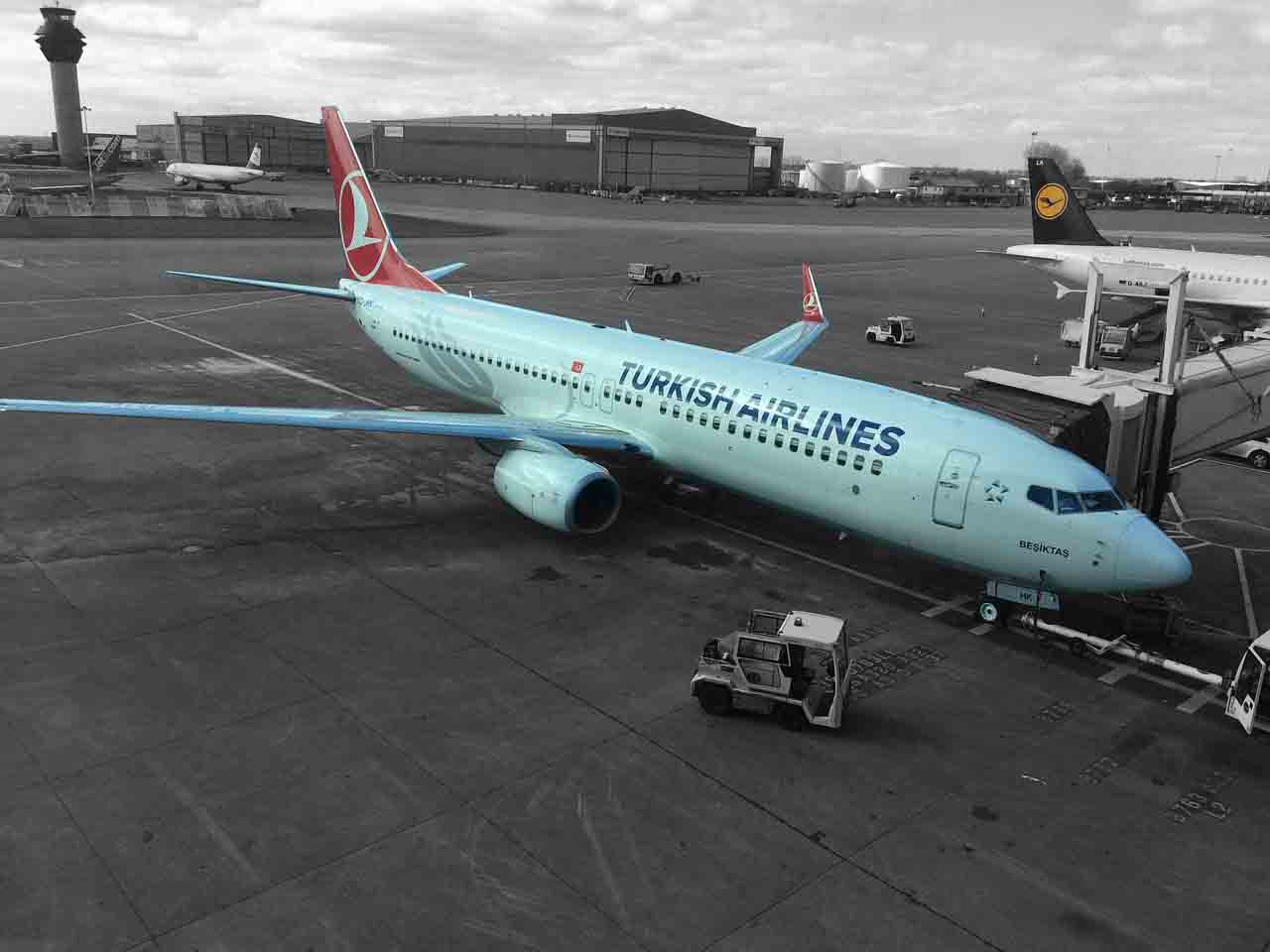 EUROPE
AUSTRIA: Innsbruck, Salzburg, Vienna.
BELARUS: Minsk.
BELGIUM: Brussels, Charleroi.
BULGARIA: Burgas, Sofia.
CROATIA: Dubrovnik, Pula, Split, Zadar.
CYPRUS: Larnaca.
CZECH REP: Prague.
DENMARK: Aarhus, Billund, Copenhagen
ENGLAND: London–City, London–Heathrow, Norwich, Southampton.
FINLAND: Helsinki.
FRANCE: Bordeaux, Calvi, Carcassonne, Chambery, La Rochelle, Limoges, Lyon, Marseille, Mulhouse, Nantes, Paris-CDG, Rennes, Toulouse.
GERMANY: Berlin–Schönefeld, Berlin-Tegel, Cologne/Bonn, Düsseldorf, Frankfurt, Freiburg, Hamburg, Hanover, Munich
GREECE: Athens, Chania, Chefalonia, Corfù, Preveza/Lefkada, Heraklion, Kos, Mykonos, Rhodes, Santorini, Skiathos, Thessaloniki, Zakynthos.
HUNGARY: Budapest.
ICELAND: Reykjavík–Keflavík.
IRELAND: Belfast, Cork, Derry, Dublin.
ISRAEL: Tel Aviv.
ITALY: Bari, Bologna, Brindisi, Cagliari, Catania, Genoa, Milan–Malpensa, Naples, Olbia, Palermo, Pisa, Rome-Ciampino, Treviso, Turin, Venice, Verona.
LETTONIA: Riga.
LUXEMBOURG: Luxembourg.
MALTA: Malta.
MONTENEGRO: Tivat.
NETHERLANDS: Amsterdam, Eindhoven
NORWAY: Bergen, Oslo–Gardermoen, Sandefjord, Stavanger.
POLAND: Gdansk, Katowice, Kraków, Warsaw–Modlin, Wrocław.
PORTUGAL: Faro, Funchal, Lisbon, Porto.
SCOTLAND: Aberdeen, Edinburgh, Inverness.
SLOVAK: Bratislava.
SPAIN: Almeria, Barcelona, Bilbao, Fuerteventura, Girona, Granada, Gran Canaria, Ibiza, Jerez, Lanzarote, Madrid, Málaga, Menorca, Murcia, Palma de Mallorca, Reus, Seville, Tenerife–South, Valencia.
SWEDEN: Gothenburg, Stockholm–Arlanda.
SWITZERLAND: Basel, Geneve, Zurich.
TURKEY: Antalya, Bodrum, Istanbul, Izmir.
UKRAINE: Kiev–Boryspil.
REST OF THE WORLD
CANADA: Toronto–Pearson, Vancouver.
CHINA: Beijing.
EGYPT: Hurghada, Marsa Alam.
MOROCCO: Agadir, Casablanca, Marrakesh.
MEXICO: Cancun.
QATAR: Doha.
SINGAPORE: Singapore.
UAE: Abu Dhabi, Dubai.
USA: Boston, Las Vegas, Los Angeles, Newark, New York, Orlando, Philadelphia.
MANCHESTER AIRPORT CONNECTIONS – CENTER
There are numerous options for reaching Manchester and the surrounding areas.
METROLINK
The light rail line (tram) connects Manchester airport and the city in just over half an hour. The tram leaves every 12 minutes, connecting, in a capillary way, the center and the suburbs, and passing through about 90 stations.
The ticket price, which can be purchased at the station, at the machines and merchants, costs £1.40 for each transit area. The airport is in zone 4; to get to the center of Manchester, in zone 1, you will have to buy the ticket with "all zones" rate at a cost of £4.60.
TRAIN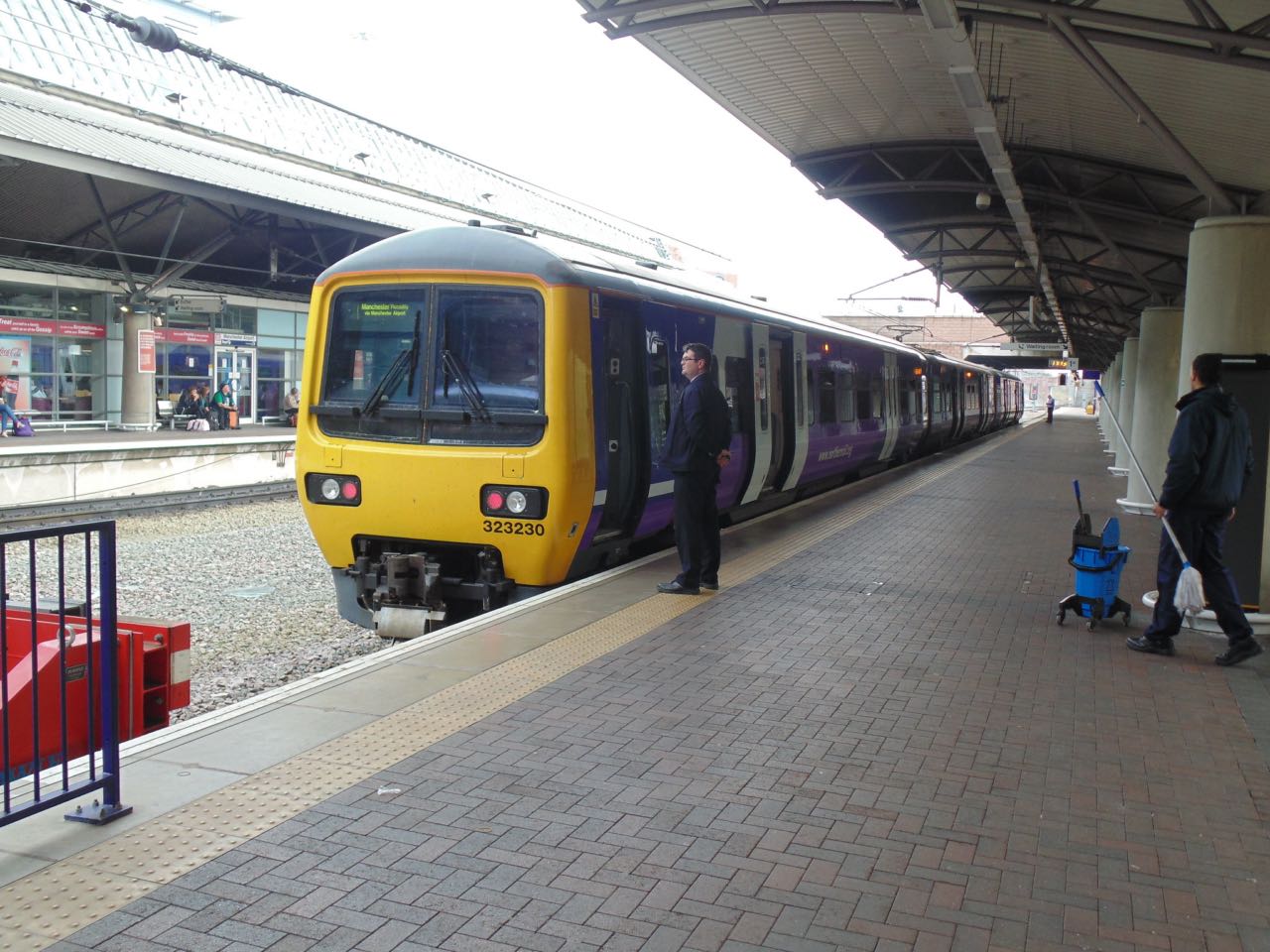 Photo ©, Mikey
The Station is the main transport interchange hub of Manchester Airport. Here, trains and buses depart directly to the city and to many neighboring destinations. The station is easily reachable, on foot, in 5/7 minutes from T1 and T2, and just over 10 minutes from T3.
The indications are quite clear and precise.
Every day, from Monday to Sunday, including holidays, trains depart from/to Piccadilly Circus. The journey takes about 20 minutes, with a frequency of about 10 minutes.
The ticket costs €4.75 for a non-refundable discounted rate. You can also buy the open ticket, valid for any day, at a cost of about 7€.
BUS
From the main stop The Station, every day there are bus connections to Manchester and the main neighboring areas. From here, with National Express buses, you can even get to Dublin.
Every day, hundreds of buses are in service to/from Manchester Airport, with frequencies ranging from 10 to 30 minutes. Line 43, which runs through Withington, Northenden, Wythenshawe, is open all day, 24 hours a day.
With line 737, you can reach Runway Visitor Park.
Bus 199 connects Buxton, Dove Holes, New Mills, High Lane, Hazel Grove, Stockport. The X30 line, on the other hand, makes a direct connection to the central bus station of Stockport.
TfGM is the consortium that unites the different transport companies of Manchester under a single name. First, operates mainly in the north of Manchester, while Stagecoach in the south, including the Piccadilly station.
The ticket price varies depending on the medium used.
TAXI
On board of comfortable and modern black TAXI CABS, you can move easily from Manchester Airport. The station is located outside the three terminals, not far from the Arrivals Hall.
Extremely efficient, they can carry up to 5/6 people, and are accessible by wheelchair users. They accept credit card payments and do not require reservations.
Taxis apply identical rates, although you may try to negotiate on the price. It starts at a base rate of £ 2.30, plus £ 0.20 for every fraction of a mile traveled (about 1/6 of a mile). From / to Manchester Airport, an additional fee of £ 1.80 is provided. For each passenger, on the pay 0.20 pounds. Prices are valid for daytime routes, from 06:00 to 22:00. The rate increases by 30%, on holidays and during the night. At Christmas and New Year, prices rise more than twice the normal rate.
Alternatively, you can rent your car directly at the airport. By booking in advance, from this link, you can take advantage of particularly advantageous rates. Manchester city center can be reached in about 20 minutes by car via the M56.
*The list is subject to change. All links, updated, can be consulted on the official website. Before leaving, it is recommended to inquire about the provisions and rules on COVID-19 in the United Kingdom, and on the mandatory nature of the vaccine.
Search hotels and more...