John Lennon has been named the international airport that serves the city of Liverpool, which is just over 10 km away.
The airport serves mainly the city, and the entire north-west area of England. It is mostly used by the low-cost airlines EasyJet and RyanAir. A little less than 6 million passengers pass through here every year.
At the airport you will find numerous services, bars, restaurants, shopping areas and duty-free shops. A Fast Track service, allows to reduce waiting times, and long queues, to control gates; however, it costs as much as £5 per person (£4 when purchased online).
Below is a list of the direct connections* with Liverpool Airport.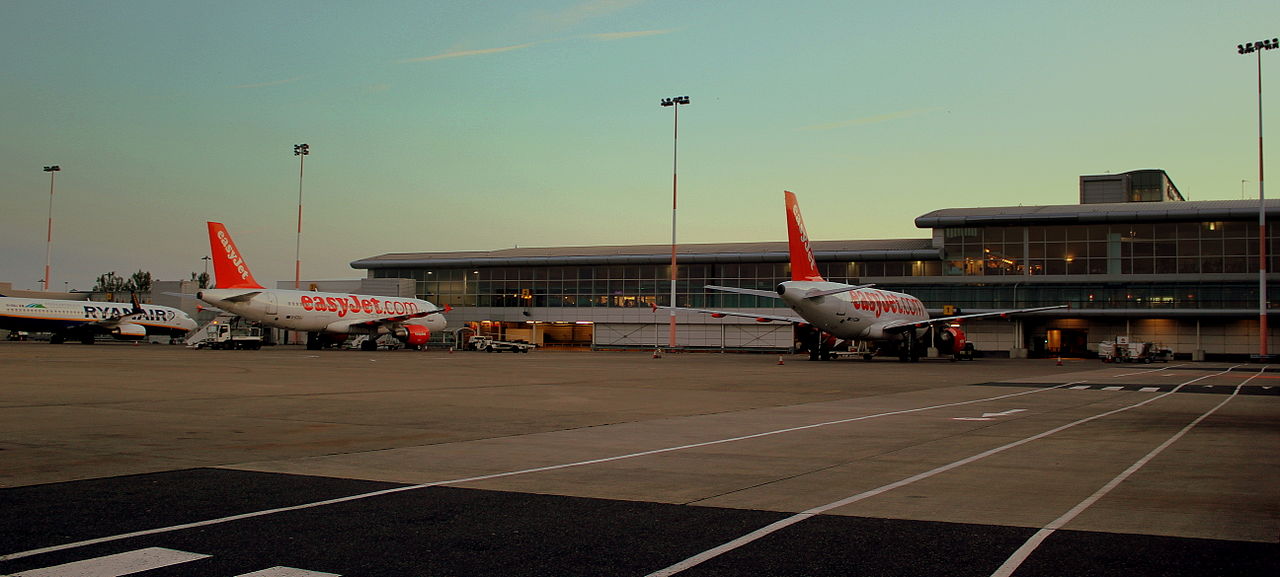 Photo ©, Calflier001
ALBANIA: Tirana.
AUSTRIA: Salzburg, Vienna.
BELGIUM: Charleroi.
BULGARIA: Burgas, Sofia, Varna.
CHANNEL ISLANDS: Jersey.
CROATIA: Zadar.
CYPRUS: Larnaca.
DENMARK: Copenhagen
ESTONIA: Tallinn.
FRANCE: Beauvais, Bergerac, Grenoble, Nice.
GERMANY: Frankfurt.
GREECE: Heraklion.
HUNGARY: Budapest.
IRELAND: Belfast–International, Cork, Dublin, Knock.
ISLE OF MAN (UK): Isle of Man.
ITALY: Bergamo, Rome–Fiumicino.
LITHUANIA: Kaunas, Vilnius.
MALTA: Malta.
MOLDOVA: Chișinău.
NETHERLANDS: Amsterdam.
POLAND: Gdańsk, Katowice, Košice, Kraków, Poznań, Szczecin, Warsaw–Chopin, Warsaw–Modlin, Wrocław.
PORTUGAL: Faro, Porto.
ROMANIA: Bacău, Bucharest, Cluj-Napoca, Iași, Sibiu.
SPAIN: Alicante, Barcelona, Fuerteventura, Ibiza, Lanzarote, Madrid, Málaga, Palma de Mallorca, Reus, Tenerife–South.
SWEDEN: Stockholm–Arlanda.
SWITZERLAND: Geneva.
TURKEY: Antalya, Bodrum, Dalaman, İzmir.
JOHN LENNON LIVERPOOL AIRPORT CONNECTIONS
You can reach Liverpool city center by car, taxi or bus. The airport is not directly connected to the train station, however, using a combined bus + train route, you can move anywhere.
BUS
The British company ARRIVA, operates in the city and in the North West of England. The buses, comfortable and reliable, connect the center of Liverpool, the airport, and the areas of St Helens, Bootle, Halewood, Runcorn, Widnes, Huyton. You can buy a ticket valid for one journey or, alternatively, the ticket for unlimited travel throughout the day (Adult Day Mersyside Pluys). The latter costs £4.60
ArriveClick is an innovative on-demand bus sharing service. Allows you to enable minibus travel for a certain number of people sharing the exact same route. All this by booking on the appropriate app, or on the official website of arrivClick.co.uk. The trip will be made to a single destination without making intermediate stops.
TAXI AND CAR
Directly at the airport, you can reach Liverpool and the Northwest area by renting a car. From this link, all the best offers.
Alternatively, as soon as you exit the Terminal you will find taxis to move you to any destination you are. As always, it is preferable to check the applied tariff in advance.
BUS + TRAIN
Liverpool South Parkway Railwqy Station, is the main railway connection hub of the Marseyrail trains, Northern, Transport of Wales.
The station, modern and recently built, is about 3 miles away from John Lennon Airport, from which it is connected by several buses. Among these, the 86A bus, operated by Arriva North West, operates 24/7 every day, Monday to Sunday.
From Liverpool South Parkway, you can reach Southport and Hunts Cross every 15 minutes. Northern guarantees connections with Manchester Oxford Road, Preston, Wigan and many others.
*The list is subject to change. All links, updated, can be consulted on the official website. Before leaving, it is recommended to inquire about the provisions and rules on COVID-19 in Great Britain, and on the mandatory nature of the vaccine. Timetables and connections are subject to change.
Search hotels and more...