Brussels National is the most important international airport in Belgium. It is located in the small town of Zaventem, about 10 kilometers from the Capital of Belgium. The airport is based on the companies Brussels Airlines, TUIfly, and Thomas Cook Airlines.
Brussels National is structured in a single large terminal that is spread over several levels. The train station is located on the -1 level; stationing of buses and taxis are at the 0 level; arrivals are located at the 2 level, and departures at the 3 level. The 2 and 3 levels are connected to the two "PIER" (A and B) of the airport.
Brussels National is a highly practical and efficient airport, equipped with all the necessary services. You will find shopping areas, bars, restaurants and even places for meditation and worship for all religions. Some areas are located in the departure hall, but the majority are located after passing the controls and are TAX FREE. Free Wi-Fi is available virtually anywhere.
Photo ©, Ad Meskens
The airport is directly connected to the main European and world destinations. Here is a list of the main direct connections* to Brussels National Airport:
EUROPE
ALBANIA: Tirana.
AUSTRIA: Innsbruck, Vienna.
BULGARIA: Burgas, Sofia, Varna.
CROATIA: Dubrovnik, Pula, Split, Zagreb.
CZECH REP: Prague
DENMARK: Copenhagen
ENGLAND: London–Heathrow, Manchester.
ESTONIA: Tallinn.
FINLAND: Helsinki, Kittilä.
FRANCE: Ajaccio, Bastia, Bordeaux, Lourdes, Lyon, Marseille, Paris–CDG, Strasbourg, Toulouse.
GERMANY: Berlin, Frankfurt, Hamburg, Munich, Stuttgart.
GREECE: Athens, Chania, Corfu, Heraklion, Kavala, Kos, Patras, Paphos, Rhodes, Samos, Santorini, Thessaloniki, Zakynthos.
HUNGARY: Budapest.
ICELAND: Reykjavík–Keflavík.
IRELAND: Dublin.
ITALY: Bari, Bolzano, Brindisi, Catania, Florence, Lamezia-Terme, Milan–Linate, Milan–Malpensa, Naples, Olbia, Palermo, Pisa, Rome-Ciampino, Rome–Fiumicino, Venice.
KOSOVO: Pristina.
LATVIA: Riga.
LITHUANIA: Vilnius.
MALTA: Malta.
MONTENEGRO: Tivat.
NETHERLANDS: Amsterdam.
NORWAY: Oslo.
POLAND: Krakow, Warsaw–Chopin.
PORTUGAL: Faro, Funchal, Lisbon, Porto.
ROMANIA: Bacău, Bucharest, Cluj-Napoca, Iași, Suceava.
RUSSIA: Moscow–Sheremetyevo, Saint Petersburg.
SCOTLAND: Edinburgh.
SERBIA: Belgrade.
SLOVENIA: Ljubljana.
SPAIN: Alicante, Almeria, Barcelona, Bilbao, Fuerteventura, Girona, Gran Canaria, Ibiza, Jerez de la Frontera, Lanzarote, Madrid, Málaga, Menorca, Palma de Mallorca, Reus, Santiago de Compostela, Tenerife–South, Valencia.
SWEDEN: Gothenburg, Stockholm–Arlanda, Stockholm–Bromma.
SWITZERLAND: Basel/Mulhouse, Geneva.
UKRAINE: Kyiv–Boryspil.
REST OF THE WORLD
ALGERIA: Algiers, Oran.
ARMENIA: Yerevan.
BENIN: Cotonou.
BURUNDI: Bujumbura.
CAMEROON: Douala, Yaoundé.
CANADA: Montréal–Trudeau.
CHINA: Beijing–Capital, Shenzhen.
CONGO: Kinshasa–N'djili.
CUBA: Varadero.
DOMINICAN REP: Punta Cana, Santo Domingo–Las Americas.
EGYPT: Cairo, Hurghada, Luxor, Marsa Alam, Sharm El Sheikh.
GAMBIA: Banjul.
GHANA: Accra.
ISRAEL: Tel Aviv.
IVORY COAST: Abidjan.
JAPAN: Tokyo–Narita.
JORDAN: Amman–Queen Alia.
LIBERIA: Monrovia–Roberts.
MAURITIUS: Mauritius.
MEXICO: Cancún.
MOROCCO: Al Hoceima, Casablanca, Fez, Marrakesh, Nador, Tangier.
QATAR: Doha.
RWANDA: Kigali.
SENEGAL: Dakar–Diass.
THAILAND: Bangkok–Suvarnabhumi
TUNISIA: Djerba, Tunis.
TURKEY: Ankara, Antalya, Bodrum, Dalaman, Enfidha, Eskişehir, Istanbul–Sabiha Gökçen., Izmir.
UAE: Abu Dhabi.
USA: Chicago–O'Hare, Miami, Newark, New York–JFK, Washington–Dulles.
BRUSSELS NATIONAL AIRPORT – CITY CONNECTIONS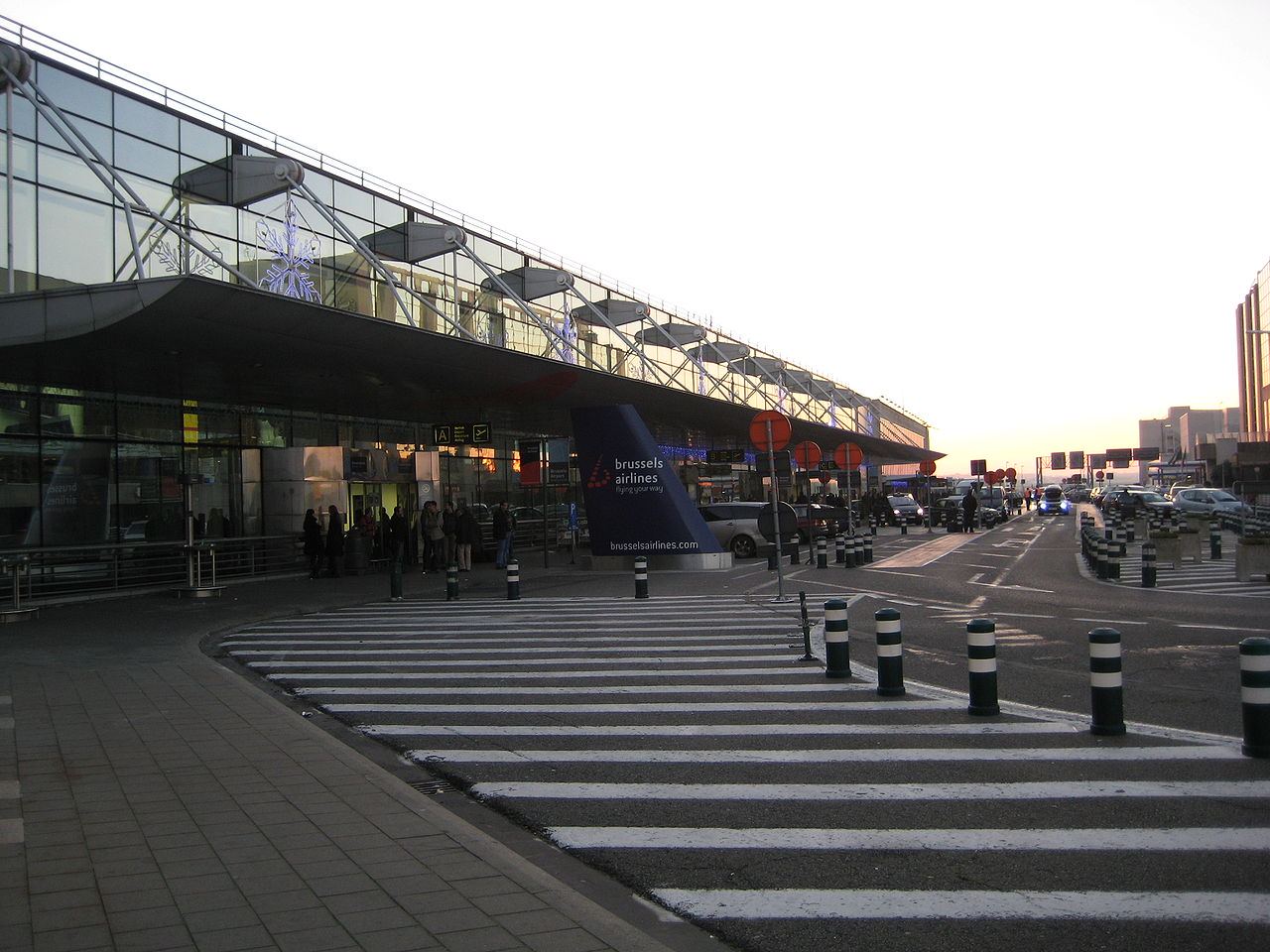 Photo ©, Iijjccoo
From Brussels-National, it is possible to reach the center and several cities, with connections by train or bus.
TRAIN
The train is the solution that combines speed and convenience. Thanks to it, you can reach many national and international destinations. In less than 20 'you arrive in Brussels; about 30 ', instead, to reach Antwerp.
Brussels Airport-Zaventem train station is located on the -1 of the terminal, a short distance from the arrivals hall (2 floor) and departures (3 floor).
Here are the journey times for the main destinations in Belgium and Holland:
Amsterdam (Netherlands): 90 min
Antwerp: 32 min
Bruges: 90 min
Brussels-Central: 17 min
Charleroi: 83 min
Dordrecht (Netherlands): 90 min
Ghent: 54 min
Liege: 60 min
Mechelen: 11 min
Rotterdam (Netherlands): 105 min
The Hague (Netherlands): 125 min
For more info, the official railways website is available. from this link.
BUS
The bus is the most economical solution to reach Antwerp, the center of Brussels and the surrounding areas.
The stop is located under the arrivals hall; it can be easily reached, using the escalators or the elevators, following the appropriate indications.
To reach the city center from the airport, you can use the convenient bus 12. It connects lines 1 and 5 of the Metro to the Schuman stop, and lines 2 and 6 to the Trône stop. It works every day, from Monday to Sunday, including holidays, from 05:40 to 00:30 in the direction of Trone; from 04.59 to 23:50 for Brussels airport. During the day the frequencies are between 10 and 15 minutes. The journey takes about half an hour. You will need to purchase a Go2City single-journey ticket at a cost of €7.00 (contactless payment with credit card on board), €7.50 if purchased outside, or €8.00 if purchased in cash on board the vehicle.
AIRPORT EXPRESS ANTWERP-BRUSSELLS, instead is the rapid line connecting the airport with Antwerp (Koningin Astridplein). The bus operates directly with the only stop at the Crowne Plaza upon request. The journey takes about 45 minutes. The ticket costs 10,00€ for adults and 5,00€ for children up to 11 years. It runs every hour, in high season, from Monday to Sunday, from 03:00 in the morning until midnight; in low season, every hour from 06:00 to 23:00. More info on the official website.
*The list is subject to change. All links, updated, are available on the official website. Due to the COVID-19 Pandemic, please read carefully all the RULES and RESTRICTIONS for those traveling to Belgium before traveling.
Search hotels and more...