Here are the practical info, and everything you need to know, to drive in Belgium without problems.
As always, it is recommended to follow some basic and universal rules.
Always respect speed limits. The checks are frequent throughout the road and motorway network. A fundamental principle for safety and, also, for your pockets; avoid heavy fines. You can pay the fines directly on the spot.
If you have drunk alcohol, DO NOT DRIVING. For no reason.
In the event of an accident, YOU MUST ALWAYS STOP and provide assistance; it is important, however, not to hinder circulation. It should also be remembered that it is COMPULSORY to provide their personal details.
BASIC RULES TO DRIVE IN BELGIUM
In Belgium you drive to the right and you pass on the left. Always respect the safety distance.
It is always necessary to give priority to pedestrians who cross or are about to cross a road; even if there are no pedestrian crossings on the ground.
The infrastructures are particularly efficient. The network is highly modern and efficient. The motorway is also free for cars, motorcycles and vehicles weighing less than 12 tons
DOCUMENTS TO DRIVE IN BELGIUM
Driving license, registration certificate and valid insurance certificate. If you are driving a vehicle that is not your own, we recommend that you take a DELEGATION TO CONDUCT. This is a delegation of the vehicle owner with an authenticated signature. It is not mandatory.
VEHICLE EQUIPMENT
The seat belts must be fastened on all seats, front and rear.
In cars it is mandatory to have a reflective jacket and a triangle. The latter, on the other hand, is not mandatory for mopeds and motorcycles. The helmet is mandatory for all two-wheeled passengers.
ROADS AND SIGNS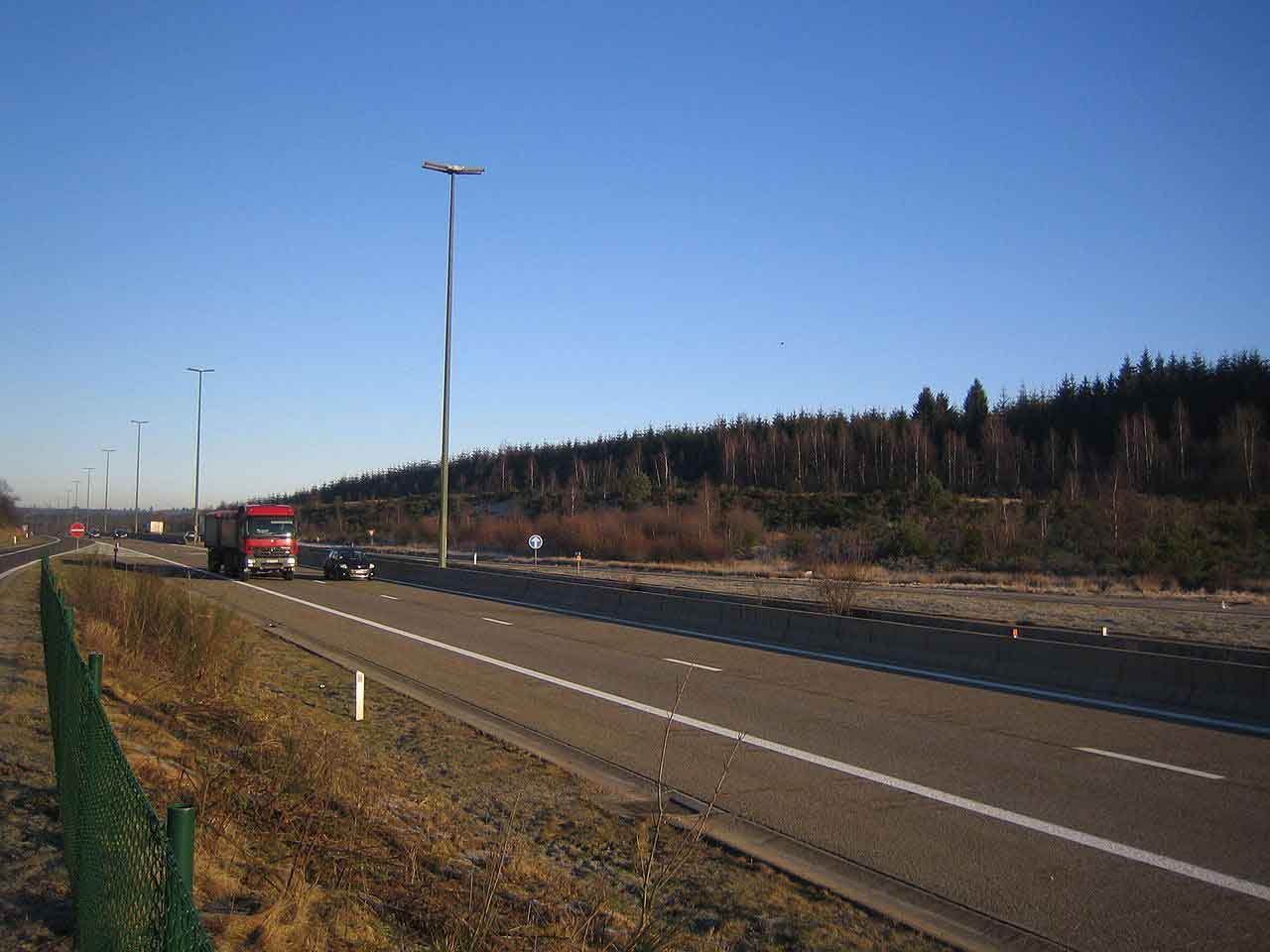 Photo ©, Charles01
Those who decide to travel in Belgium will hardly move away from the motorway section, almost 1800 km long. Considering the extension of the country, it is the densest network in the whole world!
Not only. In addition to being extensive, and particularly efficient, the motorway is free!
The letter A, followed by the numbers, indicates that you are in the presence of the motorway.
The highway signs have white characters on BLUE BACKGROUND.
Then there are the tangential highways called RINGS and indicated by the letter R followed by a sequential number, starting from 0. They are ring motorways that cross the main cities like Brussels, Antwerp, Charleroi.
On extra-urban and urban roads, maximum caution is encouraged. Belgium is, notoriously, one of the countries where there is a high rate of accidents !!!
SPEED LIMITS
Unless otherwise indicated, the speed limits are as follows:
50 km/h on urban roads.
90 km/h on extra-urban roads.
120 km/h on the highway.
DRIVE IN BELGIUM WITH CHILDREN
All children under 135cm, must travel by car only if they are secured with seats that are suitable for their weight, approved in compliance with the minimum safety requirements, stability by law.
Children must travel back. Otherwise, they can travel as long as the airbag is activated.
Search hotels and more...