Suitable rides and attractions and all ages. At Tivoli, fun is guaranteed for everyone, young and old.
Here are the rides in the park, divided according to the access requirements.
TIVOLI PARK ATTRACTIONS FOR ALL
Below are the rides in the park, where you can access without limits of age or height. The only requirements are required to log in alone. Otherwise, the accompaniment of a paying person is required.
CAROUSELS. Reminiscences of the past with two of the earliest attractions in Tivoli. A Classic Carousel, and a musical Minimal 3 years.
DRAGON BOATS. Fun for the whole family, for a water carousel aboard dragon boats. Under the 8 years, you enter accompanied by a paying adult.
FLYING TRUCK. A fantastic journey through 32 fairytale scenes. Children under 130 cm enter only if accompanied by a paying adult.
FUN HOUSE. Incredible stairs. Ropes. Slides. A crazy house with lots of fun activities for the little ones. Minimum 6 years.
MINE. A fantastic journey through the Land of Grotes. Attention, however, to the dragon. Children under the age of 8 enter with a paying adult.
MINIMORGANA. The legendary bumper cars, for children from 4 years upwards.
SMALL DRAGON. One of Tivoli's most loved children's attractions. Under the 3 years you access accompanied by a paying adult.
PANORAMIC WHEEL. One of the timeless Tivoli Park attractions. Children up to 5 years, have access with a paying adult.
STAR TOWER. A fantastic trip on the star tower up to 8 meters high. Under the 105 cm you enter accompanied.
TROLLEY CAR. You go around the beautiful park, with the whole family. Children under 6 years, log in with a paying companion.
VINTAGE CARS. Take the wheel of a vintage car. Minimum 3 years.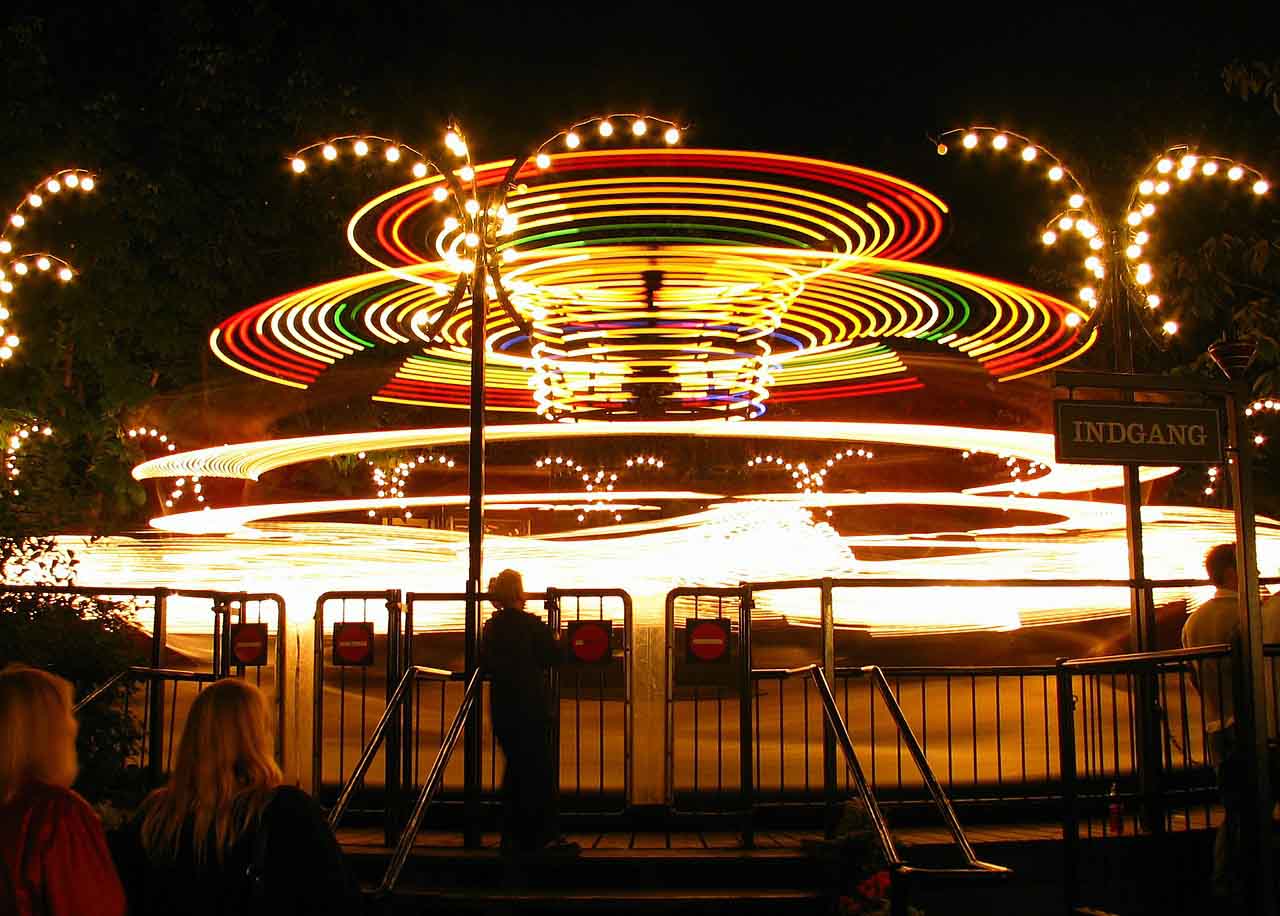 TIVOLI PARK ATTRACTIONS FROM 120cm UP
EAGLE. On board giant eagles, you will climb up to 11 meters high, to see the gardens … upside down. Guaranteed emotions.
ASTRONOMER*. He turns on board ships, heading for the stars.
CAMEL TRAIN. High speed fun for children. From 100 to 120cm you enter accompanied by a paying adult.
LIGHTHOUSE*. Six boats in the shape of prehistoric animals, for a crazy ride, with thrilling contents.
ROLLER COASTER. One of the oldest in the world, as well as one of the most famous attractions in Tivoli.
SHIPS OF GALEA *. A carousel designed for children who would like to surf like … real pirates.
TOWER OF THE TEMPLE. A fantastic challenge to get to the top. From 90 to 120cm you enter accompanied
FROM 130cm
BUMPER CARS. You can compete with other racers in a car challenge. From 110 to 130cm, they can log in if accompanied by a paying adult.
FROM 132cm
DEMON. A wild ride along 3 incredible rings, up to 28m in height. It even goes upside down!
GOLDEN TOWER. Pure adrenaline, for one of the highest attractions in Tivoli. You will climb up to 63m in height. The carousel is also present in a "soft" version for children from 90cm upwards.
140 cm
MONSOON. Strong sensations with this carousel that from above shoots downwards.
STAR FLYER. One of the highest carousels in Europe, combining the thrill of excitement and the feeling of flying.
TIK TAK.
VERTIGO. 100 km / h and turns to 360gradi. Maximum speed upside down.
MIRAGE
One of the Tivoli Park attractions that deserves a special mention. It is no coincidence that the only 3 theme carousel in 1 of the whole country. A single attraction that combines 3.
On the ground floor, a mini version of the Tower.
On the first floor, a wilder version, for boys from 140cm, is a "softer" ride for kids from 120cm.
Guaranteed fun.
*Children from 95 to 120cm can also access, provided they are accompanied by a paying adult.
Search hotels and more...