The international airport of Frankfurt am Main is located just over 10 km from the German city, not far from Darmstadt, Mainz and Wiesbaden.
It rises on an area of 2300 hectares, and with over 60 million passengers it is the most important airport in the country. In Europe it is preceded only by Heathrow, Paris-Charles De Gaulle and Amsterdam.
Two thirds of intercontinental flights to / from Germany pass right from this airport! Really incredible numbers.
Furthermore, Frankfurt airport is also the most important in Europe for freight traffic.
It is Lufthansa's Hub, Lufthansa CityLine, Condor, as well as one of the fundamental bases of RyanAir, TuiFly and SunExpress flight connections.
About 3 in 4 flights are operated by Lufthansa and its Star Alliance partners.
Every day, there are direct connections to 5 continents and over 300 destinations. The most important cities and capitals are connected with direct flights to Frankfurt airport.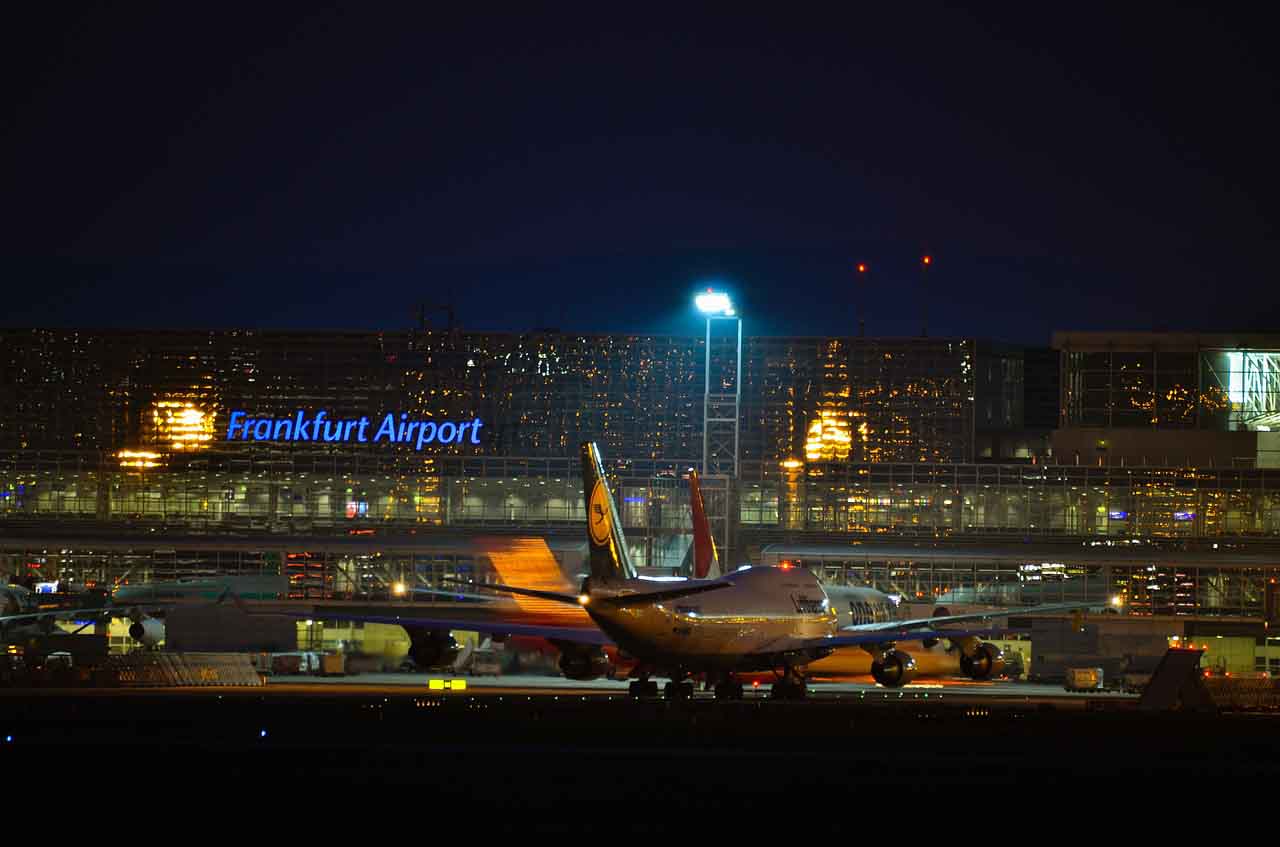 AIRPORT SERVICES
Frankfurt airport can be considered a kind of city in the city. Not just in terms of size.
Inside you will find numerous dining options, shopping areas, offices, and duty free. There are also 2 huge railway stations, a Convention Center and even a shopping center: Airport City Mall.
All visitors will be able to take advantage of the free Wi-Fi line, 24 hours a day, 7 days a week. Over 300 access points throughout the structure guarantee optimal speed.
There is no need for any registration: just connect to the Airport-Frankfurt hotspot, accept the terms and you can navigate immediately.
FLYING WITH CHILDREN
Small travelers can spend a few hours of fun in one of the many play areas. Easily identifiable on the numerous maps, they are arranged at various points and levels of both Terminals. There are lots of themed areas, where the little ones can explore oceans, or play pirates. The game area at level 4 of T2 is adjacent to McDonald's. To the delight of the little ones.
FRANKFURT AIRPORT CONNECTIONS
TRAIN
Directly at the airport, you will find two train stations.
At the Frankfurt Flughafen Regionalbahnhof, the suburban S-Bahn, S8 and S9 lines and the regional trains (REGIONAL EXPRESS) for Koblenz, Saarbrucken transit.
In S-Bahn it takes just 10 minutes to reach the center of Frankfurt.
Tickets cost €5.10 for standard adult rates, and €3.00 for children. During the day, there are runs every 15 minutes.
Frankfurt Flughafen Fernbahnhof is the reference station for long distance connections.
From here, high-speed trains depart for Cologne, which connect the south of the country with the Rhine-Ruhr region, and then continue to Holland and Belgium.
DB – Deutsche Bahn, guarantees connections between the station and the most important German cities such as Hamburg, Bonn, Düsseldorf, Munich, Nuremberg, Stuttgart and many others.
You travel in modern and comfortable trains at rates that are anything but economic. For Bonn, you pay on average €73.50, with a journey of around 80'.
For Munich, on the other hand, it takes more than three hours, with prices over €100.
BUS
The train remains, in our opinion, the most practical and comfortable solution. Buses, just as efficient, are an alternative solution, which allows you to add numerous points in the city.
Numerous bus lines operate at the airport. The station is located in both terminals, at the exit of T1 – Arrivals level, and T2 (Level 2).
CAR
Frankfurt Airport is well connected to the road and motorway network. It can easily be reached via the motorway (Autobahn) A3, A5 and A67. Those who do not use a GPS will find clear directions along the way. On leaving the airport, you will need to refer to the reference terminal.
To reach the center of Frankfurt, it takes just under 15 minutes.
Directly at the airport, you can rent your car. You will find numerous rental agencies, with different prices and services. Our advice is to book in advance, through the online comparator, taking advantage of favorable rates.
*All links, updated, can be consulted on the official website. Before leaving, it is recommended to inquire about the provisions and rules on COVID-19 not in Germany, and on the mandatory nature of the Green Pass. Timetables and connections are subject to change.
Search hotels and more...