Compared to the "famous sisters", Menorca is the island that has bent less to mass tourism, maintaining a strong identity.
An island with a thousand resources, for an absolutely unforgettable vacation. Here, you can stroll, admire its parks of extraordinary beauty, observe a spectacular sunset in one of the panoramic bars of the Ciutadella. Or, again, dine in one of its typical seaside restaurants, in Mahon.
Less hectic and chaotic than Ibiza, Mallorca and Formentera, this island will conquer you at first sight. Starting from its suggestive beaches.
Here, below, our personal Top Ten of the best beaches in Menorca. A guide on 10 beauties, different in area, characteristics and receptivity. Places suitable for both couples and families. However, a very small number, compared to the number of coves and inlets that you might encounter during the journey.
CALA EN TURQUETA
One of the most sought after beaches of Menorca, about an hour from the capital, is a ten-minute drive from Ciutadella.
Beautiful and evocative cove, with crystal clear water and soft white sand, surrounded by so much vegetation.
The place is particularly popular, which is why it tends to get crowded early in the morning.
At just under 1 km, you can leave your car in the parking lot, continuing on foot. The area has a capacity of around 120 cars and, generally, in high season, after the 08:00, you will already find everything full!
In the pine forest near the beach, you will find a small snack bar.
The beach is not particularly equipped, except for a refreshment point within the pine forest. We recommend that you bring everything you need, including water and an umbrella.
MACARELLA AND MACARELLETA
Cala Macarella and Cala Macarelleta, are two beautiful coves, known for their turquoise waters, in a wonderful natural setting.
Cala Macarella is the larger of the two, surrounded by rather high cliffs, and pine forests, ideal for sheltering from the sun and heat. Located to the south of the island, it is characterized by clear sand and blue water, with green and turquoise shades. It's really beautiful. It is equipped with bars, showers and bathrooms. Bello also the walking path, among the pines, to reach it from Cala Galdana.
Cala Macarelleta is the smallest, but even more beautiful, and evocative than the previous one. It's not easy to reach, but it's really worth it. From Cala Macarella, take a walking path, uphill, from which you can see a breathtaking view. The creek is characterized by the white sand, bordered by sheer rocks, and an incredible blue sea. A heavenly place as well, one of the most beautiful beaches of Menorca. Unfortunately, in high season, both are particularly crowded!
The coves are located about an hour west of Mahon, not far from Cala Turqueta.
Photo ©, Paul Stephenson
SON SAURA
Often, an alternative destination for those who could not find a place at the nearby Cala en Turqueta. Although, it is not certain that you can find it here. Son Saura, in fact, is particularly crowded from the early hours of the morning; especially in August.
Long stretch of soft white sand, with crystal clear waters and sloping seabed, particularly suitable for the little ones.
In our opinion, Son Saura is one of the best beaches of Menorca for family.
Get organized to get there no later than 08:00.
The beach is located south of the Ciutadella, less than 15 km. It has parking, not particularly large.
CALA DES TALAIER
It is about 20 minutes walk from Son Saura, connected by a path that cuts Punta Des Governador and Punta des Pinar.
Avoid the path that borders on the beach, and pass through dangerous rocks!
An enchanting inlet, with crystal clear water and fine sand. The only drawback, the fact that it is stormed by boats.
In June, it's really spectacular.
Even in this cove, naturism is quietly practiced.
CALA EN PORTER
Cala en Porter is a breathtaking bay, surrounded by high cliffs, with blue sea and fine sand. On vacation with children, this is one of the beaches of Menorca not to be missed.
It is located near Cova d'en Xoroi, and is only 15 minutes from the capital Mahon, which can also be reached by scooter.
CALA PILAR
Cala Pilar is a pristine red beach on the north coast of the island. It is completely different from most of the coves, and the beaches of Menorca; to reach it, you need to walk for over an hour through a path.
Before entering this strenuous hike, it would be better to make sure of the sea conditions; in fact, sometimes the wind is so strong that it is impossible to swim.
Cala Pilar is a marine reserve and has incredible underwater life, ideal for snorkeling. Around 40 km (less than 50 minutes by car) separate this picturesque beach from Mahon.
SA MESQUIDA
The beach of Sa Mesquida, is located north of the capital, from which it is just a couple of kilometers.
A beach not particularly wide, rather wild, and completely devoid of services and equipment. In August, it is ideal for those wishing to escape the hustle and bustle of the most famous beaches of Menorca. Beach characterized by fine, golden sand and blue water. Thanks to its peaceful and relaxing environment, it is also very popular with naturists.
CALA PREGONDA
Located on the north of the island, this beach, protected from the winds, is made up of rocks and red sand.
The sea is spectacular, and the location really suggestive, thanks to the presence of the surrounding rocks, and of the islet in front.
To reach it, one enters through a not very steep path, distant 30 minutes on foot; arm yourself with patience and, above all, water, cream, hat and comfortable shoes!
Cala Pregonda is 50 minutes from Mahon and 30 minutes from Ciutadella.
BEACHES OF MENORCA: SON BOU
One of the largest island beaches, with about two and a half kilometers of golden sand in which to relax, and lie in the sun. Particularly equipped beach, with numerous services, and, behind it, receptive structures. You will find umbrellas, sunbeds and an area with inflatables. Furthermore, the bottom slopes down quite gently.
All this makes Son Bou particularly suitable for children, who can play in complete freedom.
Son Bou is easily accessible, around 20 minutes drive from Mahon.
PLAYA DE CAVALLERIA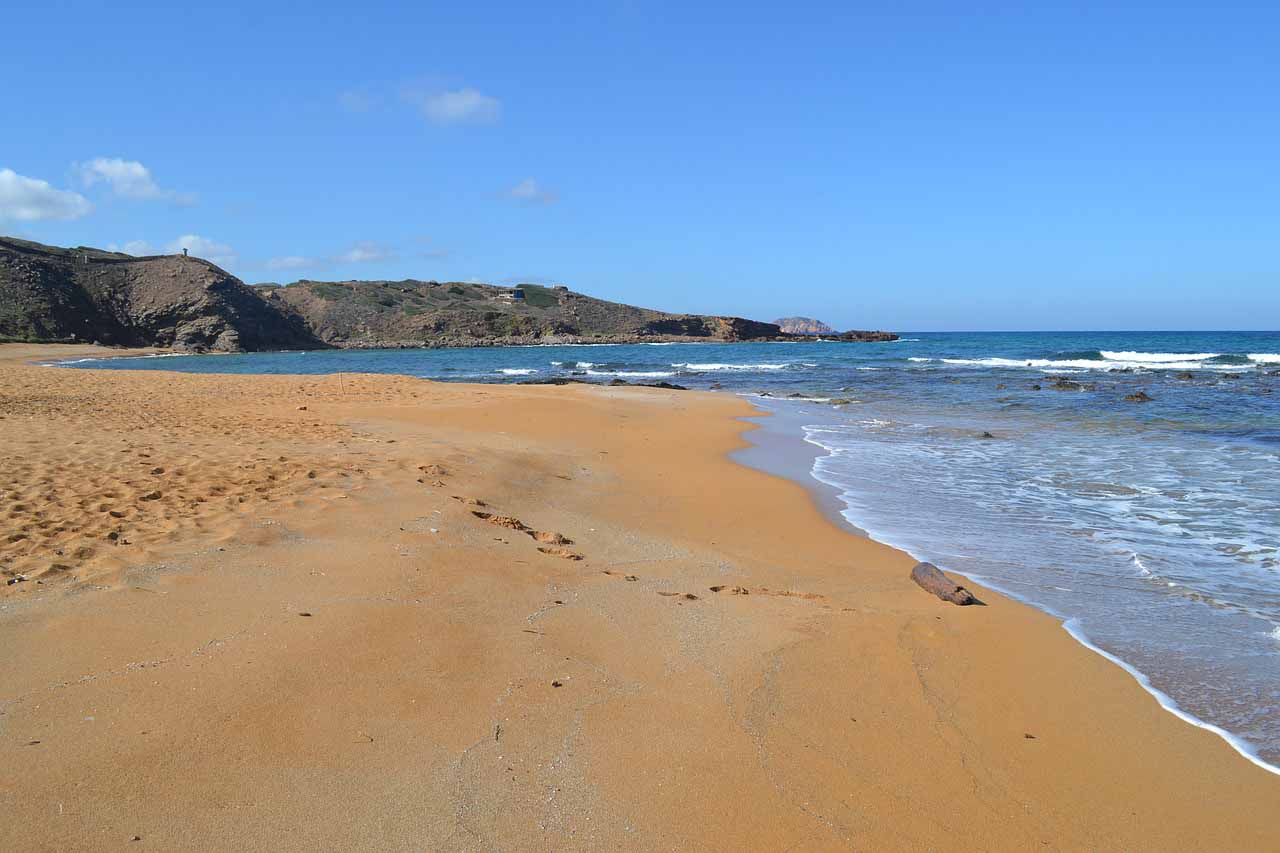 The playa de Cavalleria is located in the north of Menorca, far from the tourist areas of the island; a little over half a kilometer long, it is one of the most beautiful beaches of Menorca, although very crowded (especially in August!).
It is an easily accessible beach, with ample free parking.
Beautiful colors, with shades between golden and reddish. The bottom gently slopes down, making it suitable for children.
Very appreciated by nudists, especially in the early morning light
To reach Playas de Cavalleria, go to Es Mercadal, along the main street of Menorca, and take the road to the beaches; excellently marked, it is about 30 minutes from Mahon.
Search hotels and more...
Map of the Beaches of Menorca