Ibiza is not a place like the others. Here, on this island, adrenaline and music enter your skin. Ibiza, during the night, is transformed, with the port, which becomes a real theater, in which only one show is staged … the fun! It is a party all night, with clubs, clubs and discos. But, Ibiza is not just nightlife and nightlife. It takes little time to understand that it is a place full of history, and full of testimonies of the past.
And, of course, one aspect not to be overlooked is the splendid Ibiza beaches. Long stretches, bays and small coves. Turquoise sea and crystal clear waters. Here are some, which you should absolutely not miss during your vacation.
PLATJA DE SES SALINES
This beautiful beach is located near Ibiza Town, about 10 minutes away by car, and is located at the extreme southern tip of the island, facing Formentera.
An expanse of fine sand, with splendid water that slopes gently, making it suitable for children too; young people love La Salina for its crystal clear sea and for the presence of the numerous Beach bars that animate it. In high season, the nightclubs in the center of Ibiza organize fashion shows to promote the theme nights, involving beach guests; we remind you that access is free and there are paid establishments, as well as refreshment points.
CALA D'HORT
Without doubt, among the most beautiful Ibiza beaches. Cala d'Hort is located opposite the islands of Es Vedra e Es Vendranell, two huge rock formations in the middle of the sea.
Distant 20 km from Ibiza center, Cala d'Hort It is a sandy beach in the shape of a V, where, among other things, you can eat excellent fresh fish thanks to the presence of some of the best restaurants on the island.
If you have the opportunity to stay on this beach until evening, do not miss the sunset on Es Vedra, one of the best on the island.
CALA COMTE
It's difficult to remain indifferent to the beauty of Cala Comte, one of the most popular Ibiza beaches. Merit, above all, of its crystal clear water, reminiscent of the Maldivian sea; right in front of the beach, there is a small island called Illa d'es Bosc, in a postcard context!
The Beach Cala Comte, in reality, consists of two beaches separated by a rock: Cala Comte e Raco d'en Xic. Be sure to watch the unforgettable sunset, visible from the sand, or sit at the bar, located at one end of the bay.
Reaching it is really easy, thanks to the many indications along the way. As soon as you arrive, you can park your car in the designated area, not far from the beach. Cala Comte 13 km from San Antonio. The only sore point is that being small, in August, it fills up very soon. Parking included. It is best to arrive early in the morning.
CALA BASSA
Cala Bassa is located at about 9 kilometers from Saint Anthony of Portmany, between es Penyal e Cap de la Bassa; this beautiful beach, of soft light sand, is characterized by a wide shoreline, about 200 meters long, set in a wide inlet, with one of the clearest seas on the island. Easily accessible, it has ample parking, a campsite, several bars and various services.
CALA JONDAL
Located at the end of San Jose, about 12 km from Ibiza, Cala Jondal, is a long stretch of 200 meters, among the beaches of Ibiza preferred by families. The bottom slopes gently down.
Also appreciated by those who were looking for a moment of relative tranquility.
This beach is divided, in two, by the bed of a river, and is formed mainly by smooth and round stones, even if there are areas of sand that facilitate rest; on the sandy shore there are several wooden walkways to make it easy to access at sea, although it is often rough due to the winds. When it is calm, it is a clear blue color, the water is in many areas low, even up to 30 mt!
The beach is equipped to provide refreshment and sports services, also behind it has ample parking to leave your car.
PORT DE SANT MIQUEL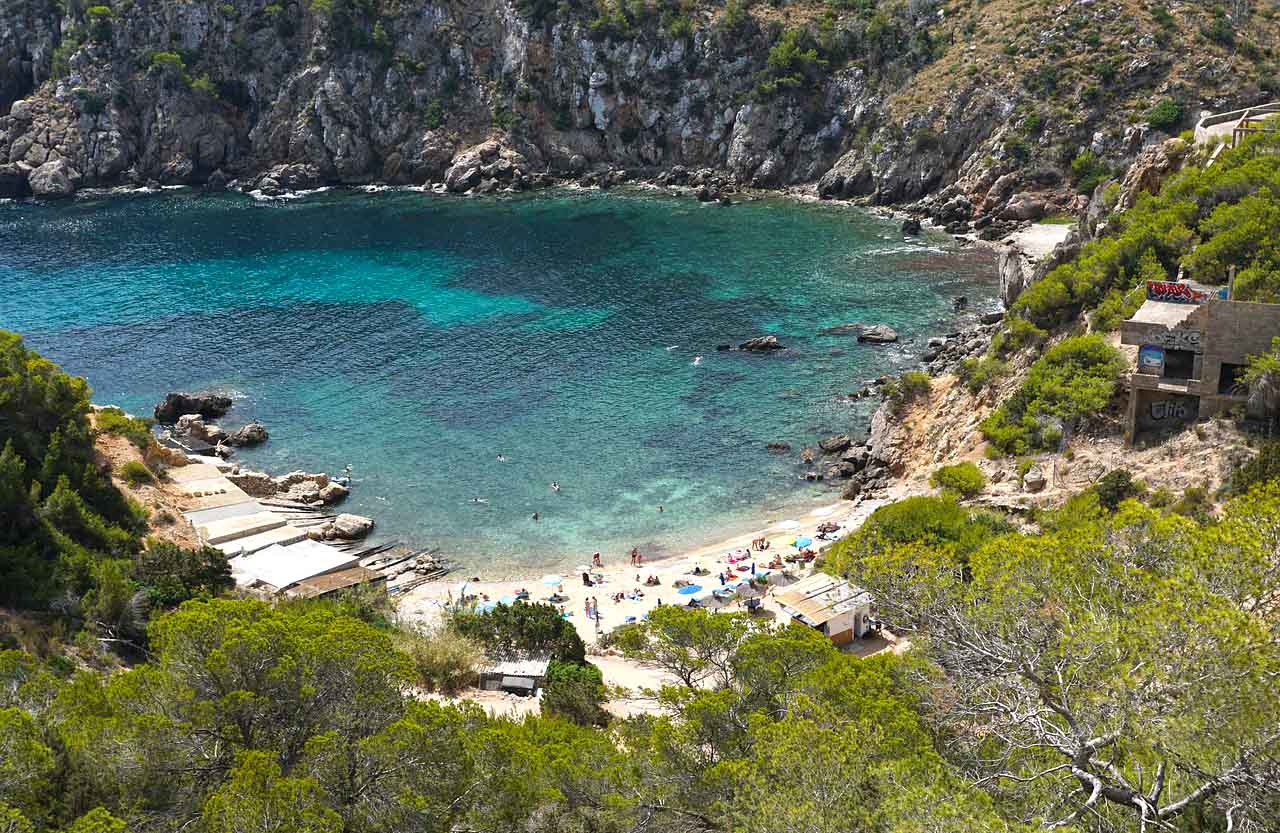 The Port de Sant Miquel Beach, also known as Port de Balansat, it is located about 4 kilometers from Sant Miquel de Balansat, Between Punta Blanca e Punta de sa Ferradura.
It is a beautiful beach of golden sand, with a very wide coastline, about 130 meters long. Really suggestive, set inside a V-shaped bay, and bordered by rocky cliffs covered with pine forests.
The sea is very beautiful, crystalline, with a turquoise hue, with sloping and sandy bottoms. It is the ideal beach for swimming and bathing; once a Port de Sant Miquel, worth the trip to the cave of Can Marcà, located about 1500 meters away from the beach, with stalactites and limestone terraces. It was once used by smugglers.
Reaching Port de Sant Miquel is simple, following the signs; Nearby, there is a parking lot where you can leave your car.
IBIZA BEACHES: SANTA EULARIA
The Santa Eularia Beach, is the urban beach of the town of the same name; located between es Riu de Santa Eularia and the sports harbor, and awarded for its cleanliness and care with the Blue Flag. Characterized by a beautiful beach of soft golden sand with a semicircular shape, with a coastline about 300 meters long. Along its beautiful, well-kept and modern promenade, you can sit on the numerous benches, in the shade of beautiful palm trees.
The sea is very beautiful, turquoise and transparent, with sandy bottoms. It is among the busiest beaches in Ibiza, but also a great starting point to discover the picturesque surroundings, such as Punta des Nedador, es Calò de s'Alga, Punta de s'Aguait and Punta Blanca.
Also in this case, there are indications to reach it; in its vicinity there are several car parks in the center where you can leave your car. It can also be reached by public transport.
CALA VADELLA
Cala Vedella is located at around 10 kilometers from Sant Josep de sa Talaia, near Serra de Cala Molí; It is one of the blue flag lines of Ibiza, and is characterized by a wide shoreline, approximately 200 meters long, set inside an S-shaped cove, well protected from the winds.
The sea is an incredible turquoise, and the beach is surrounded by cliffs covered with pine trees and several residential houses that reach the sea, also featuring a bar-restaurant right on the beach.
Nearby there is a free parking where you can leave your car; easily reachable also by public transport.
CALA TALAMANCA
Between Punta Tabernera and de s'Andreus, the largest beach in the whole of the Ibiza municipality rises, namely Cala Talamanca, about 2,5 km away from the city center.
It is a beautiful beach of fine golden sand, characterized by a coastline almost 1 kilometer long, separated from the port of Ibiza from the peninsula of es Botafoc; at the right end, it is located Raconet de s'Amarador, where many boats moor. The sea is very beautiful, with shades that go from blue, to emerald green, to blue: really a marvel!
Behind the beach there are several tourist establishments and various types of accommodation, mostly apartments. The beach is receptive and well equipped, boasting the presence of shops, bars and restaurants.
Cala Talamanca it can be easily reached by land, following the indications, or by sea thanks to the numerous accesses; nearby there is a free parking area where you can leave your car. It can also be easily reached by public transport from Ibiza Town.
CALA DE SAN VICENT
This beach is quite far from the center of Ibiza, but it is absolutely perfect for families. Long 400 mt, is ideal for children to play and run around; blue and blue are the dominant colors of its waters, and the landscape that surrounds it is incredibly lush, typically Mediterranean, with green pines and rocks overlooking the sea.
The beach is equipped with deckchairs and umbrellas, and there are also bars and restaurants; moreover, it is possible to rent pedal boats, canoes or take part in sailing courses.
How to get: this beach is located in the municipality of San Joan, about 30 km from Ibiza city and 9 km from San Joan; it is possible to arrive by bus, but, due to the many stops, it is necessary to take into account at least an hour of travel! For this reason, it is preferable to reach it with your own vehicle. From the center of Ibiza, take the PM 10 road, and, after traveling about 30 km, you will have arrived at your destination; near the beach there is ample parking.
BEST IBIZA BEACHES: PLAYA D'EN BOSSA
Platya d'En Bossa is located in the southern area of ​​the city and probably one of the most famous Ibiza beaches … although not the most beautiful. It is the beach of entertainment, incredibly lively and lively.
In fact, it has an infinite number of services, equipment for water sports, beach volleyball, and, of course, numerous chiringuitos, music bars, restaurants and pubs; long almost 3 km, it is the perfect environment to relax in the sun listening to music.
The "Bora Bora", one of the most famous places on the island, is right on this beach, and you can dance from the afternoon 5. It is one of the most famous Beach discs in the world, where you can have fun and drink good drinks. After midnight the outdoor terrace closes and the young people move into the inner room, where the music continues unabated.
Playa d'en Bossa it is just a few minutes away from Ibiza town, and can be reached by public transport; in the area there are numerous parking lots.
Search hotels and more...