The center is small and rather circumscribed. Therefore, the best way for getting around Granada is on foot. Major places of interest are located a short distance from the city center. For those who want to move around Granada with their own legs, some important tips. Many roads are rather narrow, small, and poorly marked; in some cases, the indication is completely missing. Google Maps and other apps can really come in handy. Alternatively, some easily identifiable monuments can be taken as a reference.
Another good solution for getting around Granada is the bike; allows you to move freely and cover those distances you could never reach on foot. In the city, you can safely hire a two-wheeler.
GETTING AROUND GRANADA BY BUS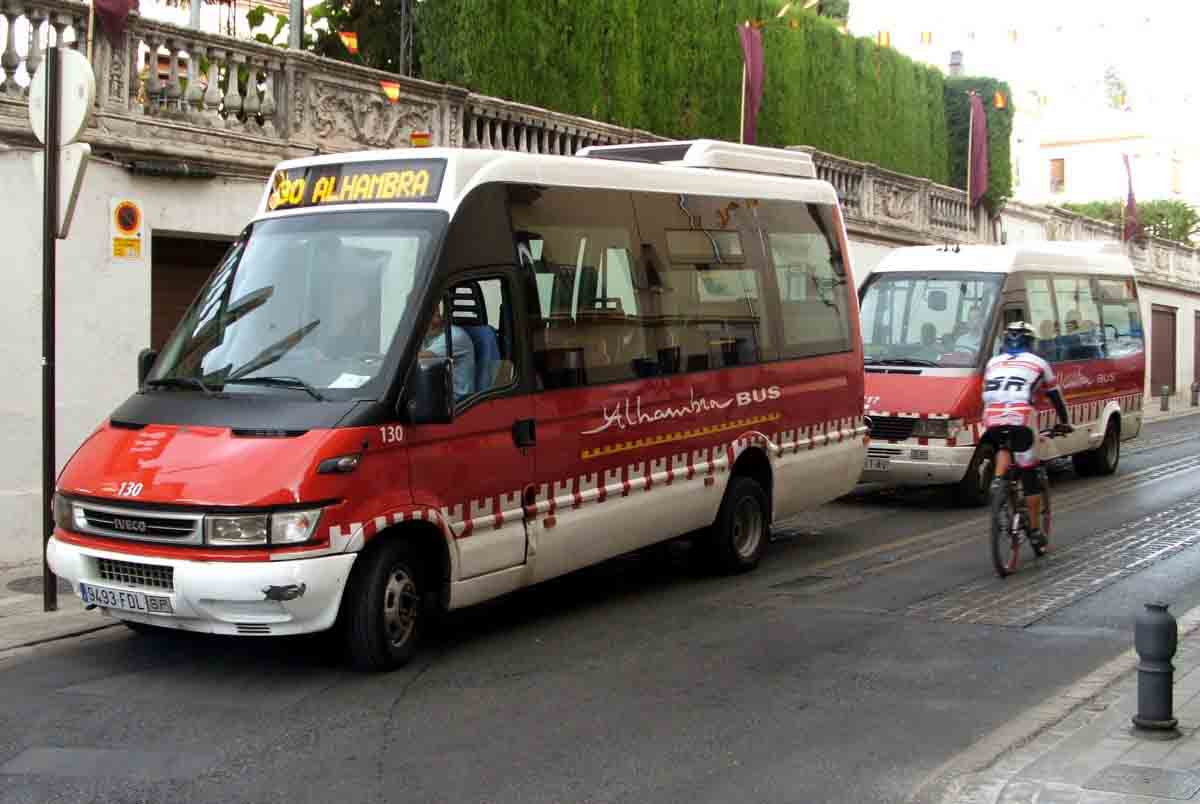 28 bus lines are operating in the city. The means, rather frequent, cover the most tourist areas of the city. The main lines are marked by the letter C. These are the so-called "Alhambra Bus", that is, small white and red buses, identified by the letter C followed by a progressive number from 1 to 7.
With the Alhambra Bus you can reach the nerve centers of the city: the city center, Plaza Isabel la Católica, the Alhambra, Albaicin o Sacromonte.
The abbreviation LAC identifies "Línea de Alta Capacidad"; it is a fast bus that crosses the center from Cruz del Sur to Violón. All lines are active, generally, from 06:00, until midnight, from Monday to Sunday, including holidays. In addition to the daytime running lines, there are the two Circular 111 and 112 lines. These are night buses, running after midnight, and ending at 06:00 in the morning.
TICKETS
To move around Granada by public transport, the use of the Credibus can be quite intelligent. It is a magnetic card, which allows you to travel on public transport at a discounted rate; can be loaded with €5, €10 or €20. The ticket price is deducted from the remaining credit each time a trip is made. The Credibus must always be placed on the special bus reader before embarking on the journey; a green light will signal the validation and the credit will be deducted.
A single journey on the bus costs €1.40 at normal ordinary fare, or from €0.83 €0.87, using the Credibus card. On the Alhambra microbuses, the ticket costs 1.40€. The fare for the night service (bus búho) is, on the other hand, €1.30. Please note that only children under the age of 4 do not pay for the ticket.
Search hotels and more...