A pleasant discovery.
Often, Girona represents, wrongly, only a crossing point. Many travelers leave the international airport behind, to reach the Costa Brava, or nearby Barcelona.
Girona, however, can be the point of arrival of your holiday. And, in recent times, it is cutting out an important role from the point of view of tourism.
Girona is a city that boasts a thousand-year history. And, its historical and artistic vicissitudes are witnessed by the presence of splendid monuments and buildings: Romans, Arabs, or Carolingians, just to name a few.
A city of incredible charm, with its splendid bridges, and the evocative Cases penjades, which, as the name recalls, seem to hang on Onyar, its magical river. And it is from the riverside that you can set off to discover this magical city.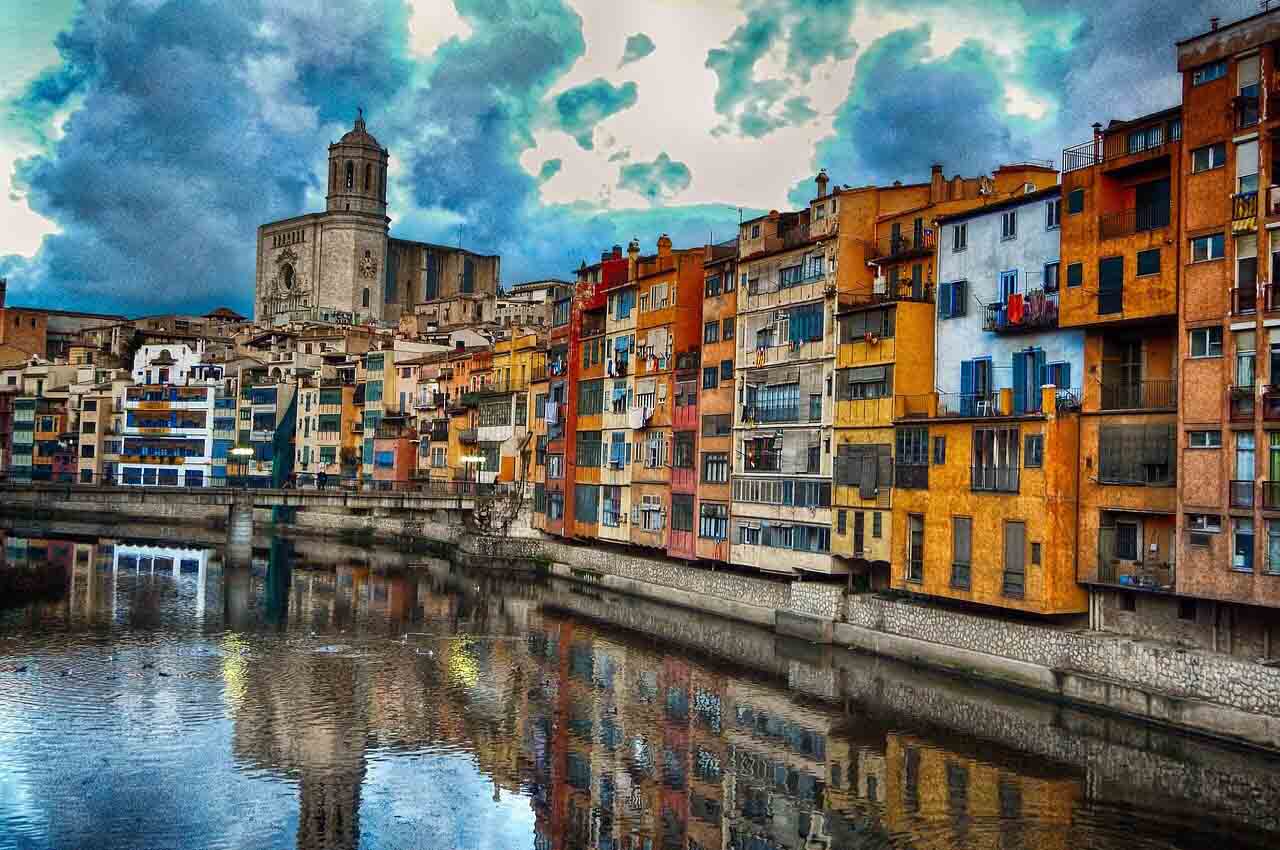 HOW TO GET TO GIRONA
PLANE
The international airport of Girona/Costa Brava, is located just 12 kilometers from the center. It is well connected to the main European destinations. From the airport, with the 607 bus, you can reach the city in about 30 minutes. The ticket costs 2,75€ and can be purchased directly on board.
The vehicle is active every day, including holidays, with frequencies from 30 to 60 minutes.
The bus stop is in the city center, at Estació d'Autobusos, that is, the main station. All info and connections from / to the airport, at this link.
TRAIN
La Estación de Gerona, is the central railway station of the Catalan city. It is located about a kilometer north of the Old Town, and can also be easily reached on foot, should you be in the area.
Rail connections are rather rapid and frequent, albeit limited to the Iberian Peninsula. Barcelona is an excellent starting point, connected by high-speed trains in just 40 minutes. Tickets start at €17.40 per person. For the capital, it takes about 3 and a half hours in High Speed, with prices from around €54, per person.
The station is also served by the RG1 and R11 lines of Cercanías de Gerona, Rodalies de Cataluña. It offers connections with the Regions of La Maresme, La Selva, Gironés and the Spanish city.
CAR
The Catalan city is served by an efficient motorway network. Barcelona, ​​is just 100 kilometers, most of them on the motorway. From Madrid, however, the distance is about 700 kilometers.
The city is located just over 60 kilometers from the French border of Le Perthus. Toulouse is located about 300 kilometers, passing through Narbonne and Carcassonne. Montpellier, however, about 250 kilometers and Marseille just over 400.
Search hotels and more...