A wonderful and enchanting… tortuous place.
This is precisely the meaning of "Krumbern Ouwe" from which the name of the city derives. Cesky Krumlov is an authentic pearl of the Czech Republic. One of those magical and evocative places that strikes at first sight.
A Gothic-Renaissance jewel, with splendid residences, squares, alleys and the splendid Castle, perched, overlooking a hill.
Whether it's a simple stop from Prague, or a holiday, the ingredients are all there to be captivated by the beauty and atmosphere of Cesky Krumlov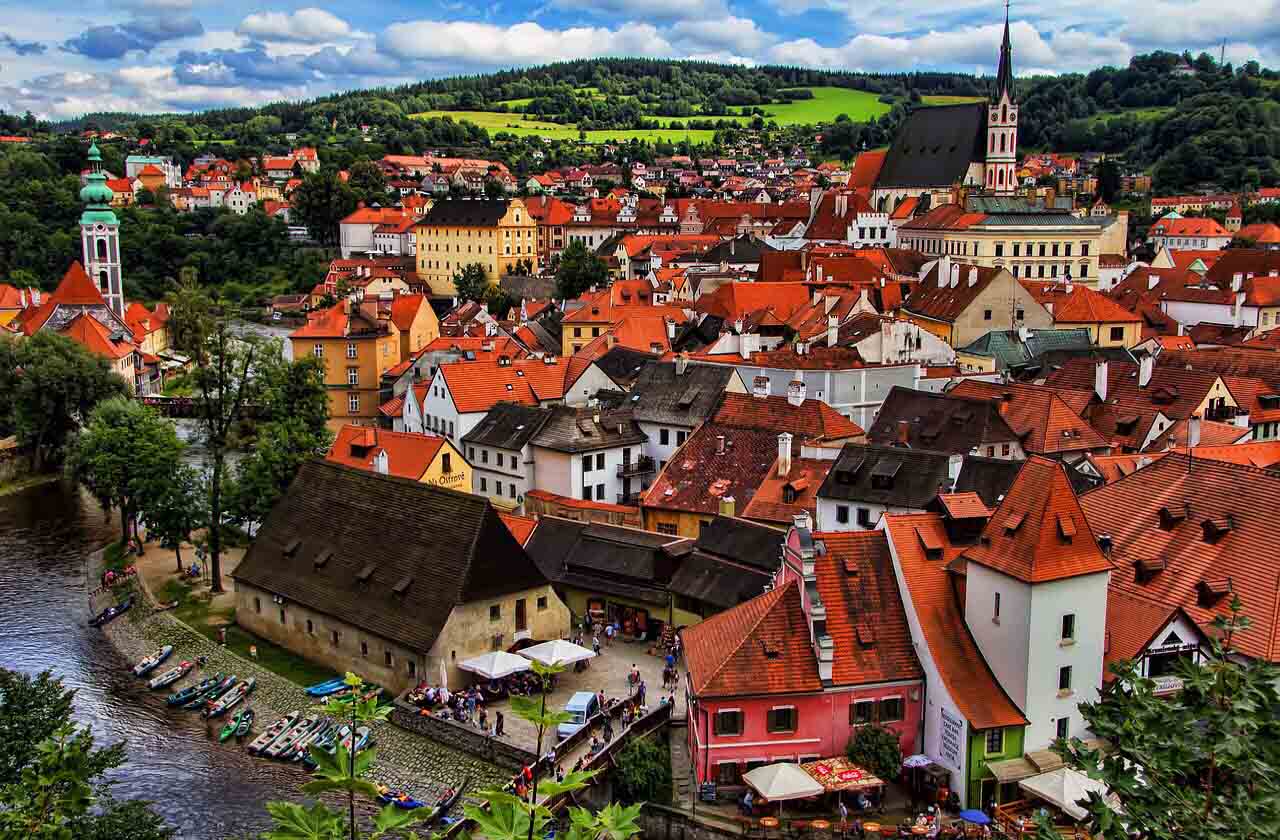 HOW TO GET TO CESKY KRUMLOV
AIRPLANE
If the distance is quite large, the combined plane/bus solution is the best.
Prague international airport is just over 160 km away, and is well connected, with direct flights, to the main European and non-European destinations.
Once you have landed, you need to reach the center of Prague, from where buses to Krumlov depart every day.
The excellent Czech Student Agency/Regiojet company represents the best compromise between quality and price. The company connects the city with the capital every hour with prices starting from € 9. Up to 16 years, you pay the reduced rate of 50%.
From Prague, the service runs from 06:00 (first ride) to 21:00 (last ride).
From Cesky Krumlov, the service runs from 05:00 to 20:00. The frequency is one hour and the journey takes just under 3 hours with a direct route.
Through the official website, you can also book seats inside the bus. We recommend booking a little in advance because tickets, especially on weekends, run out quite easily. Info and reservations on the official website, from this link.
CAR
A road trip to discover the wonderful Bohemia and the Czech countryside can give you pleasant surprises. Prague airport can be an excellent base, but the Austrian airports are also not to be overlooked. Once landed, you can rent a car at really advantageous prices.
By car, from Prague, you have to travel about 160 kilometers to get to your destination. The Austrians Vienna and Salzburg are approximately 200 and 220 kilometers away respectively. Munich, on the other hand, is about 300 kilometers away.
TRAIN
The train is undoubtedly the last option to consider if you want to reach Cesky Krumlov. The station is not directly connected to Prague, and, above all, it is quite far from the center (over 20 minutes).
The trains of the Czech České dráhy railways connect the city directly with České Budějovice in about an hour.
Search hotels and more...