Here are some important information and tips on the best period to go to Netherlands.
In general, the country is characterized by an Atlantic-like climate, with winters that are not excessively cold, and cool and pleasant summers. Thanks to its conformation, mostly flat, there are no particular climatic variations between north and south.
Precipitation during the year is not particularly abundant. The only discordant note to be taken into account when going to the Netherlands is the wind; especially in autumn and spring. It is often the cause of storms.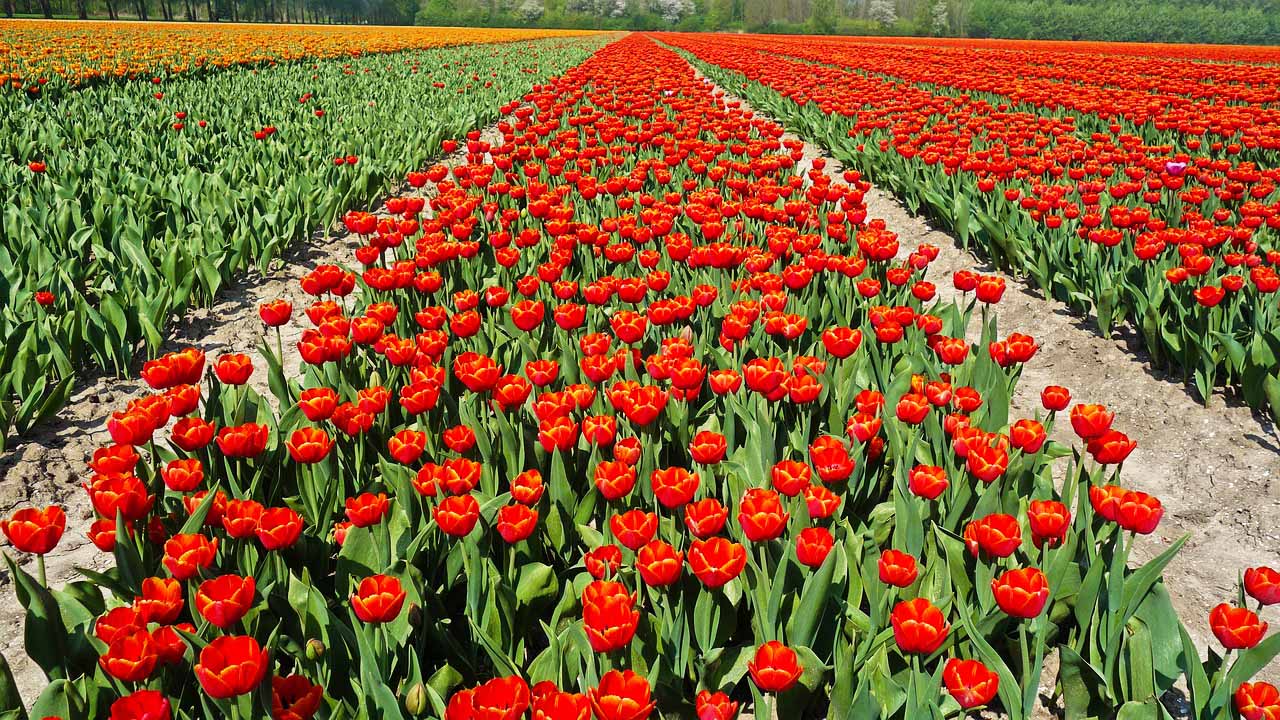 The winter in the Netherlands, they are not particularly cold, with temperatures that are stable around 2°. Sometimes they could fall below zero due to cold currents from Eastern Europe. Snow is a possible phenomenon, but not frequent. Precipitation is not abundant. Along the coast, and in areas close to it, the climate is influenced by the ocean. Always carry warm clothes and an umbrella in your suitcase.
In summer, the climate is quite pleasant, with average temperatures between 15 and 20 °. Do not expect, however, days always sunny. Quite the contrary. Often, the sky is overcast and precipitation is possible. Summer, however, remains the ideal time to visit the country. Sea lovers can hardly swim. The water temperature, even in August, is quite cold. Even in summer, it is advisable to pack a light jacket and an umbrella.
Autumn e Spring they are quite fresh. In May you can start enjoying the first days of heat and, above all, admiring the wonderful expanses of tulips.
Through our κ index, we provide an evaluation for every single month. In this way, you will be able to evaluate the best period to go to Netherlands. A guide that, of course, concerns the climate, the events and the type of holiday you want to deal with.
January κκ
February κκ
March κκ
April κκκκ
May κκκκκ
June κκκκκ
July κκκκκ
August κκκκ
September κκκκ
October κκ
November κκ
December κκκκ
BEST MONTH TO GO TO NETHERLANDS
Each period is good for visiting the Netherlands and above all Amsterdam. Regarding the Capital, the offer in terms of events and festivals is so wide, throughout the year, that you will hardly find a "dead" period. May and June are, in our opinion, the Top Month. Ideal time to visit the country and the capital, attend international events such as Pinkpop, Mumbai Color Festival and Taste of Amsterdam and … admire the flower fields of Keukenhof. Without forgetting April, with the evocative King's Day, or December, with the charm and magic of Christmas.
WORST MONTH
February, in our opinion, is the month less indicated for a holiday in the Netherlands. The climate is quite cold and the offer of events and festivals is quite poor.
Search hotels and more...