Built in the 60 years, Billund Airport is the second busiest airport in the country. The reason is due, almost exclusively, to the proximity to one of the most visited attractions in Denmark: Legoland. The amusement park, in fact, is located a short distance from here.
It is connected daily with direct flights to the main European capitals and destinations. Inside, there are shopping areas, refreshment points, duty-free, and … references to the legendary Lego bricks! In the Terminal between the arrivals hall and the central one, the "Green Planet", gift from Lego to the airport, in the 2002; it is a planet of almost 800kg, made with over 312000 bricks. The figure of King Amlet, instead, entirely composed of bricks, it is located in the Departures area.
Below is the list of the main direct connections* with Billund Airport: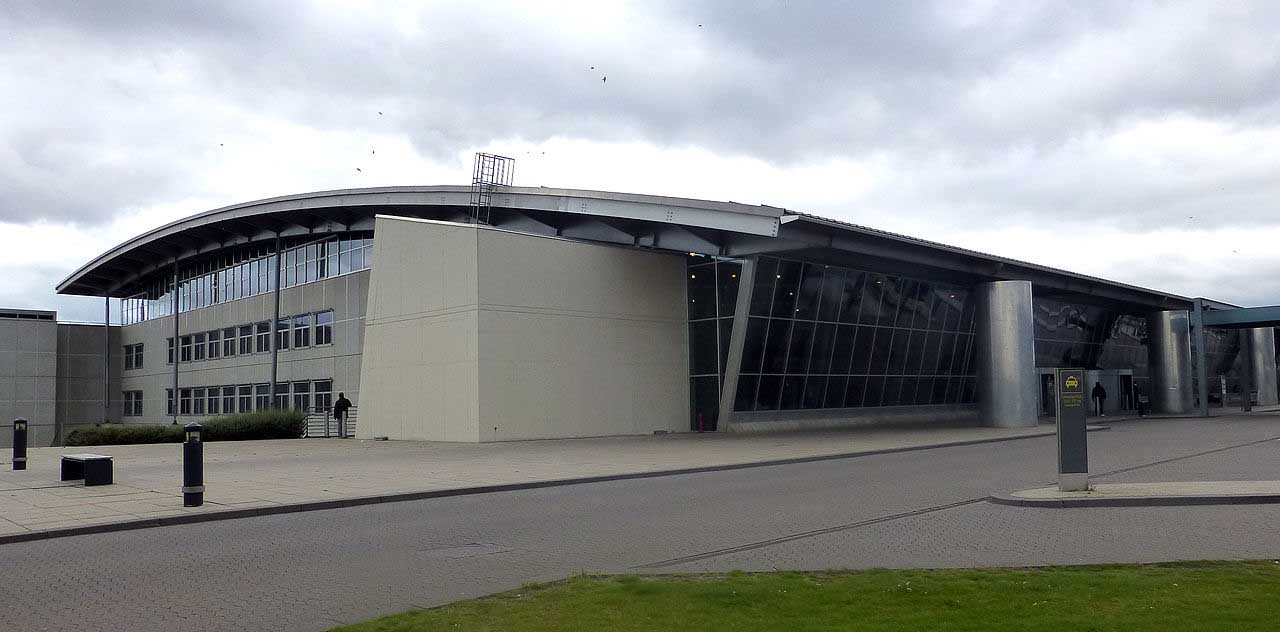 Photo ©, Nico-dk
ALBANIA: Tirana.
AUSTRIA: Innsbruck, Vienna.
BELGIUM: Brussels, Charleroi.
BULGARIA: Burgas, Sofia.
CYPRUS: Larnaca.
CZECH REP: Prague.
DENMARK: Bornholm, Copenhagen, Vágar.
ENGLAND: London–City, London–Heathrow, London-Stansted, Manchester.
ESTONIA: Tallinn.
FRANCE: Paris–CDG.
GERMANY: Düsseldorf, Frankfurt, Memmingen.
GREECE: Chania, Heraklion, Preveza/Lefkada, Rhodes.
HUNGARY: Budapest.
ICELAND: Reykjavik–Keflavík.
IRELAND: Dublin.
ITALY: Bergamo, Bologna, Pisa, Rome–Ciampino, Treviso.
LATVIA: Riga.
LITHUANIA: Vilnius
MALTA: Malta.
NETHERLANDS: Amsterdam.
NORWAY: Bergen, Oslo, Stavanger.
POLAND: Gdańsk, Kraków, Poznań, Warsaw–Chopin, Wrocław.
PORTUGAL: Lisbon.
ROMANIA: Bucharest, Cluj-Napoca, Iași, Sibiu.
SCOTLAND: Edinburgh.
SERBIA: Belgrade.
SPAIN: Alicante, Barcelona, Fuerteventura, Gran Canaria, Málaga, Palma de Mallorca, Seville, Tenerife–South.
SWEDEN: Göteborg, Stockholm–Arlanda.
SWITZERLAND: Zurich.
TURKEY: Antalya, Gazipaşa, Istanbul, Tuzla.
UKRAINE: Kiev–Zhuliany.
EGYPT: Hurghada.
BILLUND AIRPORT – DENMARK CONNECTIONS
Billund airport is located a short distance from Legoland and the city center. The famous "bricks" park, a couple of kilometers away, could be reached easily on foot. The city center, on the other hand, is less than 4 km. By taxi or by the efficient bus, in less than 10 minutes, you arrive at your destination. Among the lines that connect the airport and the city, there are the 43, 143 and 144. The ticket for the single journey costs 24kr for adults, and 12 crowns for children.
To reach other Danish destinations, you can rent a car at the airport. Alternatively, there are several bus lines that connect some of the most popular Danish destinations with Billund Airport.
The 144 and 944X lines connect Esbjerg in about 90 ′. the ticket costs 84.00 crowns. With the 143 line, it is reached in about half an hour Vejle, at the price of 62.00kr. The 166 line performs connection service with Kolding, with a distance of about 60 ′, and a cost of 72.00kr per adult. With the 43 and 143 lines it is reached, instead, Vejle, an important railway junction for the island of Fyn. From here, for example, the IC trains depart to Odense. The train journey from Vejle to Odense takes about an hour.
Search hotels and more...