Hangar 7 is a futuristic building located near Salzburg Airport.
An incredible concentration of modernity, art and design with a unique appearance and impressive numbers to say the least.
1200 tons of steel and over 1700 sheets of glass were used for its construction, all of different sizes and appearance, which adorn its splendid dome. As soon as you cross the threshold of the entrance, you are literally captivated by the impressive play of light of the building.
Owned by Red Bull founder Dietrich Mateschitz, it was designed by Austrian architect Volkmar Burgstaller in 1999 to provide a home for the historic Flying Bulls air fleet. Today it houses historic or modern airplanes, helicopters, motorcycles and formula 1 cars, naturally under the Red Bull brand.
Two cylindrical towers rise majestically from the elliptical glass shell. They house several offices, premises including bars, cafes and an elegant (and expensive) restaurant.
If you are in Salzburg and, above all, are planning to take a flight, take at least half an hour to visit this iconic place.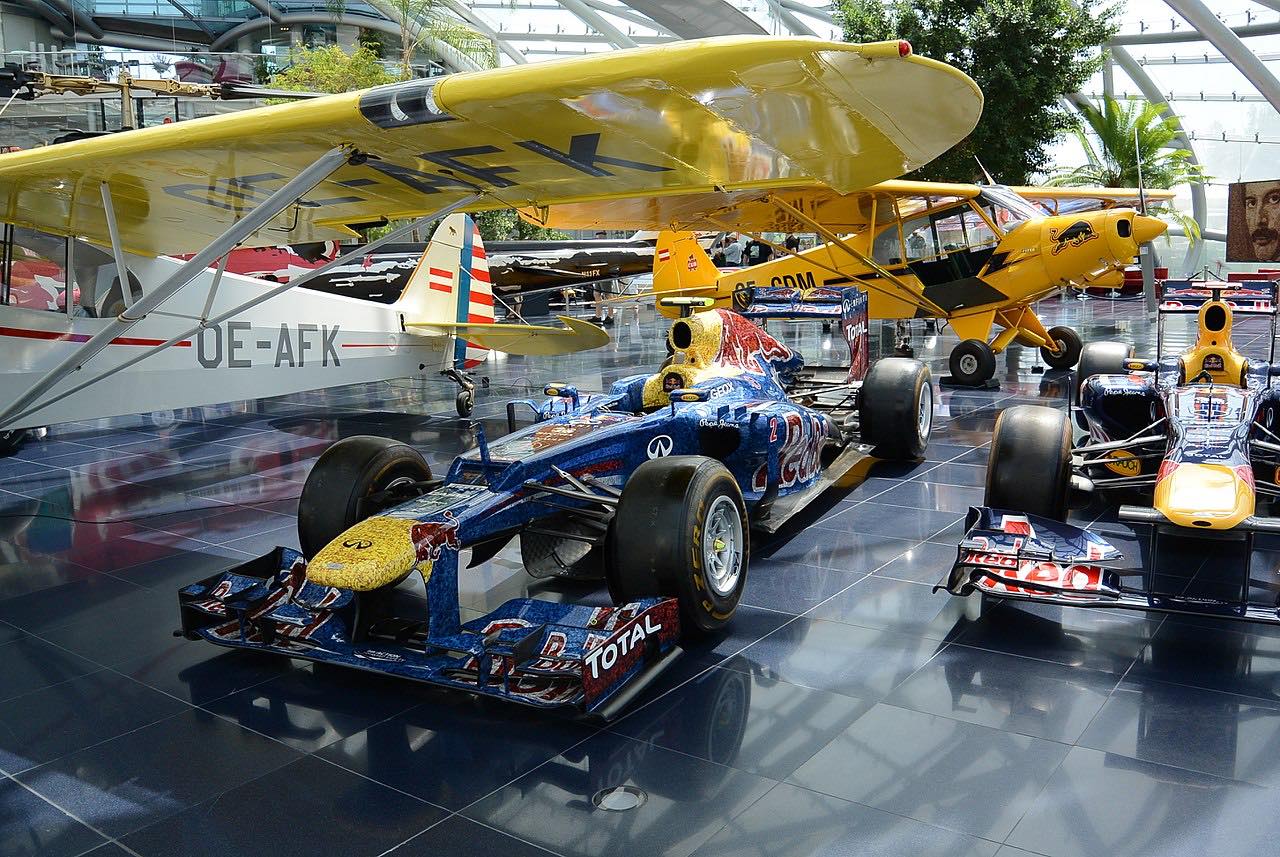 Photo ©, flightlog
PRACTICAL INFO
HOW TO GET
Red Bull Hangar 7 is located in Wilhelm-Spazier-Straße 7a, not far from the international airport (albeit in the exact opposite position).
From the entrance to the international airport, you have to cross Innsbrucker Bundesstraße/B1 for about a kilometer before arriving at your destination. The overall journey takes about 20 minutes: take into account the time and, above all, if you have luggage in tow.
From the center of Salzburg, you can get there in about 10 minutes with the O-Bus line 2.
WHAT TO DO AND SEE
The building hosts events, activities and temporary exhibitions. Inside the Aircraft Museum you can see Flying Bulls planes, some helicopters, motorcycles and Red Bull Formula 1 cars. It is not an impressive number but it remains a really beautiful and interesting collection to admire up close.
Lounge-bar, cafes and, above all, the renowned Ikarus restaurant represent the gastronomic offer inside the towers of Hangar 7. Ikarus, in this sense, is the reference of the atheistic cuisine of the whole city. A gourmet restaurant that hosts, every month, an internationally renowned chef who offers his guests truly unique dishes.
Prices, of course, skyrocketing!
HOURS AND PRICES HANGAR 7
The Aircraft Museum is open every day, including Sundays and holidays, from 09:00 to 22:00.
Admission is FREE.
Bar, clubs and restaurant Ikarus observes different hours between them and according to the opening day.