WHERE: Conwy, Wales
WHEN: 25 – 27 October 2019
Are you looking for a good excuse for a holiday in Wales, in the middle of October?
The answer is called Conwy Feast, an extraordinary event that combines music, gastronomy, art and craftsmanship.
A Festival that will take you to a magical land, full of traditions. With the evocative Castle as a background. You will have a fantastic holiday.
Three days of gastronomy, with Street-food and incredible culinary proposals, along Quayside and High Street. At Craft Beer Bar and The Feast Bar, two fantastic bars along Quayside, you can enjoy drinks and the best craft beers.
Lancaster Square will also be home to interesting gastronomic initiatives.
And, again, workshops, cooking demonstrations, and lots of activities dedicated to the younger guests of the Festival. The farm with animals is very popular with young and old.
Between the stands and exhibition spaces, you can discover the work of designers and artists from Wales.
PRACTICAL INFO
HOW TO GET
By plane, Liverpool-John Lennon and Manchester are the two closest airports to Conwy Feast; both airports are located just over 100 kilometers away.
Arriving by car is the best solution because there are no direct connections to public transport.
From this link you can make a comparison of the main agencies, and rent a car at the best price, directly at the airport.
Anyone wishing to arrive by train will have to take into account the rather high travel times, due to changes.
Daily connections are guaranteed with Chester and Holyhead.
Conwy Railway Station, however, is located right in the center.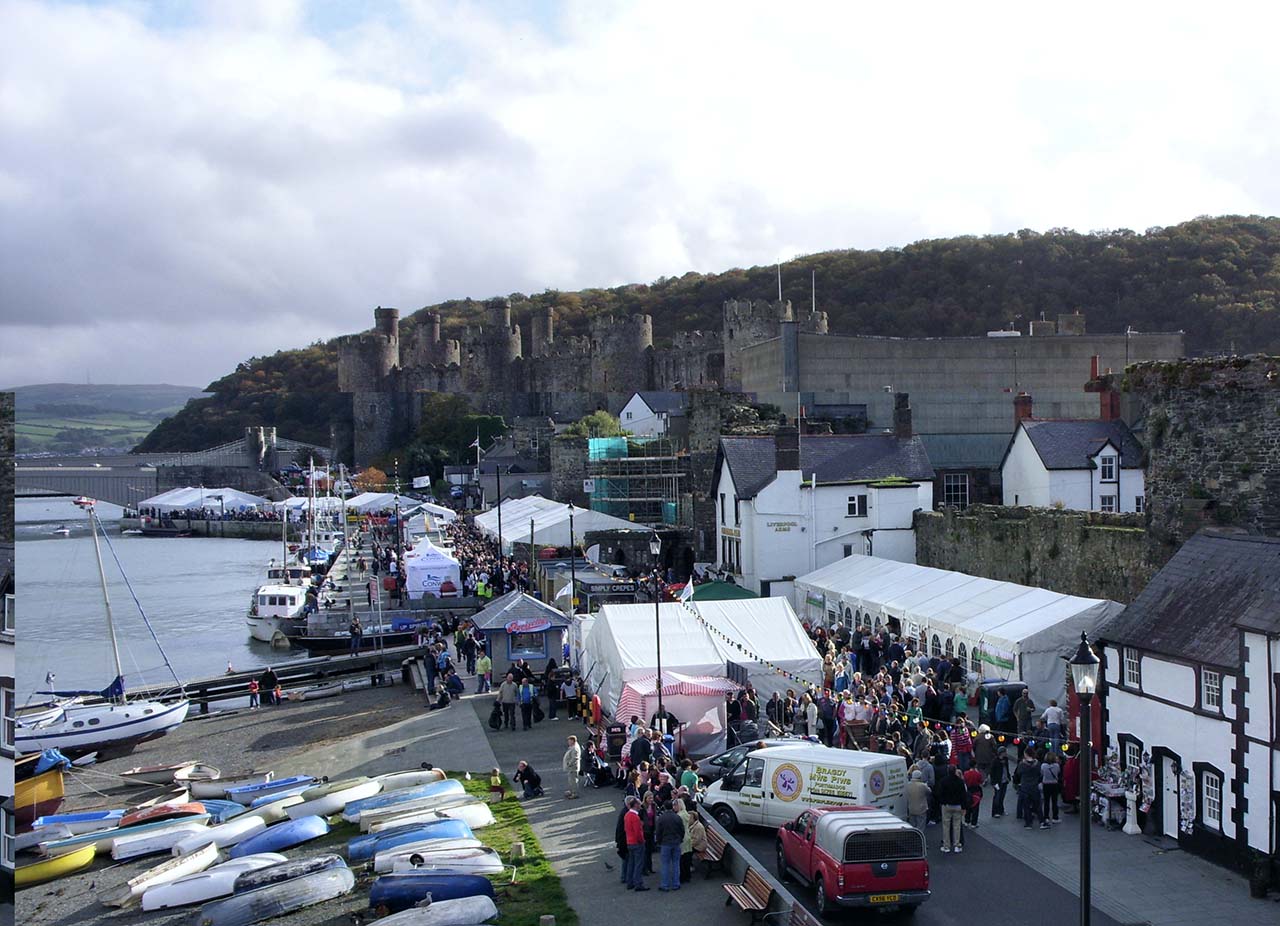 Photo ©, Helen Olney
TIMETABLES CONWY FEAST
The musical / gastronomic program of Gwledd Conwy Feast 2018 is really rich.
Friday, Rock Out Friday / Rocio ar Nos Wener, to Quayside from the 19: 00. Guests, Billy Bibby and the Wry Smiles, Bad Dog, Wilbur Milton and Rebecca Riots.
On Saturday, at Quayside, a great day of music from 13: 45 at 23: 00. It closes with The Suspects
Sunday, from 12: 00, Super Sunday / Swpar Sul. With Happy Jazz, Flux and The Wee Bag Band.
La Food Hall, in Quayside, is open Saturday, from 10: 00 to 18: 00 and Sunday from 10: 00 to 17: 00.
Il Feast Bar is open Friday from 19: 00 to 23: 30. Saturday, from 11: 00 to 23: 30. Sunday, from 11: 00 to 17: 00.
Il Craft Beer Bar, is open Saturday, from 11: 00 to 21: 00 and Sunday from 11: 00 to 17: 00.
On Saturdays and Sundays, from 10: 00 to 16: 30, you will find wonderful workshops and cooking demonstrations in Quayside.
For adults and children, do not miss the Family Cooking Academy, at High Street. Eddie Parry and Donna German will participate. Saturday and Sunday only, at 10: 30, 12: 30 and 14: 30.
TICKETS
The adult ticket, for Saturday admission, costs £ 9.00; Sunday, the price is £ 6.00. The weekend ticket, valid for both days, costs £ 13.00. Tickets offer access to the stands and musical evenings. After the 19: 00, access to the stands is not allowed to minors of 18 years.
Those who want to attend concerts only, can buy tickets for music only, at the cost of £ 5.00 for Friday or Sunday, and 8.00 £ for Saturday. Tickets to access the two Wine Tasting events cost 10.00 £ each.
WHERE TO SLEEP
YHA Conwy It offers spectacular views of Conwy Castle and Snowdonia. Located less than 2,4 km from the beach, it offers affordable, self-catering accommodation, laundry facilities, home-cooked food and a self-catering kitchen. Parking is free, the location is really good, a short distance from the center and the station. Info and reservations from here.
YHA Conwy is the best solution for quality price. Alternatively, you can view other facilities available in the city.