USA, Canada, Europe, Middle East, South America, Asia, United Kingdom, Ireland, Africa, Taiwan, Hong Kong, Singapore, Australia, New Zealand, China, Japan …
Have you planned a trip to one of these areas? Then, the object we are going to present could represent a faithful travel companion. A friend whom you can hardly give up on on future trips.
A universal travel adapter that will allow you to charge your devices in more than 150 countries!
Equipped with 4 2.4A USB ports, 1 3.0A Type-c port and the universal AC socket, the universal travel adapter can charge up to 6 devices simultaneously.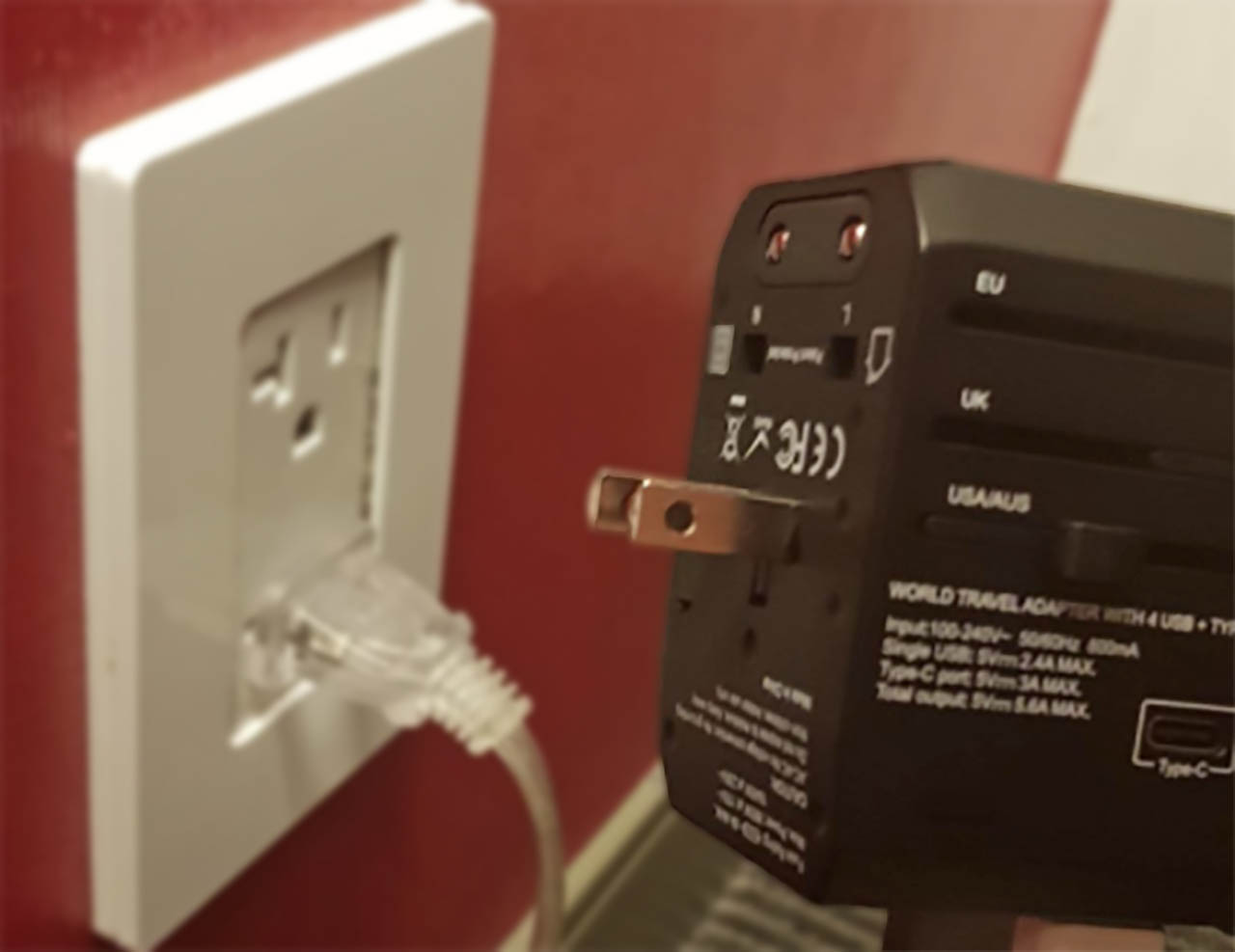 The 4 5V / 2.4A USB ports, the 5V / 3.0A Type-c port guarantee a fast charging of 5600 mAh, compatible with iPhone 11 / PRO PRO MAX XS / XS MAX / XR / X / 8/7/6, razors , mP3 players, mobile phones and tablets and even your personal hairdryer. The power supply is equipped with protection systems against overload, overheating, overvoltage and short circuit, guaranteeing your safety and that of your objects. Available on ebay in double coloring for around 17€, including shipping.
A small and extremely practical accessory that in the suitcase does not take up practically any space and which avoids having to carry a myriad of adapters. It also includes a practical travel bag, to take with you! It is very handy, and recently produced. TYPE-C charging is suitable for the latest generation Apple devices, such as the iPhone 11 PRO MAX!
MAIN FEATURES UNIVERSAL TRAVEL ADAPTER
Voltage range: 100-250 V, 8 A max. 4 USB ports each 5V maximum output 5.6 A 1 Type-C port output 5V max 3.0A Smart IC smart charging Single plug safety function LED power indicator Integrated fuse 8A protection and spare fuse
Dimensions: 8.9 x 8.4 x 6.9 cm
Weight: 220 g
SUPPORTED ELECTRIC SOCKETS
US port. Used in: North and Central America, Japan, etc.
EU port. Used in: Europe, except Great Britain, Ireland, Cyprus and Malta.
UK port. Used in: Great Britain, Ireland, Cyprus, Malta, Malaysia, Singapore, Hong Kong, etc.
Port AU. Used in: Australia, China, New Zealand, Papua New Guinea, Argentina, etc.
An accessory at a really advantageous price, which you can insure yourself without paying even the shipping costs. Buy the item at a special price on eBay.