The island of Rhodes boasts the presence of a good road network. Given the extension, to move independently from one extreme to another, the car is the ideal solution. The bus, however, is preferable if you want to move only in the most touristy places.
GETTING AROUND RHODES BY CAR
The main road of the island connects Rodi Town to Lindos, continuing up to Cape Prassonissi. The distance between the two ends of the island (Prassonissi-Rodi Town) and about 90 kilometers. It is a coastal road, characterized by numerous twists and turns. Of course, there are plenty of scenic spots and less crowded beaches to spend a few hours.
For this reason, we recommend that you turn the island by car. The rental prices, then, are not exorbitant at all. Whether you book on-site or at home. Through this link, it is possible to compare the prices applied by the main rental agencies.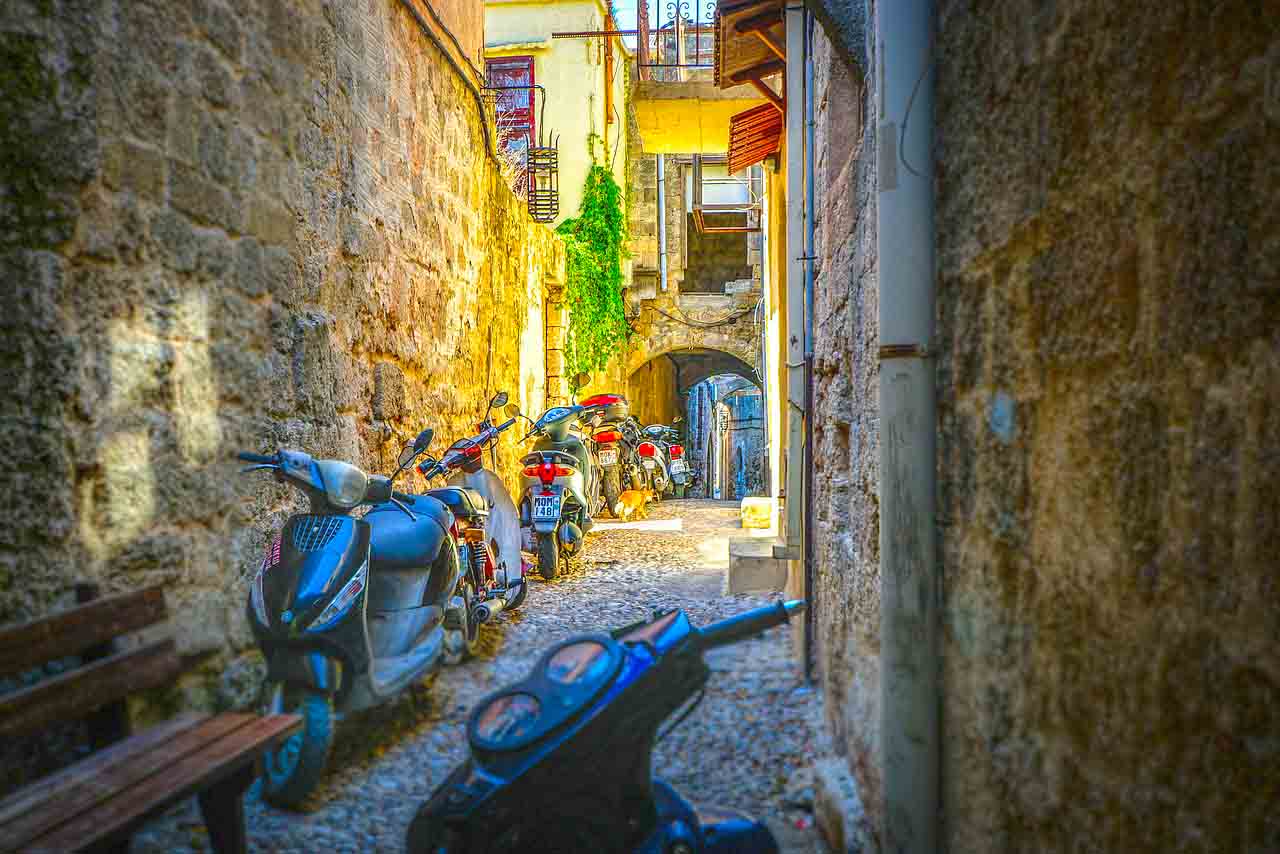 GETTING AROUND RHODES BY BUS
Ktel Rhodes is the Greek company that manages the road transport service, connecting the capital with the most remote corners of the island. Obviously, there is no shortage of connections between the capital and the airport of Rhodes-Diagoras.
The buses are quite recent and comfortable. Over 40 runs daily from Rhodes Town to Faliraki (and vice versa) are guaranteed with a frequency of about 20 minutes. The service is active every day, from 06:30 to 23:00 from Rhodes, and from 07:00 to 23:30 from Faliraki.
Races to Lindos from Rhodes Town are quite frequent too. The first bus leaves at 06:15 from the capital, and at 06:45 from Lindos; last races, respectively, at 19:30 and 20:00.
There are also guaranteed connections, even if not very frequent, to numerous villages and beaches on the island. From Rhodes Town, buses leave for Afantou, Archangelos, Gennadi, Kalithea, Kiotari, Lardos, Pefkos; also links to the beaches of Anthony Queen Bay, Kolimbia, Ladiko, Tsampika, Psinthos, Stegna Beach and others. Keep in mind that some buses leave only once in the whole day.
BUS TICKETS
Tickets can be purchased directly on the bus; costs vary according to the route and destination. It goes from a minimum of €2.40 for the Rhodes-Kalithea and Rhodes-Afantou section, to a maximum of €10.40 to reach Prassonissi, in the extreme southern tip of the island.
GETTING AROUND RHODES BY TAXI
Taxis are a good alternative, and a great way for getting around Rhodes, in three or more people. The taxi rank is right next to the Bus station in the heart of Rhodes. Cheap but, obviously, more expensive means of public transport: especially recommended to cover short distances.
Search hotels and more...