PortAventura Park consists of 6 large thematic areas, each with features and elements that reproduce different civilizations and places.
Mediterrània, Polynesia, China, Mexico, Far West and, last in chronological order, Sésamo Aventura. Crossing the entrance threshold, you will end up in Mediterrània. From here, you can start your adventure at PortAventura Park.
Here is the list of attractions divided according to height requirements.
THEME AREAS
Mediterrània reproduces a typical Catalan coastal town. It is the first area of ​​the Park, with only three attractions and many shows, restaurants and shop areas.
Far West It is the largest area of ​​PortAventura Park. The wild west is reproduced.
Majestic temples, statues and a great pyramid: this, and much more, characterize the Mexico. This is the widest show area.
Chinese wall in sight? No doubt, you are about to arrive in China.
La Polynesia it is the smallest area of ​​the Park, with less adrenalite and more relaxing rides.
Sesame instead, it is the area destined to the younger visitors of the Park.
PORTAVENTURA PARK ATTRACTIONS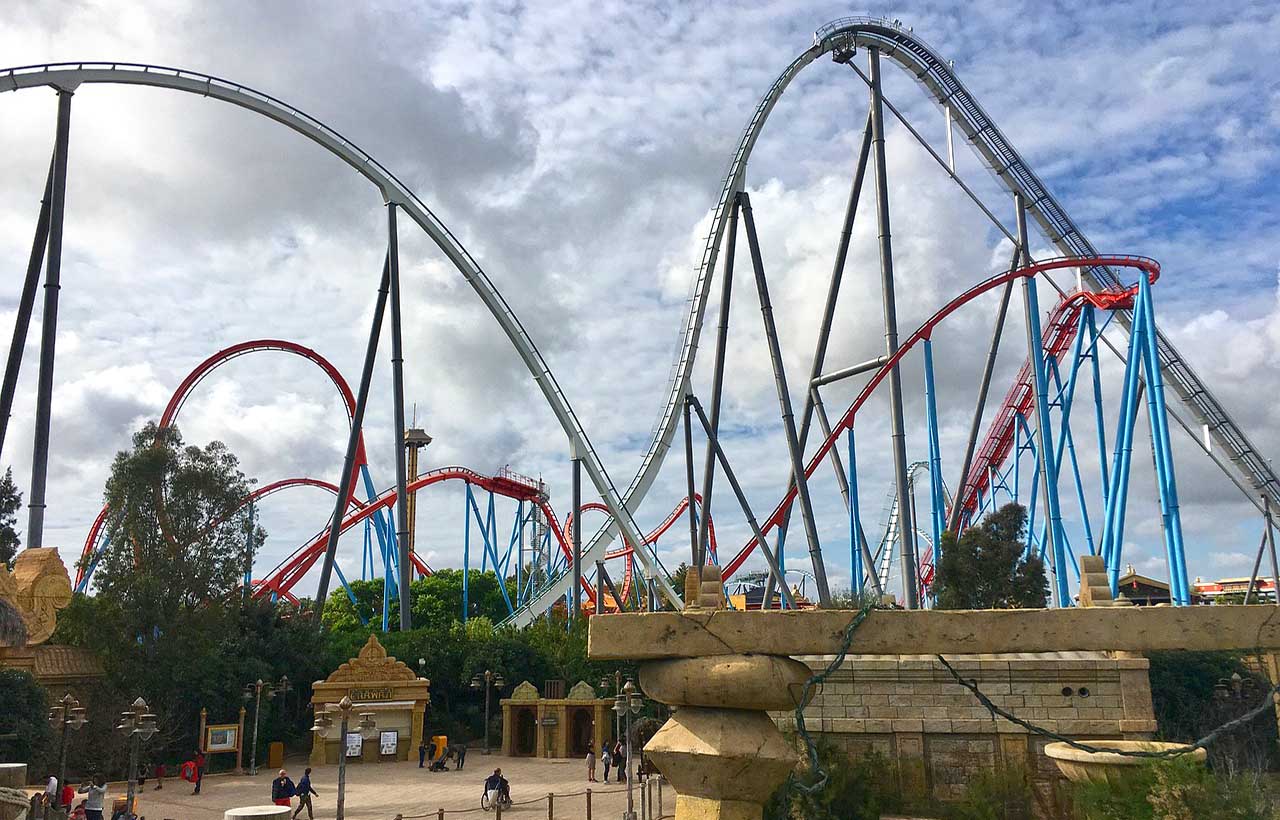 FOR EVERYONE
Estacio del Nord (Mediterrània). One of the three railway stations of PortAventura Park. You travel by train, with destination Far West.
Port de la Drassana (Mediterrània). Pleasant boat trip in calm waters.
El Huerto Encantado (Sésamo Aventura). From 3 to 12 years. Children under the 3 years come accompanied.
Kiddie Dragons (Sésamo Aventura).
La Granja de Elmo (Sésamo Aventura).
SésamoAventura Station (Sésamo Aventura). The train leaving from Sésamo.
Waikiki (Sésamo Aventura). The chairs that will make the little ones feel the sensation of flying
Canoes (Polynesia). A small canoe trip, on a water course, for the little ones.
Angkor (China). A great naval battle, with water pistols. From 130cm you can go it alone.
Cobra Imperial (China).
Kiddie Ballons (China).
Kiddie Kities (China).
Tea Cups (China). Minimum height 90cm. The giant cups for you, for a circle with the family.
Armadillos (Mexico). The little ones can carry out rides on the back of the animals.
El Secreto de Los Mayas (Mexico). A labyrinth of mirrors, for minors of 12 years accompanied by an adult
Los Potrillos (Mexico). You climb on the back of hilarious ponies along a path.
Buffalo Rodeo (Far West). A self-bumper with cars disguised as wild buffaloes.
Carousel (Far West). The famous and unfailing carousel.
FROM 1 meter UP
Cocopiloto (Sésamo Aventura). Discover the park from above on board of nice aircrafts.
El Salto de Blas (Sésamo Aventura).
Tami-Tami (Sésamo Aventura). The only Russian mountain for children of PortAventura Park.
Dino Escape 4D Experience (Polynesia).
El Templo del Fuego (Mexico).
Crazy Barrels (Far West). The crazy barrels that never stop turning.
Silver River Flume (Far West). A traditional river path on board.
Wild Buffalos (Far West).
FROM 110cm UP
Saltarinas (Sésamo Aventura).
El Diablo (Mexico). A wooden train launched at full speed in the mines.
Grand Canyon Rapids (Far West). Rubber boat adventure along the Grand Canyon. Beware of water cannons !!
Tomahawk (Far West). A reduced version of Stampida, from which it travels parallel.
FROM 120cm UP
Magic Fish (Sésamo Aventura). Slide aboard … a fish.
Tutuki Splash (Polynesia). Reach the volcano aboard a boat, on a path full of surprises.
Stampida (Far West). Third largest Russian mountain of PortAventura Park.
FROM 130cm
Kon-Tiki Wave (Polynesia). A catamaran that performs stormy wave movements.
Yucatán (Mexico). A race around a central axis, at medium / high speed.
Serpiente Emplumada (Mexico). It turns around the sacred totem on the back of the Serpiente.
Volpaiute (Far West). Rotating attraction that reproduces the fury of the Volpaiute tribe.
FROM 140cm UP
Furius Baco (Mediterrània). An incredible catapult transformed into the fastest rollercoaster of PortAventura Park.
Dragon Khan (China). A dizzying descent, followed by eight loops that last over 69 seconds, reaching a speed of 110 kilometers per hour. Creepy!
Shambhala (China). An adrenalitic hypercoaster. The Russian mountain with the highest and longest fall of all PortAventura Park.
Hurakan Condor (Mexico). A free fall launch among the highest in the world!
Search hotels and more...