London Stansted is an international airport located near the town of Stansted Mountfitchet in the county of Essex. It is located about 50 km away from London, and is, for passenger traffic, the fourth airport in the United Kingdom. To date, he is the real point of reference for Low Cost airlines. In this, the Irish RyanAir is one of the main protagonists.
It has a single runway and a single terminal .; the latter is divided into three different areas. At the airport there are duty free shops and numerous shopping areas. An interesting initiative is to book an article online on the official website, subsequently collecting it at the airport. The wifi is free and available in all areas.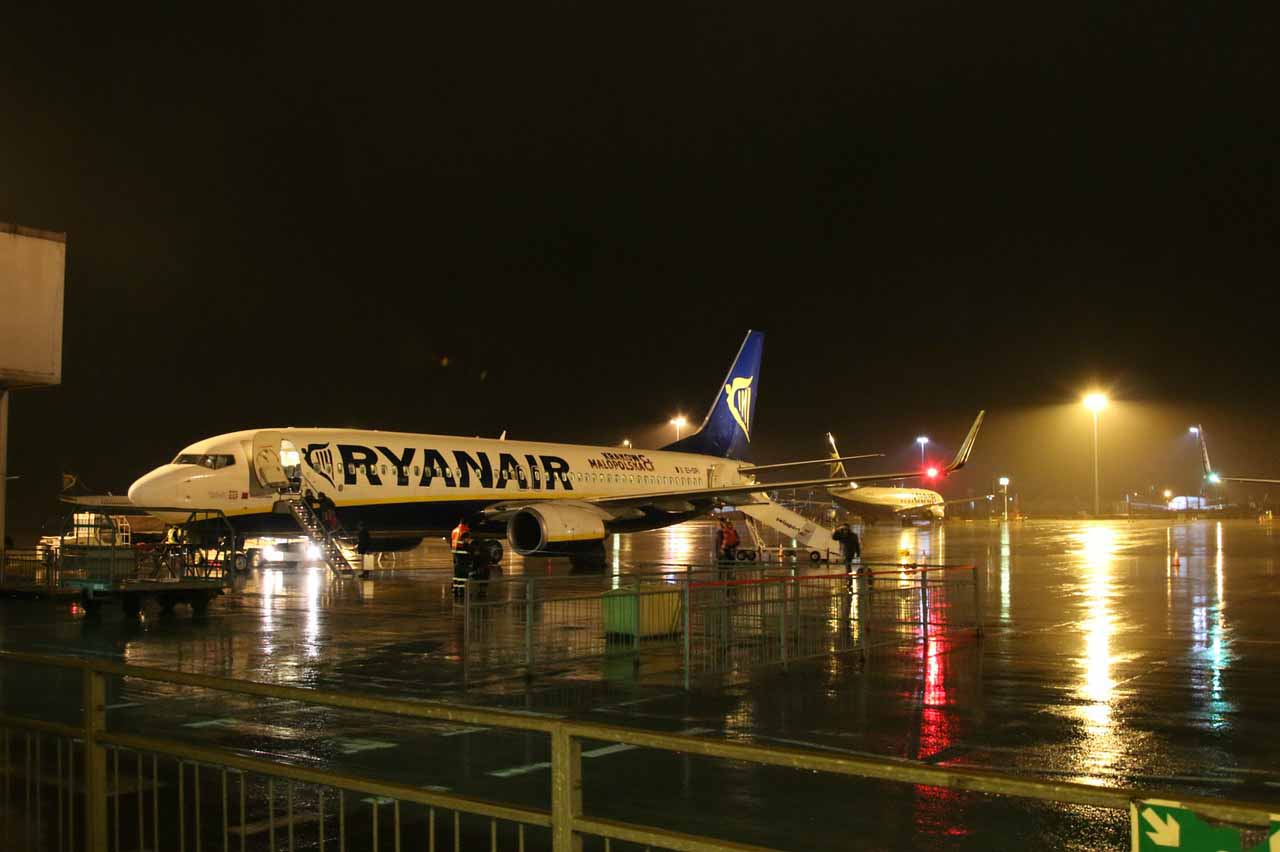 Here is the list of the direct connections* with London Stansted Airport:
ALBANIA: Tirana.
AUSTRIA: Innsbruck, Salzburg, Vienna.
AZORES: Ponta Delgada.
BULGARIA: Burgas, Plovdiv.
CHANNEL ISLANDS: Jersey.
CROATIA: Dubrovnik, Pula, Split, Zagreb.
CYPRUS: Larnaca.
CZECH REP.: Brno, Ostrava, Prague.
DENMARK: Aalborg, Aarhus, Billund, Copenhagen.
EGYPT: Sharm El Sheikh.
ESTONIA: Tallinn.
FINLAND: Helsinki, Kittilä, Tampere.
FRANCE: Bergerac, Biarritz, Bordeaux, Carcassonne, Chambéry, Grenoble, La Rochelle, Limoges, Lourdes, Marseille, Nantes, Nice, Nimes, Perpignan, Poitiers, Toulouse, Tours.
GERMANY: Berlin, Bremen, Cologne/Bonn, Dortmund, Dresden, Karlsruhe/Baden-Baden, Frankfurt, Hamburg, Memmingen, Nuremberg,
GREECE: Athens, Chania, Corfu, Heraklion, Kalamata, Kefalonia, Kos, Mykonos, Mytilene, Paphos, Preveza/Lefkada, Rhodes, Santorini, Skiathos, Thessaloniki, Zakynthos.
HUNGARY: Budapest.
ICELAND: Reykjavík–Keflavík.
INDIA: Amritsar.
IRELAND: Belfast–International, Cork, Derry, Dublin, Kerry, Knock, Shannon.
ITALY: Alghero, Ancona, Bari, Bergamo, Bologna, Brindisi, Cagliari, Catania, Genoa, Lamezia Terme, Milan–Malpensa, Naples, Olbia, Palermo, Perugia, Pescara, Pisa, Rimini, Rome–Ciampino, Trapani, Trieste, Turin, Verona.
LATVIA: Riga.
LITHUANIA: Kaunas, Palanga.
LUXEMBOURG: Luxembourg.
MALTA: Malta.
MOLDOVA: Chișinău.
MONTENEGRO: Podgorica, Tivat.
MOROCCO: Agadir, Essaouira, Fez, Marrakesh, Rabat.
NETHERLANDS: Amsterdam, Eindhoven.
NORWAY: Oslo, Rovaniemi, Sandefjord.
POLAND: Bydgoszcz, Gdańsk, Katowice, Košice, Kraków, Łódź, Olsztyn-Mazury, Poznań, Rzeszów, Szczecin, Warsaw–Modlin, Wrocław.
PORTUGAL: Faro, Funchal, Lisbon, Porto.
ROMANIA: Bucharest, Cluj-Napoca, Oradea, Târgu Mureș.
SCOTLAND: Edinburgh, Glasgow.
SLOVAKIA: Bratislava.
SPAIN: Alicante, Almería, Barcelona, Fuerteventura, Girona, Gran Canaria, Ibiza, Jerez de la Frontera, Lanzarote, Madrid, Málaga, Menorca, Murcia, Palma de Mallorca, Reus, Santander, Santiago de Compostela, Seville, Tenerife–South, Zaragoza.
SWEDEN: Gothenburg, Stockholm–Arlanda, Stockholm–Västerås.
SWITZERLAND: Geneva
TURKEY: Ankara, Antalya, Bodrum, Dalaman, Istanbul–Sabiha Gökçen, İzmir.
UAE: Dubai–International.
UKRAINE: Kyiv–Boryspil, Lviv.
LONDON STANSTED CONNECTIONS – CITY
The train is the best solution to reach London, or to arrive from the city. Above all, you will avoid traffic jams and slowdowns due to city traffic. The railway station is located just 2 minutes walking distance from the airport terminal.
TRAIN
STANSTED EXPRESS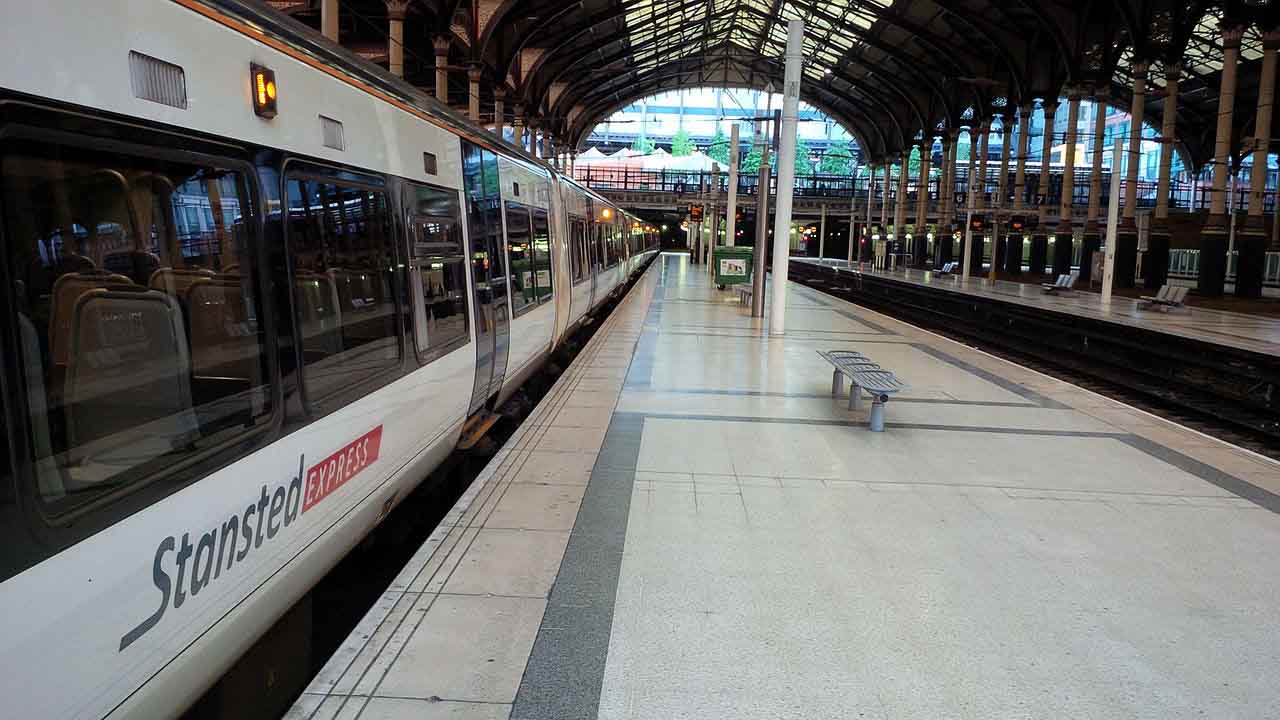 Photo ©, Romazur
By far, the best solution. The fastest connection between Stansted airport and central London. Trains every 15 minutes; flexible tickets, with which to travel on any train on the booked travel date. Free WiFi connection and power outlets on all trains. Unlimited baggage allowance.
With the Stansted Express, you can reach Liverpool Street stop in about 45 minutes. Tickets cost £19.90 for a single journey, and £31.50 return. For children aged 5 to 15, reduced rate of 50%. The interesting thing, however, is the possibility of obtaining incredible reductions by booking in advance, for a selected date. In this case, tickets start at just £9.45; you have to hurry up and book well in advance because the number of tickets is limited. For info and reservations, consult the official website.
CROSSCOUNTRY
Long distance rail link system with Cambridgeshire and Midlands. CrossCountry trains allow you to reach numerous medium and long-haul destinations from London Stansted Airport. For Cambridge, it takes just over 30 minutes; tickets from £11.10, with the possibility to buy also at SUPER LIMITED rate from 7.90£!
Leicester and Birmingham can be reached in less than three hours. Rates vary according to the offer. By booking in advance with an unchangeable date, you get interesting discounts and promotions. Coupons, however, are very limited.
By stopping at Peterborough, about 90 'away, you can reach Leeds, York, Newcastle and Scotland. For all the information, see the official website.
BUS
Thanks to the National Express buses, you can easily reach London in a short time. All with an extremely efficient and modern service. Buses run all day, even during the night.
By booking in advance, on a set date, you can buy the ticket at an extremely advantageous rate. Prices start from £6.00!
There are four different routes. The A6 offers 43 daily journeys from London Paddington to London Stansted and vice versa. The journey takes just over 90 minutes, via Portman Square, Marble Arch, Paddington, Baker Street, St Johns Wood, Finchley Road and Golders Green. The A7 passes through London Victoria Coach, Waterloo and Southwark; the journey takes about 100 minutes. Fifty runs a day on the A8 line from Bethnal Green. It passes through Shoreditch High Street, Liverpool Street, Whitechapel, Mile End, Bow Church and arrives at Stansted Coach Station. Finally, the A9 makes a direct connection from the airport to London Stratford, and vice versa; the ticket costs £12.00.
National Express also guarantees connections between the various London airports. For example, from Stansted to Gatwick, direct connection in about 150 minutes, with prices from £19.00
*The list is subject to change. All links, updated, are available on the official website. Before traveling, it is recommended that you inquire about the provisions and rules on COVID-19 in the UK. Timetables and connections are subject to change.
Search hotels and more...