From this page, some valuable info on how to get to Grand Canyon by car, bus and train.
CAR
Reaching the Canyon by car is the solution that combines comfort and speed. Coming from any destination, you can arrive at the Grand Canyon in a couple of hours.
A return trip by car, within the same day, must be carefully evaluated according to the distance to be traveled.
From the South, Phoenix is ​​about 240 miles, passing through the Intersate I-40, and past Flagstaff, the US-89 N. The journey takes just under 4 hours, in normal traffic conditions.
To the east, Los Angeles is about 500 miles, most of them on I-40. Travel time is approximately 7 hours. From Las Vegas, instead, you travel about 300 miles; first part of the journey on US-93, then continue on I-40. From both, turn to Williams, just before Flagstaff, and continue along the road 64.
The US-89 is the reference road coming from the North. From Utah, travel about 430 miles to reach the Grand Canyon.
While traveling by car, GPS navigation may not be particularly accurate. For this reason it is preferable to download a route map offline. Even. More recommendable, leave in the car a road map of the place, as up to date as possible.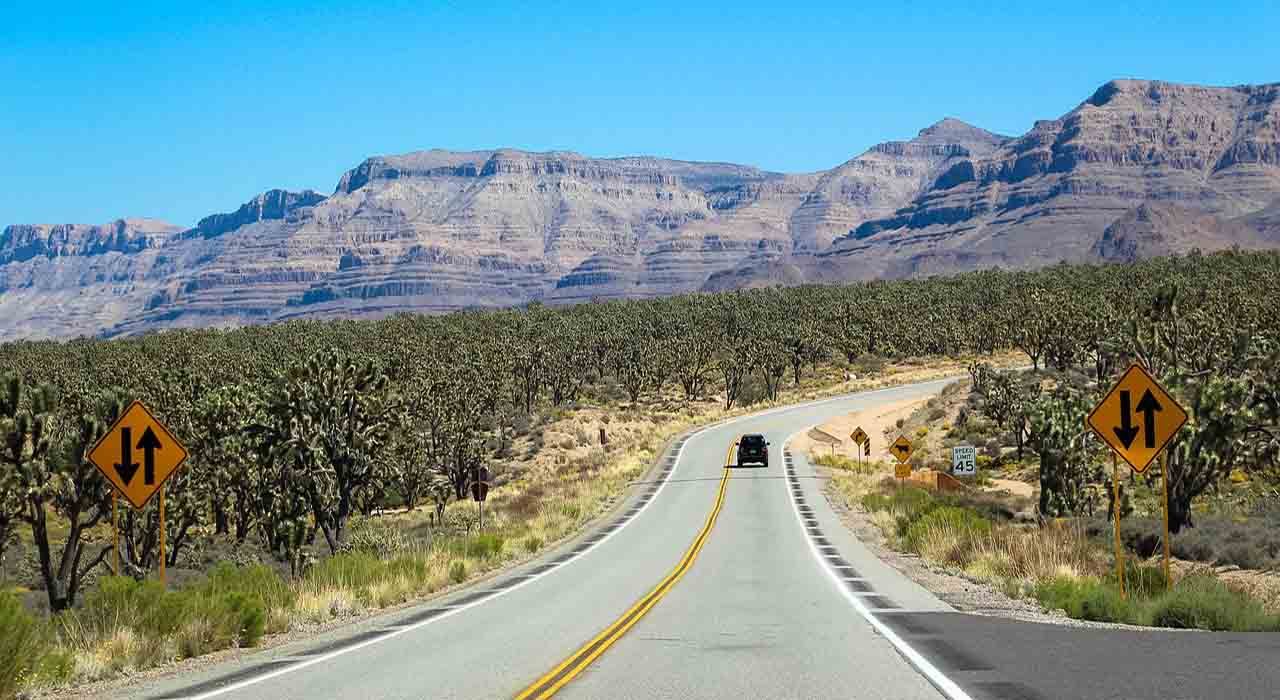 PARKING AREA
The South Rym parking area tends to get crowded from the early morning hours. Already after 10:00, you will find long queues at the entrances, and you'll have difficulty parking.
For those arriving by car, it is preferable to arrive by 09:00. Alternatively, you can leave the car at the nearby community of Tusayan, continuing by bus (see below).
BUS
Arizona Shuttle offers 3 daily connections from Flagstaff. The latter can be reached with Amtrak trains.
The ticket for the Shuttle Bus costs $34 per adult, for one way.
The company also operates shuttle bus connections from Phoenix and several locations in Arizona.
Tusayan Route is an alternative, and complementary, solution to the car. This is a shuttle that connects the Grand Canyon Visitor Center to the village of Tusayan, a few miles away.
The shuttle is in operation from March to September with the aim of reducing traffic at the entrances, and the problem of parking. It operates between 08.30 and 21.30, with stops at IMAX Theater / R.P.'s Stage Stop, Best Western Grand Canyon Squire Inn, The Grand Hotel and Big Steakhouse and Saloon.
You can then leave your car in Tusayan and arrive at the Grand Canyon by bus.
HOW TO GET TO GRAND CANYON BY TRAIN
More than just a means, the GRAND CANYON RAILWAY line represents a sort of travel experience. A fantastic railway route that will take you back in time, with Cowboys, musicians, and strange characters. It starts from Williams Depot, aboard old wagons of the '900, perfectly restored. The train crosses changing landscapes, between forests and centuries-old trees, deserts and ever-changing meadows.
An extraordinary and spectacular journey that, in less than 3 hours, will take you to the Grand Canyon Depot.
The Pullmann Class ticket costs $33.50 per adult, for one way, and $16 for children. Seating, and entertainment on board.
One departure from Williams at 09:30, and from Grand Canyon Depot at 15:30.
Search hotels and more...