Landing at Dubai Airport, one has the feeling of being in front of a huge city. And, it could not be otherwise.
With an area of ​​well 3500 hectares, and an annual passenger traffic of about 80 million (!!!), the Dubai airport is the most important airport in the whole Middle East. Moreover, with its 6500 weekly direct flights, it is the seventh busiest airport in the world!
Dubai Airport is located in the Garhoud district, about 4 kilometers north of the city. It is the hub of the Emirates flag carrier that handles more than half of the air traffic.
Dubai Airport was designed as an entertainment venue. Lots of shopping areas, duty-free, dining options. And, again, VIP areas, wellness areas, gourmet restaurants, the best brands, and even live shows and shows; among these, the Arabic edition of X-Factor and the #musicDXB shows.
Photo, 2014 Raihan SR Bakhsh
Here is the list of the main companies, and the direct connections * with Dubai Airport:
Aeroflot: Moscow-Sheremetyevo.
African Express Airways: Berbera, Hargeisa, Mogadishu, Nairobi-Jomo Kenyatta, Wajir.
Air Algérie: Algiers.
Air Astana: Almaty, Astana
Airblue: Islamabad, Karachi, Lahore, Peshawar, Multan.
Air Canada: Toronto-Pearson.
Air China: Beijing-Capital, Chongqing.
Air France: Paris-CDG.
Air India: Bangalore, Chennai, Delhi, Goa, Hyderabad, Kochi, Kozhikode, Mumbai, Visakhapatnam.
Air India Express: Amritsar, Delhi, Jaipur, Kochi, Kozhikode, Lucknow, Mangalore, Mumbai, Pune, Thiruvananthapuram, Tiruchirapalli.
Air Moldova: Chisinau.
Ariana Afghan Airlines: Kabul, Kandahar.
Azerbaijan Airlines: Baku.
Badr Airlines: Khartoum.
Biman Bangladesh Airlines: Chittagong, Dhaka.
British Airways: London-Heathrow.
Caspian Airlines: Tabriz, Tehran-Imam Khomeini.
Cathay Pacific: Bahrain, Hong Kong.
Cebu Pacific: Manila.
China Eastern Airlines: Kunming, Shanghai-Pudong.
China Southern Airlines: Guangzhou, Lanzhou, Shenzhen, Ürümqi, Wuhan.
Daallo Airlines: Hargeisa, Mogadishu.
EgyptAir: Cairo.
Emirates: Abidjan, Abuja, Accra, Addis Ababa, Adelaide, Ahmedabad, Algiers, Hamburg, Amman-Queen Alia, Amsterdam, Athens, Auckland, Baghdad, Bahrain, Bangalore, Bangkok-Suvarnabhumi, Barcelona, ​​Basra, Beijing-Capital, Beirut, Birmingham, Bologna, Boston, Brisbane, Brussels, Budapest, Buenos Aires-Ezeiza, Cape Town, Casablanca, Cebu, Chennai-Anna, Chicago-O'Hare, Christchurch, Clark, Colombo, Conakry, Copenhagen, Dakar, Dallas / Fort Worth, Dammam , Dar es Salaam, Delhi, Denpasar, Dhaka, Dublin, Durban, Düsseldorf, Entebbe, Fort Lauderdale, Frankfurt, Geneva, Glasgow, Guangzhou, Hanoi, Harare, Ho Chi Minh City, Hong Kong, Houston-Intercontinental, Hyderabad, Cairo , Islamabad, Istanbul-Ataturk, Istanbul-Sabiha Gökçen, Jakarta-Soekarno-Hatta, Jeddah, Johannesburg-OR Tambo, Kabul, Karachi, Khartoum, Kochi, Kolkata, Kozhikode, Kuala Lumpur-International, Kuwait, Lagos, Lahore, Larnaca, Lyon, Lisbon, London-Gatwick, London-Heathrow, London-Stansted, Los Angeles, Luanda, Lusaka, Madrid, Mahé, Malé, Malta, Manchester, Manila, Mashhad, Mauritius, Medina, Melbourne, Milan-Malpensa, Munich, Moscow-Domodedovo, Multan, Mumbai, Muscat, Nairobi-Jomo Kenyatta, New York-JFK, Newark, Newcastle upon Tyne, Nice, Orlando, Osaka-Kansai, Oslo-Gardermoen, Paris-CDG, Perth, Peshawar, Phuket, Phnom Penh, Prague, Rio de Janeiro-Galeão, Riyadh, Rome-Fiumicino, San Francisco, Sao Paulo -Guarulhos, St. Petersburg, Seattle / Tacoma, Seoul-Incheon, Shanghai-Pudong, Sialkot, Singapore, Stockholm-Arlanda, Sydney, Taipei-Taoyuan, Tehran-Imam Khomeini, Thiruvananthapuram, Tokyo-Haneda, Tokyo-Narita, Toronto-Pearson , Tunis, Warsaw-Chopin, Venice, Vienna, Washington-Dulles, Yangon, Yinchuan, Zagreb, Zhengzhou, Zurich.
Enter Air, seasonal: Katowice, Warsaw-Chopin.
Eritrean Airlines: Asmara.
Ethiopian Airlines: Addis Ababa.
Finnair, Seasonal: Helsinki.
flydubai: Abha, Addis Ababa, Ahmedabad, Ahvaz, Alexandria-Borg el Arab, Almaty, Amman-Queen Alia, Ashgabat, Asmara, Astana, Baghdad, Bahrain, Baku, Bandar Abbas, Bangkok-Suvarnabhumi, Basra, Beirut, Belgrade, Bishkek, Bratislava , Bucharest, Catania, Chennai-Anna, Chittagong, Colombo, Krakow, Dammam, Dar es Salaam, Delhi, Dhaka, Djibouti, Dubrovnik, Dushanbe, Entebbe, Erbil, Faisalabad, Gassim, Ha'il, Hambantota, Hargeisa, Hyderabad, Isfahan , Istanbul-Sabiha Gökçen, Jizan, Jeddah, Juba, Kabul, Karachi, Kathmandu, Kazan, Khartoum, Kiev-Zhulyany, Kilimanjaro, Kochi, Krasnodar, Kuwait, Lar, Lucknow, Makhachkala, Malé, Mashhad, Medina, Mineralnye Vody, Moscow -Sheremetyevo, Moscow-Vnukovo, Multan, Mumbai, Muscat, Najaf, Odessa, Podgorica, Port Sudan, Prague, Quetta, Riyadh, Rostov-on-Don-Platov, Sakakah, Salalah, Samara, Sarajevo, Shiraz, Sialkot, Skopje, Sofia, Sylhet, Tabriz, Tabuk, Ta'if, Tbilisi, Tehran-Imam Khomeini, Thiruvananthapuram, Ufa, Voronezh, Yanbu, Yekaterinburg, Yereva n, Zanzibar.
Gulf Air: Bahrain.
IndiGo: Bangalore, Chandigarh, Chennai, Delhi, Hyderabad, Kochi, Kozhikode, Mumbai, Thiruvananthapuram.
Iran Air Bandar: Abbas, Isfahan, Shiraz, Tehran-Imam Khomeini.
Iran Aseman Airlines: Abadan, Bandar Abbas, Bushehr, Chabahar / Konarak, Lar, Mashhad, Shiraz, Tehran-Imam Khomeini, Zahedan.
Iraqi Airways: Baghdad, Basra, Erbil, Najaf.
Jazeera Airways: Kuwait.
Jet Airways: Delhi, Kochi, Mangalore, Mumbai.
Jordan Aviation: Amman-Queen Alia, Aqaba.
Jubba Airways: Bosaso, Hargeisa, Mogadishu.
Kam Air: Kabul.
Kenya Airways: Nairobi-Jomo Kenyatta.
Kish Air Bandar: Abbas, Bushehr, Chabahr / Konarak, Kish, Shiraz.
KLM: Amsterdam.
Korean Air: Seoul-Incheon.
Kuwait Airways: Kuwait.
Lufthansa: Frankfurt.
Mahan Air: Mashhad, Shiraz, Tehran-Imam Khomeini.
Middle East Airlines: Beirut.
Nepal Airlines: Kathmandu.
Norwegian Air Shuttle, seasonal: Copenhagen, Helsinki, Stockholm-Arlanda.
Oman Air: Muscat, Salalah.
Pakistan International Airlines: Dera Ghazi Khan, Islamabad, Karachi, Lahore, Peshawar, Quetta.
Pegasus Airlines: Istanbul-Sabiha Gökçen.
Philippine Airlines: Manila.
Primera Air: Göteborg, Malmö.
Qeshm Airlines: Isfahan, Qeshm, Tehran-Imam Khomeini.
Royal Brunei Airlines: Bandar Seri Begawan, London-Heathrow.
Royal Jordanian: Amman-Queen Alia.
RwandAir: Kigali, Mombasa.
S7 Airlines: Novosibirsk.
SalamAir: Muscat.
Saudia: Dammam, Gassim, Jeddah, Medina, Riyadh.
Shaheen Air International: Islamabad, Karachi, Lahore, Peshawar, Multan.
Sichuan Airlines: Chengdu, Yinchuan.
Singapore Airlines: Singapore.
SriLankan Airlines: Colombo.
Swiss International Air: Muscat, Zurich.
Syrian Air: Damascus.
Taban Air: Mashhad.
Thai Airways: Suvarnabhumi.
Transavia, seasonal: Amsterdam.
Travel Service Airlines: Ostrava, Prague.
Turkish Airlines: Istanbul-Atatürk, Istanbul-Sabiha Gökçen.
Turkmenistan Airlines: Ashgabat.
Ukraine International Airlines: Kiev-Boryspil.
Uzbekistan Airways: Tashkent.
Virgin Atlantic: London-Heathrow.
From this link, you can buy your flight to Dubai, AT THE LOWEST PRICE!
DUBAI AIRPORT CONNECTIONS – CENTER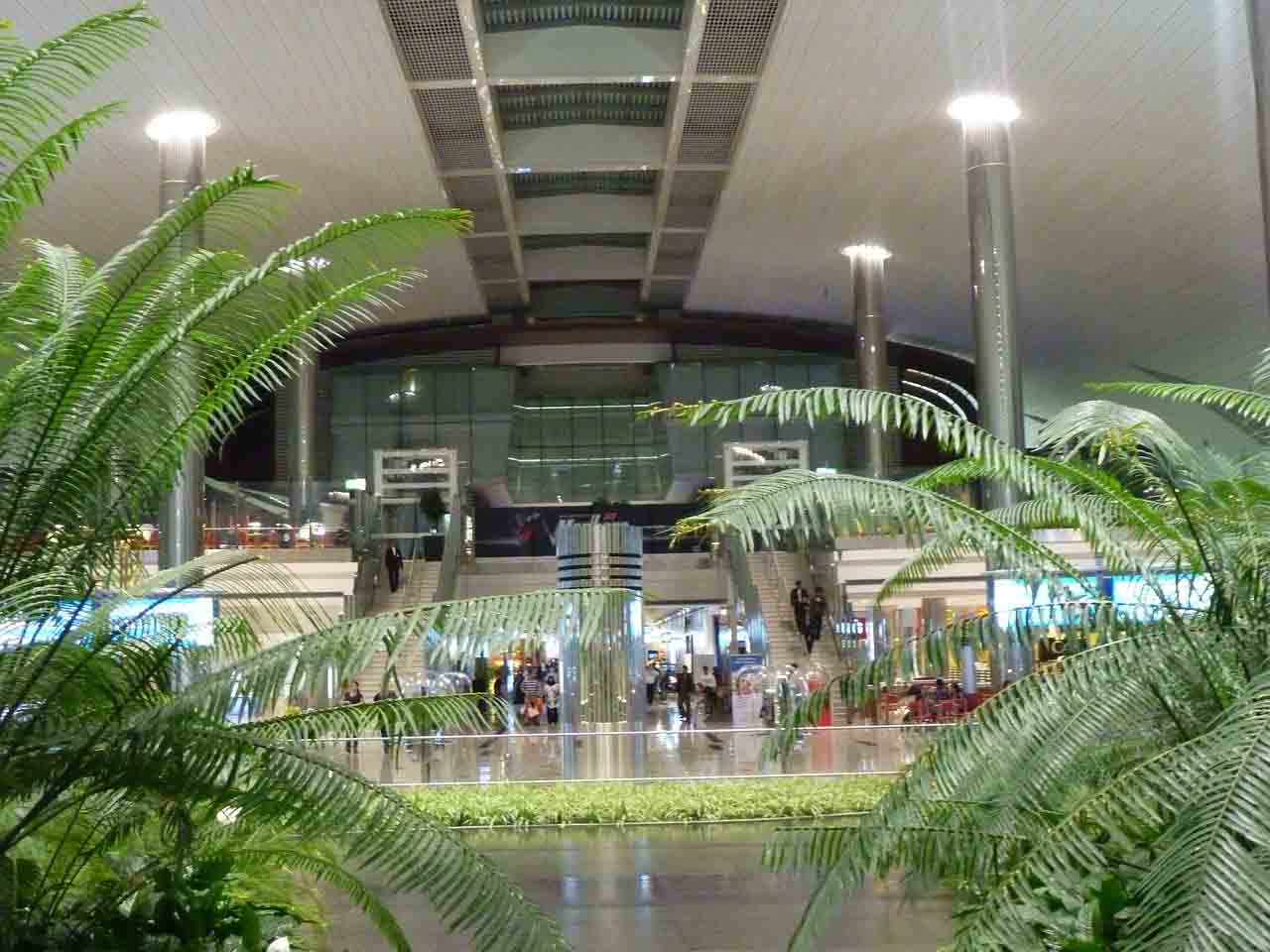 Dubai Airport is easily accessible by car, taxi, and public transport.
METRO
Metro is undoubtedly the fastest and most economical method to reach the various points of interest and the center.
The Red Line of the Metro, from Rashidiya to UAE Exchange, offers 2 dedicated stops (1 Terminal and 3 Terminal) easily accessible.
The Metro operates every day (except Friday morning) including holidays, from 05:30 to midnight. On Thursdays, it works from 05:30 to 01:00.
The subway is highly efficient, modern is equipped with all comforts. The ticket price is really affordable, compared to the Big Capitals. The cost depends on the length of the journey, and on the crossed ZONES. In general, from Dubai Airport to Dubai International City, or Dubai Marina, you will pay just 17EAU (less than 4€).
To travel you must buy the appropriate contactless Card, in the Red version. The NOL CARD can be purchased at the cost of only 2EAU (not even 0,50€) at vending machines. Each traveler can carry a maximum of two pieces of luggage on the train. All the info on the metro and the transport of Dubai, from this link.
BUS
In front of each Terminal, there is a bus station. The .Ostro advice, however, is to opt for the subway.
Also to travel on the bus, it is necessary to purchase the appropriate NOL CARD. Also in this case, the price varies depending on the areas crossed. Remember that it is NOT POSSIBLE TO PAY CASH WITH THE DRIVER.
TAXI
Taxis are a great way to get around Dubai Airport. Obviously, prices are different than the metro, but they are not particularly expensive. Quite the contrary. Taxis are a really recommended solution if you are traveling as a couple or in a group. Choose official taxis, well highlighted at the airport. 24 hours on 24 are on the outside of the Terminal.
The service has a well-defined rate card. You will pay 1,96EAU per kilometer, plus an airport fee of 25EAU. Hand in hand, a run of about 35 kilometers, for Marina Bay, costs just over €20.
CAR
In the huge Dubai airport, you will have a wide choice of agencies, to rent a car, and move freely. As always, we recommend moving in advance, making a comparison between the various companies. More info from here.
* The list is subject to change. All links, updated, are available on the official website.
Search hotels and more...