A magical city, able to excite at first glance. The Catalan city is one of those places that are loved, immediately. What to do and what to see in a Weekend in Barcelona
DAY 1 WEEKEND IN BARCELONA
Hurry up the check-in and, if you have at least half a day, we suggest starting from what can be considered in all respects the symbol of the city: the Temple Expiatori de la Sagrada Familia. Do it now and, just in the afternoon, because Saturday, Sunday and morning, the queues to enter and to buy tickets are sometimes endless! To reach your destination, from the hotel take the metro (L2 Viola, or L2 blue) and get off at the bus stop Sagrada Familia.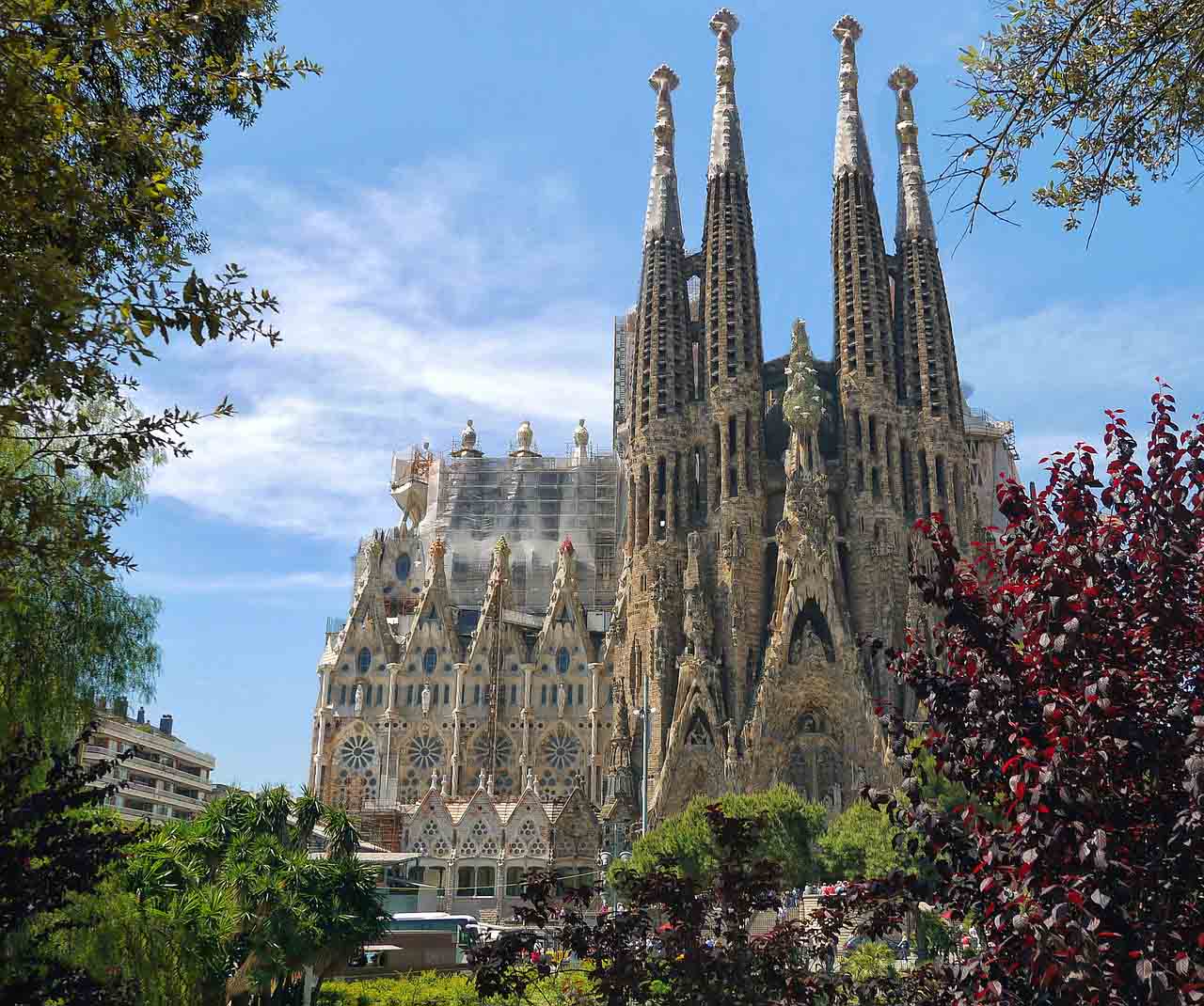 Gaudì worked all his life on this work, unfinished to date and whose completion time is expected after the 2030; the themes of the whole decoration include words from the liturgy; the towers are decorated with words like "Hosanna", "Excelsis", and "Sanctus"; the great door of the Passion façade reproduces words of the Bible in various languages, including Catalan.
INFO SAGRADA FAMILIA:
duration of the visit about 90′
GENERAL TICKETS: 15€ adults / 13€ students
TICKETS WITH VISIT TO THE TOWER: 19,50€ adults / 17,50€ students
TICKETS WITH TOWER AND AUDIO-GUIDE: 24€ adults / 21€ students
From April to September from 9:00 to 20:00.
From November to February from 9:00 to 18:00.
October and March from 9:00 to 19:00.
25 and 26 December and 1 and 6 January from 9:00 to 14:00.
We recommend buying a ticket directly online, in order to avoid excessive queues at ticket offices, especially on weekends Barcelona and on holidays.
During your Weekend in Barcelona, do not miss out on a ride Tramvia Blau; This evocative tram offers you a fascinating and very suggestive way to get around Barcelona.
For the evening, you'll be spoiled for choice. There are so many restaurants in the city, and many offer excellent dishes. We recommend the AGUA RESTAURANT, at Paseo Marítim de la Barceloneta 30. You arrive by metro, getting off at the stop Barceloneta oVila Olímpica.
DAY 2 WEEKEND IN BARCELONA
After awakening with great calm, and after a rich and abundant breakfast, you can resume with a full immersion of Barcelona. Now it's time to dive along the famous RAMBLA; here, they await you shopping, tapas bars, street performers and much more. it is the busiest street in Barcelona, ​​both by day and, above all, by evening.
Walking on the right, you will find the famous Mercado de la Boqueria, where, between a riot of colors and aromas, you can spend time, trying Catalan Doc products and above all, Jamon in small pieces, in slices, with bread or cheese. All delicious. Our advice is to go there because you will not regret it.
Going down, turn left, at the height of Placa Reial: we arrive at the historian Barrio Gotico, the Gothic Quarter of Barcelona, ​​made up of narrow streets, churches, squares. Here, everything has remained intact or almost like in the Middle Ages.
Just a couple of minutes from Plaça Reial is the stop Liceu: take the metro now and get off at Passeig de Gracia: here you will find Casa Battlo, in effect the symbol of Barcelona. The property is located near the central underground station and is well served by numerous public transport.
Extravagance and beauty in this other work by Gaudi; inside it is all a vortex of waves, curves and spirals. The house has also been designed to receive natural light in all its parts; this work has consecrated Gaudì as one of the most visionary architects in Europe (prices: adults – 24,50€, students, over 65 years and boys from 7 to 18 years – 20,50€.) Open every day of the year from 9 to 21). From this link, you can buy your tickets at a special price.
In front of the museum there is a tapas bar: the "Tapa Tapa" that we recommend, otherwise you can stop at one of the restaurants on the street: if you had not done the night before, you must definitely try the paella!
Continuing up Passeig de Gracia, after 500 meters you reach the civic 92, at the corner with Carrer de Provença: here, in all its splendor, another masterpiece signed Anton Gaudì, or Casa Mila, better known as La Pedrera (literally, stone quarry). Built between the 1905 and 1912 on behalf of Roser Segimon and Pera Milà, it has been declared a UNESCO World Heritage Site.
Currently it is possible to visit the entrance hall, the roof and an apartment furnished with period furniture, partly designed by Gaudí himself, according to his "Catalan modernism". There are 6 floors, on each of which there are eight apartments; there are also two internal courtyards, which guarantee high brightness.
In the attic there is an interesting museum on the construction techniques of Antoni Gaudí.
At this link, you can take a virtual tour of the structure: we recommend it.
Until February, the structure is open every day from 09:00 to 18:30. From the 27 February to the end of November 2016 closes at 20.
The adult ticket costs 20,50€, while for children 7 and 12 it costs 10,25€. Free up to 6 years.
These times and prices are valid for the "normal" visit; there are also types in combination with temporary exhibitions or for night visits. The latter, really beautiful and evocative, allows you to appreciate the beams of this beautiful building. From this link you can buy the ticket with a guided tour.
The Poble Espanyol is located at the foot of Montjuic, a true open-air museum.
It is a reconstruction of the main Spanish architectural styles; in the Poble Espanyol there are 117 buildings, streets and squares, strictly pedestrian, a real village. (Prices: 12,60€ adults; evening visit after 20:00, 6,30€)
Timetable and how to get there:
Monday: from 9:00 to 20:00
Tuesday, Wednesday, Thursday and Sunday: from 9:00 to 24:00
Friday: from 9:00 to 15:00 of the night
Saturday: from 9:00 to 16:00 of the night
The metro stop is Espanya (red line L1 and green line L3). Then you have to walk for about fifteen minutes for a slight climb or take one of the following buses: 13, 23 or 150.
Quaint, is to spend the December 31 in the Poble Espanyol between fires, music, dancing and many good things to eat.
When you arrive in the beautiful Plaça de Espana, the gaze is lost among beautiful works of art; not far away you will find the Palau Nacional, the Catalan art museum. Visiting this fantastic square is recommended at sunset or in the evening, when it is possible to admire the Font Màgica, that is the magic fountain of Montjuic: colored lights to the rhythm of music make it one of the most popular attractions in Barcelona. Eye, though: the last show is scheduled at 21.
Do not miss the walk along the Maremagnum to the Olympic port, where you can relax among stalls and quaint shops, admiring the seagulls and the beautiful sailboats moored on your right.
Kanoa recommends, to close the evening, a stop at "MakaMaka", Fabulous beach burger where you can enjoy excellent burgers, beers or cocktails expertly prepared by real specialists. Alternatively, you can head to the lively Placa de Catalunya, where you will find the Hard-Rock Cafe to enjoy an amazing Legendary Burger, listening to some music.
DAY 3 WEEKEND IN BARCELONA
If your flight is scheduled in the afternoon, you can spend the whole morning visiting the celebrity Park Güell. Designed at the beginning of the twentieth century always by Gaudi, it should have become, in the initial idea, a city-garden. Today it is a public park with an open-air museum inside, open all year round, as well as one of the most symbolic monuments of the most visited Catalan city.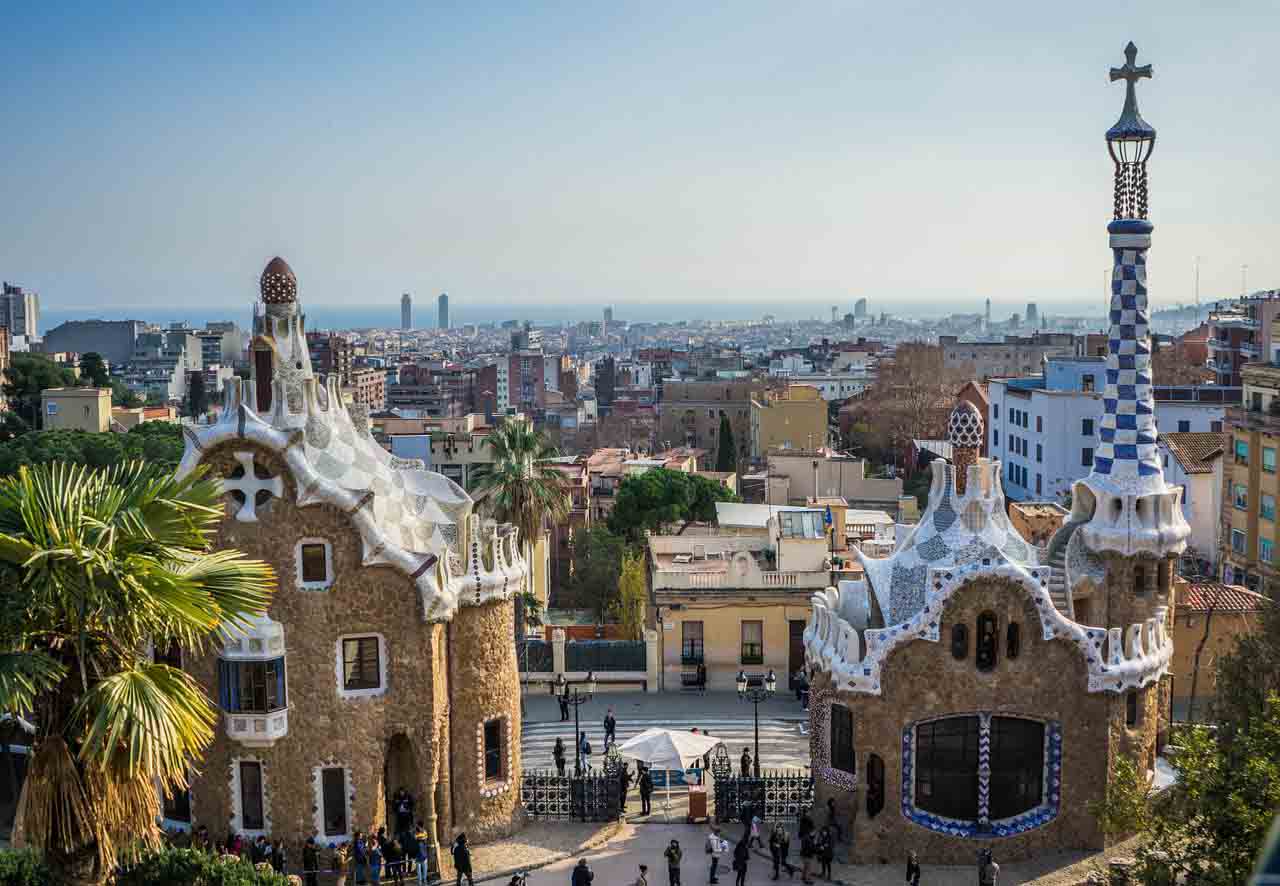 The Park has been declared a UNESCO world heritage, and certainly deserves to be visited. Here you will find the most famous Lizard / Mosaic from all over the world, as well as one of the most popular souvenirs! You will find rivers of people intent to be photographed: useless to wait, because until closing time you will never be able to take a picture alone with the monument. You will also find the Doric Temple, which is a forest of 88 columns and, above all, the Banc De Tracadis: the long bench covered with ceramics!
In the summer (beginning of May – end of August) it is open from 08: 00 to 21: 30, while in winter it observes the timetable 08: 30 -18: 30. With the Metro you get off at Lesseps or Vallcarca stops, along a rather steep slope (avoid the heels !!); the 24 bus, which we recommend, can be taken from Passeig de Graçia or Cataluna and stops right outside the entrance.
The ticket costs 7 € for adults and 4,90 € for children from 7 to 12 years, over 65 and disabled.
For all other info, we recommend the official website, from which you can also buy the entrance ticket.
As always, the invitation is to follow your interests and your tastes. There is nothing universal or already written. Take this Barcelona guide in 48h, as a good idea to start from. And if you would like to follow it to the letter, you will see that you will not regret it.
Search hotels and more...